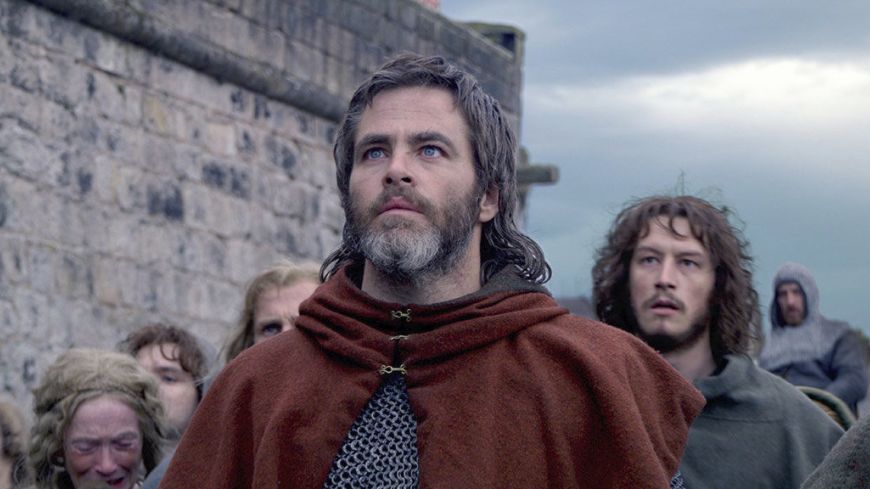 Company
Sigma Films, Anonymous Content
Production
David Mackenzie (producer/director/screenwriter), Bathsheba Doran (screenwriter), Mark Bomback (screenwriter), David Harrower (screenwriter), James MacInnes (screenwriter), Gillian Berrie (producer), Steve Golin (producer), Richard Brown (producer)
Performers
Chris Pine (Robert The Bruce), Stephen Dillane (King Edward I of England), Rebecca Robin (Queen Margaret of England), Billy Howle (Edward, Prince of Wales), Paul Blair (William Lamberton, Bishop of St. Andrews), Sam Spruell (Aymer de Valence, Earl of Pembroke), Jonny Phillips (Richard de Burgh, Earl of Ulster), Ben Clifford (Piers Gaveston, Earn of Cornwall), Jamie Maclachlan (Roger de Mowbray), Duncan Lacroix (Henry de Percy, Baron Percy), Kevin Mains (John Macduff, Earl of Buchan), Callan Mulvey (John III Comyn, Lord of Badenoch), Steven Cree (Sir Christopher Seton), Tony Curran (Angus Og Macdonald, Lord of Islay), James Cosmo (Robert Bruce Senior), Alastair Mackenzie (John Strathbogie, Earl of Atholl), Lorne MacFadyen (Neil Bruce), Jack Greenlees (Alexander Bruce), Chris Fulton (Euan Bruce), Jamie Michie (Gilbert de la Hay, Barron of Errol), Gilly Gilchrist (Maol Choluim I, Earl of Lennox), Daniel Jackson (Sir Ingram de Umfraville), Duncan Airlie James (Henry de Beaumont, Baron Beaumont), Aaron Taylor-Johnson (James Douglas, Lord of Douglas), Florence Pugh (Elizabeth Burgh), Matt Stokoe (John Segrave, Baron Segrave)
I rarely review films anymore having swapped writing for making my own very modest efforts in the medium and working on other productions. Being a typically grumbling Edinburgh local lamenting the lack of decent work available I was a bit shocked to find myself working on two huge productions: Avengers Infinity War and Netflix's 14th Century epic Outlaw King, both filmed back to back, in part, a short stroll from where I lived. Craigmillar Castle was one of Outlaw King's key locations, along with a bespoke medieval village that took over a month to build. Linlithgow Palace and Seacliff Beach, near North Berwick, were other important locations.
The education I received was superlative - the experience of big-budget film making unparalleled. There I was rubbing shoulders with Hollywood A-listers as I installed a grease-trap above a hotel sewer or shovelled tonnes of steaming horse shit all day into a skip. Those experiences were firsts for me but here's another – of the hundreds of films I've reviewed, this is first I also worked on.
I've always had a keen interest in the efforts made by my fellow countrymen and one of those is David Mackenzie whose career I've followed with interest since I saw two of his entertaining shorts Dirty Diamonds and California Sunshine over 20 years ago. He's now directed 10 features and as one filmmaking colleague pointed out - is one of the few film-making Scots of (my) generation who crossed over and "made it".
And made it he has with this epic period drama about Robert the Bruce's self-made rise to power. Although proclaiming to be historically accurate (it may well be) it still relies heavily on recognisable storytelling cliches and traditions to evoke the required sympathy we must feel for our chief protagonist and major characters. Despite this and perhaps necessarily as a big budget undertaking it continually engages, offering a compelling vision of an ancient country and frequent, viscerally thrilling set pieces.
Outlaw King opens with a brilliant one take wonder, so well executed I only realised towards the end it was a single shot as we witness The Bruce both begrudgingly submit to the rule of Edward I of England and make symbolic peace with his rival for the throne.
I'm no student of history at all, but I'm certain key events were necessarily condensed and cross pollinated throughout the film to get the basics out the way, particularly the traditional necessity to have a gradual romance with a plucky and sympathetic English wife, played with charm and gusto by rising star Florence Pugh.
She inspires and spurs him on as he goes on the run trying to band together sympathetic rebels, although I could have done without the token sex scene. I knew they liked each other by then, the point didn't need rammed home, but hey, that's just me.
Mackenzie's not been shy before of filming a sex scene but more significantly is drawn to depicting characters that are fundamentally good people forced to explore their dark side. In the brilliant Hell or High Water (which like Outlaw King is on Netflix) two brothers turn to crime to do the right thing. In Starred Up a prison inmate struggles to reform. In Spread, Ashton Kutcher's character pimps himself to survive (and so on and so forth).
In Outlaw King our hero must murder a rival and submit to the Church's authority to take the stage. The difference here is that when there's a $100 million budget at stake the audience must feel he has no choice but to murder and I was a tad disappointed by this infamous moment in The Bruce's timeline. I felt some shades of grey might have enriched our battle-prone outlaw, but the charismatic Chris Pine leaves us in no doubt he's horrified at what he's done. Later as The Bruce attempts to rally men to his side, a potential ally asks him "Are you a good man?" and the reply is "I'm trying to be" and much of the film depicts men who need to be beasts to perform their roles.
Mackenzie's chief strength though, in my opinion, is to extract great performances. Apart from Trainspotting, I always felt Ewan McGregor's other really great turn was in Mackenzie's existential drama Young Adam. In Hell or High Water the entire cast excelled, including Pine. Before that he was a charming talent, but In Hell or High Water he transformed into a richly complex human being.
Pine also excels in Outlaw King both in accent and in a sympathetic understated performance for such an iconic figure. But the expected dark side and accompanying histrionics are handed out to a multitude of others, in particular Billy Howle as Edwards vengeful and warmongering son and the brilliant Stephen Dillane as his father Edward I aka "Edward, Hammer of the Scots". Dillane delivers every barbed word with the casual and confident elan of a great Shakespearean. There's a particularly good line about stumbling after performing ablutions as he admonishes his son for failing to capture The Bruce.
Having said all that it's Aaron Taylor Johnson as James Douglas who chews up the multitudes of magnificent and castle strewn scenery. His performance has divided audiences and critics so far, but I thought he stole every moment he was in. He was my favourite character and when I think again about Mackenzie being drawn to explore shades of dark he epitomised that for me.
However, the inevitable highlights of such a tale are the battles and there are plenty. There's a phenomenally well executed skirmish on the shores of a loch and the final confrontation when The Bruce's men take on a much larger army at The Battle of Loudon Hill is spectacular. There are inevitable comparisons and nods to be made with Braveheart, Outlander and Game of Thrones but this stands on its own as one of the great onscreen battles. The shots of horses tumbling into pits and getting stuck in mud left a considerable dent in my consciousness. And having shovelled all that horseshit on one of the sets I was really quite pleased about that.
Outlaw King is released both on Netflix and in selected cinemas on November 9th. The Filmhouse screening on Thursday 15 November at 8.25pm will be followed by a Q&A with director David Mackenzie and producer Gillian Berrie, hosted by Edinburgh International Film Festival's Deputy Artistic Director, Diane Henderson.