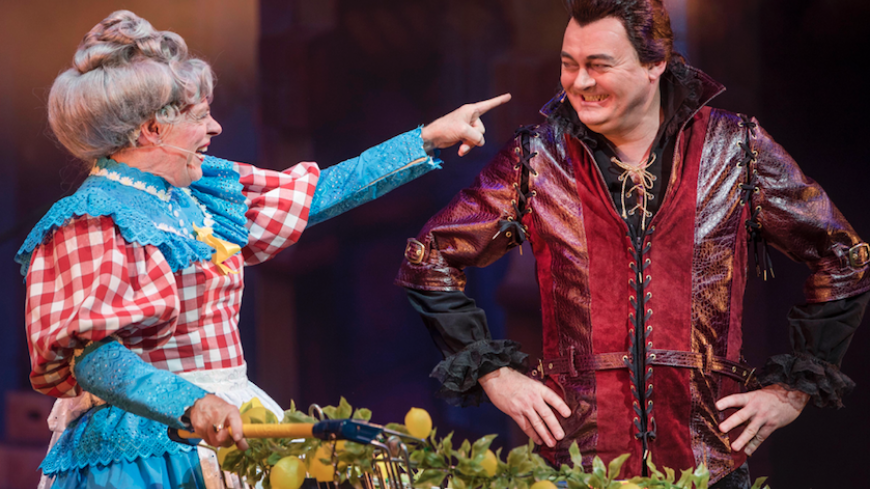 Company
Qdos Entertainment
Production
Michael Harrison (author), Allan Stewart (author), Ed Curtis (director), Alan Harding (choreographer), Sharon Harding (assistant choreographer), Gary Hind (musical supervisor), Matt Clutterham (lighting designer), Richard Brooker (sound designer), The Twins FX (visual special effects), Mike Coltman (specialty costumes), Owen Lewis (production sound engineer), Laura McCann (production manager), Jack Gow (company stage manager), John Nicoll (deputy stage manager), Matt Spencer (technical assistant stage manager), Siobhan Scott (assistant stage manager/ book cover), Dan Evans (sound operator no. 1), Christie Heriot (sound operator no. 2), Maggie Kennedy (wardrobe supervisor), Maggie Scobie (wardrobe assistant), Sorcha Fitzgerald (dresser), Flying by Foy (flying), HSL Group Holdings (lighting suppliers), Le Maitre (pyrotechnics), Orbital Sound (sound suppliers), A C Entertainment Technologies (technical consumables), KB Event Ltd (transport), Southern Van Lines (special effects transport), Douglas Robertson (photography)
Performers
Allan Stewart (Mrs May Potty), Grant Stott (Flash Boaby), Gillian Parkhouse (Belle), Jacqueline Hughes (The Enchantress), Chris Cowley (Prince Calum/Beast), Daniel Cullen (Dougal), Alice Jackson (ensemble), Lauren Key (ensemble), Laurie McIntyre (ensemble), Pascell Mifflin (ensemble), Josh Perry (ensemble), Stephanie Velasco (ensemble), Alastair Walker (ensemble), Ed Whitehead (ensemble), Edinburgh Dance Academy (Babes),

The King's Theatre Orchestra
Andy Pickering (musical director/keyboards), Andy Mitchell (bass guitar), Dave Bryant (drums/percussion), Gavin Spowart (trumpet/flugelhorn), Gordon McNeil (tenor sax/flute)
Welcome to Pantoland, where you don't know if you've walked into Disney World or Late 'n' Live. Campy and raucous as can be, this hilarious family night out has both adults and kids howling with laughter. The ultimate in one-liners, gags and audience participation makes this panto as mad as it is marvelous. The Panto Season kicks off this year at King's Theatre with Beauty and the Beast , helmed by Allan Stewart and Grant Stott. This classic tale was last seen as the King's Theatre Christmas panto over 70 years ago, but, with songs about selfies and a brief Katy Perry moment, it has been reinvented with full force into the modern day.
Allan Stewart's Aunty May (or Mrs. Potty, whichever you prefer) works at the Castle in Auchtereekie and she thinks local beauty Belle (Gillian) might just be the ticket to breaking the spell and melting the heart of the Beast (Chris Cowley). Trouble is, there is a stinky Flash Boaby (Grant Stott) running about, and his sights are set on the lass. Belle's brother Dougal (Daniel Cullen) runs to the castle to find a red rose for his sister's birthday, only to be trapped by the Beast himself. Belle suggests a swap, and, oh you know the rest. The story of inner beauty and true love is more a backdrop than a plot, with the spotlight rightfully placed on the craic and mayhem drummed up by Aunty May and Flash Boaby. Roasting of the audience, Edinburgh-centric tomfoolery and outstanding special effects are just some of the highlights of this production.
Missed this year is panto king Andy Gray, as he is resting and recuperating after recently falling ill. But he's in good spirits, the duo assured the crowd, sending Andy a recorded video of the audience shouting, "We love you, Andy!" It has been announced that he will be returning for the King's Panto in 2019, Goldilocks and the Three Bears .
Looking around at the audience throughout the night, there were nothing but smiles, wide eyes and hooting with laughter. If you are deciding on a panto for a night out this season, Beauty and the Beast is one spellbinding, infectiously farcical production.
Tickets available at https://www.capitaltheatres.com/whats-on/beautyandbeast
Dec 7, 2018 - Jan 20, 2019
Tue to Sat: 2pm & 7pm, Sun & Mon: 1pm & 5pm (no performances on 3, 10, 17, 20, 25 Dec 1, 7, 14 Jan)