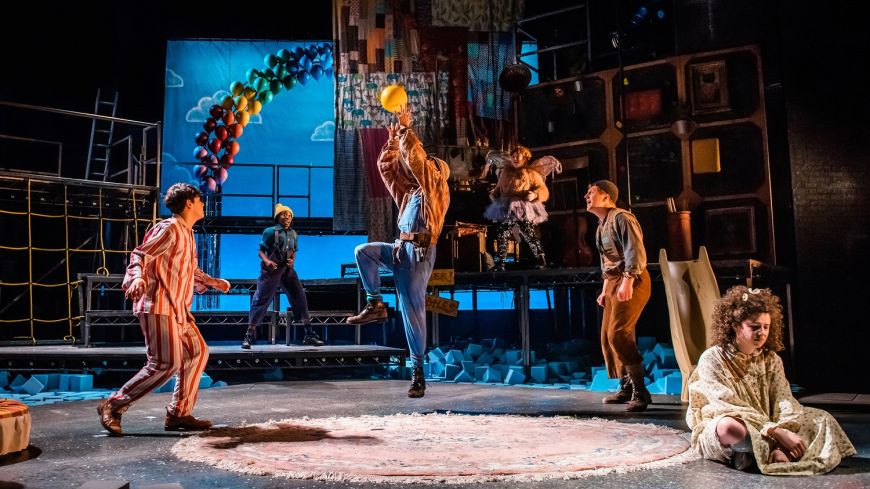 Company
The Royal Lyceum Theatre Edinburgh
Production
J. M Barrie (writer), Ella Hickson (adaptor), Eleanor Rhode (director), Max Johns (designer), Michael John McCarthy (composer and sound designer) and Mark Doubleday (lighting designer), Calum Paterson (sound designer), Emily Jane Boyle (movement director), James Veitch (flying director), Ruth Cooper-Brown and Claire Llewellyn of RC-AnnieLtd (fight directors)
Performers
Bonnie Baddoo (Mrs Darling/Tiger Lily), Keiran Gallacher (Tom/Jones),
Christine Gomes (Curly), Ziggy Heath (Peter Pan), Laurie Jamieson (Tootles),
Isobel McArthur (Wendy), George Naylor (John), Cristian Ortega (Michael), Sally Reid (Tink),
Gyuri Sarossy (Mr Darling/Hook), Dorian Simpson (Smee/Doc Giles), Rhys Whomsley (Slightly)

Forget an elfin boy in green tights, forget a babysitting dog, forget Tinkerbell as a darting light and add Tom, a third Darling brother. Think instead Ziggy Heath's frock coated, unlaced, floppy haired lad who wouldn't look out of place as one of Fagin's recruits and Sally Reid's full size gallus-as-get-out Doc Martined fairy in a tutu like the leader aff in a big in-yer-face hen night, and you have a sense of the tone of this year's glorious Lyceum Christmas show, Wendy and Peter Pan.
While the structure of J M Barrie's original story remains intact, Ella Hickson's brilliant adaptation takes the well-loved children's classic to a deeper level that lets the evergreen Peter Pan remain an ever playful boy but instead lets elements of the story grow up. For a start, this time the Darlings go to Neverland for a real reason - to find their own brother, Tom, who has died.
From the boisterous play of the children's shared bedroom, it's clear that Wendy has her own big sisterly battles of trying to impose order on her disorderly brothers as John, brilliantly captured by George Naylor, tells her that "Girls not allowed on the battlefield". The adage that men are from Mars and Women from Venus is writ large across the text and Isobel McArthur as Wendy convincingly expresses the frustration of the seemingly easy and unspoken fraternity of men that is at clear odds with the less trodden path of effortless sorority.
Designer Max Johns takes full advantage of the height of the Lyceum stage with implausibly long drapes of domestic lace to sweeping pirate sails. The eternal playground that is Neverland is literally that – chute, trampoline et al and is used to stage some riotous dancing to some hot music from Michael John McCarthy played by the Lost Boys band and at the crazy Jolly Roger ball as well as impressive and passionate fight scenes.
The flight scenes are always gasp inducing and the outstanding cast takes turns at spilling out in to the auditorium to surprise and excite, but a quieter scene impacts too. It is the touching, thoughtful portrayal of the utterly irreconcilable connection between Peter and Wendy expressed as they stare at the stars from improbable ladders. Despite being the kind of girl who won't want to spend her life ironing handkerchiefs, she is charmed by the boy who's never had quite enough of playing and this universal paradox creates a beautifully balanced element to the show.
Wendy and Peter Pan is a fabulous ensemble piece that's full of wonder and sabre sharp wit that holds the vital message of the importance of happy thoughts. Traditionalists may well throw their hands up, but Hickson's take on the well known fantasy is a triumph that appeals across generations. Full of 21st century sensibilities without being po-faced, it holds the audience with its pace, novelty and thoughtfulness making some children and adults actually bounce and roar in delight.
With a healthy dose of bum biting and some seriously elegant flying, Wendy and Peter Pan soars its way to big bravura theatrical adventure that chimes perfectly with our times.
29 November 2018 – 5 January 2019