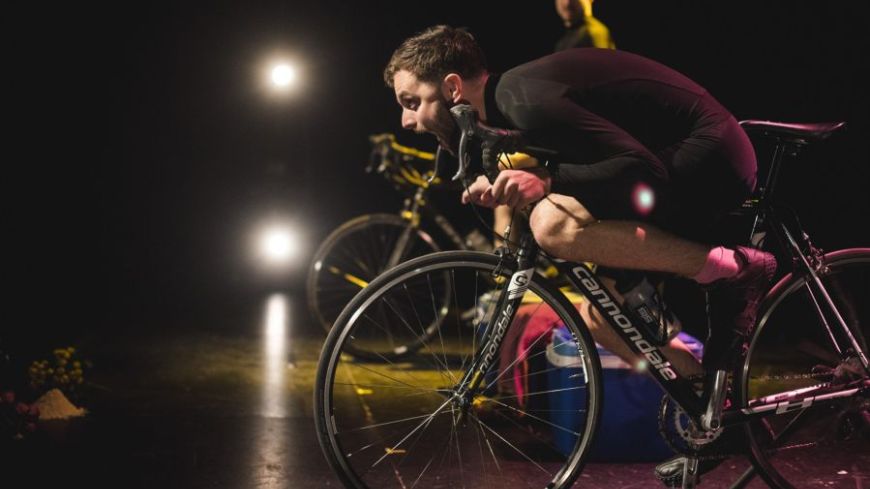 Production
2Magpies Theatre, Andy Routledge
Performers
Matthew Seager, Alexander Gatehouse
Ventoux. One of, if not the pinnacle of the Tour de France stages – a monumental ascent where the air thins, the terrain builds, and the pressure intensifies. Only the peak of athletes can match the ferocity which the course challenges.
But overcoming these feats is not the first thing which comes to mind when discussing Lance Armstrong or Marco Pantani - overshadowed by their doping allegations, tactics, and removals from competitions which rocked the world of professional cycling. In 2014, Ventoux succeeded in not only prying open the eyes of those who had forgotten the physical achievements but aligned the two cyclists who dominated the field closer than they had ever been before.
Knowing everything which has come to pass, 2MagpiesTheatre re-stages a series of meetings between the pair and culminates (and centres) around this final meeting in July of 2000. It makes no apologies for the comparisons of the two cyclists but does draw a much more concise line with Armstrong's confirmed doping, and emphasis on Pantani's alleged use is played more from the mental impact it had on the cyclist, who stringently denied any wrongdoing until his tragic suicide.
A somewhat cold opener where the audience filter in as the action is already underway, the repetitious nature of Andy Routledge's direction offers the foundations of the lifestyle Armstrong and Pantai would have undergone. Off and onto the bicycles, frequent weight checks, exercises, and even devouring fruit all comes with a routine over the course of the opening before the feat of physical theatre begins.
Il Pirata, Elefantino, much of Pantani's career is masqueraded with a visage – from his large-eared childhood to his record for being the finest climber in cycling races, there are easy signifiers to Pantani's characterisation. But performer Matthew Seager doesn't rest on the laurels of 2MagpiesTheatre and director Andy Routledge's production. Despite characterisation shortcuts, Seager's commitment to the role is remarkably elegant and powerful. And with the effective video projection behind them, captured live at Ventoux, Seager's more humble nature makes for a perfect contrast to Alexander Gatehouse's suaver Armstrong.
There is a polished, almost smarmy nature to the chiselled perfection in Gathouses' magnificent capture of Armstrong. Even with some initial boo's from the crowd in jest carries the role with a degree of sophistication, despite his place as one of sporting's biggest rogues. But unlike Seager, doesn't have as bursting aggression to rely upon – Armstrong one for preserving his brand and image. Only towards the finale, after hearing the news of Pantai's passing does Gatehouse allow for a more nuanced dimension to the character.
Nothing is pedestrian about this performance, the intensity in dedication from both Routledge and Gatehouse is extraordinary in both their physical determination and storytelling abilities in spite of this persistent sense of motion.
30th September. Ages 8+
Run Ended
Photo Credit: 2MagepiesTheatre