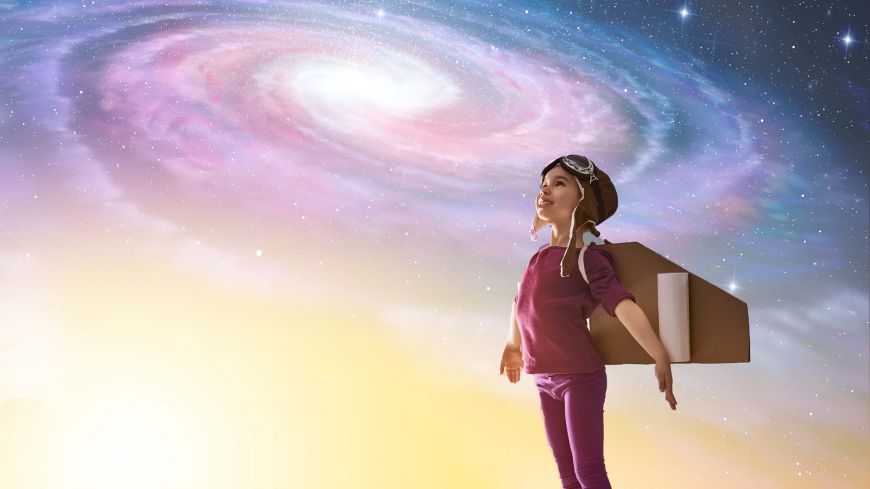 Company
Edinburgh International Science Festival (EISF) and Frozen Charlotte Productions
Production
Heather Fulton (director), Ewan Sinclair (projection artist), Xana Marwic (dramaturg), Alastair Bruce (science adviser), Katy Wilson (set and costume design), Toya Walker (costume maker), Niroshini Tambar (composer)
Performers
Ellie Griffiths (performer), Joy Maria Onotu (dancer)
In 1963, the world's first female cosmonaut, Valentina Tereshkova, was rocketed in to space where she orbited the earth no less than 48 times. In celebration of this landmark event, the highly successful Scottish children's theatre company, Frozen Charlotte, brings their latest show, Valentina's Galaxy, to this year's EISF as part of the Science in the Spotlight strand.
Just as Frozen Charlotte's slightly creepy name completely belies the warm and engaging work this company so excellently produces for young children, so their brightly coloured domestic set for this latest production belies the show's deeper message.
Comfy sofa seating that creates a semi -circular back row is filled by adults to the strains of moon themed songs from yesteryear as smaller audience members take up the cushioned floor area. A beehived and brightly coloured Ellie Griffiths hands inhabits her technicoloured kitschy kitchen before the lights dim and the amazing story of Valentina (code name Seagull) opens out as beautifully as one of the parachutes she flew with before flying in to space.
The show's pace is gentle and full of eye popping surprises in a fabulous fusion of domesticity and science thanks to an ingenious set from Katy Wilson, a clever mix of visuals from projection artist Ewan Sinclair and live action from the two female performers.
Ellie Griffiths may be dressed like a ditzy Hollywood housewife, but her character is no airhead. She feeds out facts to the eager audience as easily as she hands out popcorn to them at the start of the show.
Joy Maria Onotu brings gorgeous fluid movements to her role as Valentina both through her dance moves and her tremendous physicality as she demonstrates take off, weightlessness and the sheer joy of the new perspective of space travel, all done to space style background music from composer Niroshini Tambar with some live fiddle and cello. And total respect is due to costume maker Toya Walker for the dazzling outfit that Onotu sports towards the end!
But this interactive show, under Heather Fulton's astute direction, is so much more than a lesson in space travel. It is a world chock full of wonder where a living galaxy is magically created under a canopy of stars and a balloon moon brings shrieks of delights to the young audience.
In this Scotland's Year of Young People, what better message for wee ones to get through theatre than for them to have their imaginations ignited and learn how easily they can reach for the stars. Valentina's Galaxy has taken off and hit the heights!
4 – 8 April 2018 at 10.30am and 1.30pm age recommend 2+ years