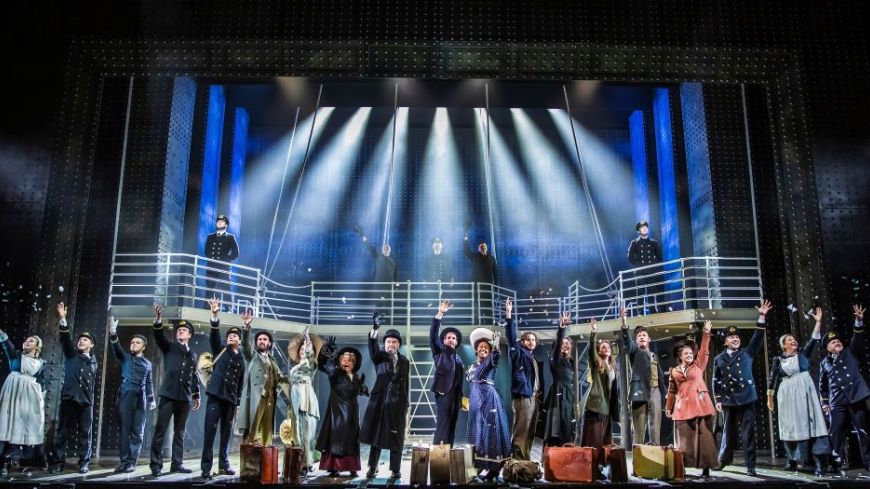 Company
Daniel Tarento in association with Mayflower Theatre, Southampton and Harmonia
Production
Maury Yeston (music & lyrics), Peter Stone (book), Thom Southerland (director), David Woodhead (set & costume design), Howard Hudson (lighting), Andrew Johnson (sound design), Ben Popworth (musical director).
Performers
Martin Allanson (J. Bruce Ismay), Graham Bickley (Captain Edward Smith), Ian McLarnan (Thomas Andrews), Barnaby Hughes (Henry Etches), Valda Avicks (Ida Strauss), David Delve (Isidor Strauss), Emily George (Kate Murphy), Niamh Long (Kate Mullins), Lucie May Sumner (Kate McGowan), Sam Brown (Frederick Fleet), Jack North (Charles Lightoller), Billy Roberts (William Murdoch), Bree Smith (Alice Beane), James Barch (Edgar Beane), Adam Filipe (Fred Barrett), Emma Harrold (Lady Caroline), Matthew McDonald (Charles Clarke); other characters played by the ensemble cast. The Band: Ben Popworth, Thomas Leate, Bridget Mansfield, Gemma Conner, Jack Cherry, Craig Apps.
The tragic, legendary story of the transatlantic liner, RMS Titanic has been the stuff of theatrical, cinematic drama ever since 14th April, 1912, when the 'unsinkable' ship collided with an iceberg and quickly sank with the loss of 1,523 men, women and children.  A silent movie, Saved from the Titanic (1912) starred Dorothy Gibson, who was an actress on board and who lived to tell her personal experience.  
Authenticity is also at the heart of this smash hit Musical which dramatises the timeline and real life passengers, officers and crew on that fateful maiden voyage.   The impressive set design of the proscenium arch and stage walls reflect the towering, burnished black riveted hull around a split level deck. From the opening numbers, we learn the facts and figures of this "floating city, sleek and fast, the largest moving object in the world." 
Embarking on this 'grand ship of dreams' are an excited crowd of emigrants in steerage,  smart Second Class guests in bunk bed cabins, First Class ladies and gentlemen escorted to grand suites on A deck. The gangway lowered, bow lines let go, as an officer stands on a stairway as it's slowly pushed back, giving the clever illusion of the ship setting sail to America.  The narrative portrays the contrasting private lives of a few passengers: three Irish girls share plans about getting a job as a lady's maid or governess; An eloping couple, Lady Caroline and Charles will marry when they reach New York; John Jacob Astor, worth a cool $150 million, is travelling with his 19 year old pregnant wife. 
In slick scene changes we move from the Grand Salon to 3rd class dining room, Marconi telegram office and boiler room to the Bridge. The White Star line owner, Bruce J Ismay (sharply played with pompous self-importance by Martin Allanson) insists that the ship must reach NYC by Tuesday. Callously dismissing a flurry of urgent telegrams warning of icebergs ahead, the mild mannered Captain Smith instructs an increase in speed to 21 knots.  Down in the depths of the ship, the stokers shovel coal 'faster and faster' in synchronised routine of hot, hard labour.  
The Chief Steward, Henry Etches, (the dashing, debonair Barnaby Hughes), dances around his 1st class guests with diligent care: "Mr Astor likes his toast dry, Mrs Strauss likes her grouse with the sauce on the side.'  Desperate to mingle with the upper crust of society, Alice Beane, humorously and brazenly gate-crashes a tea dance, telling her husband with girlish glee, "I have danced with a first class passenger!" 
As the band plays on, Fleet, the lookout seaman, stands high in the crow's nest staring out at the flat sea on a dark starlit night, 'no moon, no wind, no wave, no swell,' until his sudden shock at what he sees directly ahead.  In previous productions, supertitles show it is now 11.40pm on 14th April, Lat 41' 44' north/long 50' 24' West: stage directions in the script state that LED signs give the gradual countdown of date, time and location 'to presage the collision and accentuate the tension.'  
Here instead, the focus is on the dramatic action, shrieking, shouting, clanging of bells, black out and glare of searchlights as the three powerful men in charge – Thomas Andrews (architect), J. Bruce Ismay and Captain Edward Smith - gather to play the blame game: numerous ice warnings ignored, reckless speed and insufficient lifeboats - Ismay had made the decision to reduce the number to avoid clutter and allow more space on the first class deck.  
All such privileged VIP status is now abandoned as women of mixed classes step into the lifeboats amidst a tangle of ropes and lowered down to the sea while husbands bid goodbye with optimistic spirit - "We'll meet again tomorrow!."   However, Mr and Mrs Strauss, (wealthy owners of Macy's, NYC), cannot bear to be separated and relax in the Grand Salon to sip a final glass of champagne, recalling their long. happy marriage in a beautifully eloquent ballad, "Still" . 
The entire cast captures each character with personal and human insight, matched by superb, soaring vocals:  poetic lyrics of solo songs, duets and choral anthems drive the storyline with such clarity while the melodic score flows seamlessly with dramatic pace by the six piece band. Imaginative direction, choreography, design, costumes and technical wizardry creates a thrilling rollercoaster of a voyage.  
Winning five Tony Awards when premiered on Broadway in 1997, "Titanic the Musical" remains a timeless, unforgettable modern opera performed with theatrical vision, atmospheric mood and heartfelt emotion. 
Showtimes: 
20 – 24 June, 2023: Evenings, 7.30pm. Matineees, Thur & Sat, 2.30pm. 
Tickets: from £26.50. (Concessions and group prices)
https://www.capitaltheatres.com/whats-on/all-shows/titanic-the-musical/70