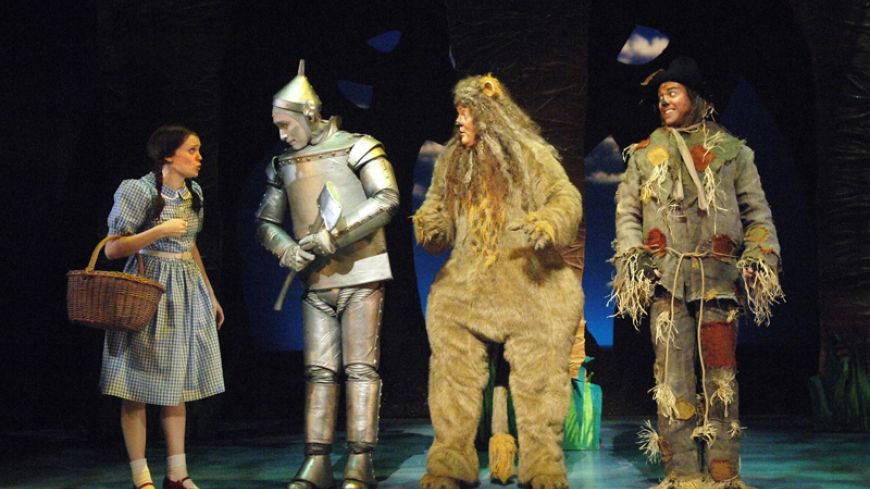 Company
Royal Lyceum Theatre Company
Production
Gill Robertson (director), Karen Tennant (designer), Jeanne Davies (lighting designer), Christine Devaney (choreographer), Steven Wren (musical director), Sacha Kyle (assistant director)
Performers
Denise Hoey (Dorothy Gale), Estrid Barton (Auntie Em / Glinda), Sean Hay (Uncle Henry / Emerald City Guard), Julie Austin (Miss Gultch / Wicked Witch), Tim Frances (Professor Marvel / Wizard of Oz), Grahma Kent (Zeke / Cowardly Lion), Sandy Grierson (Hickory / Tinman), matthew Pidgeon (Hunk / Scarecrow)
As the tumbleweeds spun across the horizon and Dorothy and her little dog Toto wondered what might happen next, a Tuesday matinee of mixed-age school children slid into enjoying a carefully crafted version of this familiar story. For many, the film version featuring Judy Garland is their main acquaintance with Frank L. Baum's classic tale. The Royal Lyceum's Christmas show retains many aspects of the film, but adds discreetly to the mix.
Baum wanted to write a fairy story which would resonate with children growing up in the United States in the late nineteenth century, but succeeded in producing a work which enjoys world-wide
recognition, not least as a result of the 1930's film version. The Royal Lyceum's production comes across as a vibrant re-imagining of the Hollywood version, adapted subtly to suit the contemporary stage and audiences.
Dorothy, rescuing her dog Toto from the clutches of neighbour-from-hell Miss Gultch, finds herself transported to the land of Oz, and her only way back seems to lie with the Wonderful Wizard of said locale. only the Wicked Witch of the West has other plans, especially when
Dorothy acquires a pair of rather attractive slippers.
Denise Hoey turns in a remarkable performance as Dorothy, eerily reminiscent of Judy Garland's, and her handling of the faithful Toto is a delight. Julie Austin's Wicked Witch of the West,
ably doubled with the obnoxious Miss Gultch make for a pair of fine villains both of whose characterisations steer skilfully clear of the pantomimic. Graham Kent, Sandy Grierson and Matthew Pidgeon make sterling work of the Cowardly Lion, Tinman and Scarecrow respectively, bringing Baum's moral, that we all possess more than we know, discreetly to the heart of their performances.
Steven Wren's musical direction gives the show a pacy, youthful feel with excellent percussion opportunities which are exploited in full.
A hearty hand deserves to go to the members of the Young Lyceum company taking the roles of Munchkins, Flying Monkeys and other denizens of the wonderful land of Oz. It's to be hoped that at least some of these able youngsters have opportunities to develop their clear talents in
the future.
All in all, an excellent Christmas production which will garner the audiences it undoubtedly deserves.
The Wizard of Oz plays at the Royal Lyceum until the 30th December
Bill Dunlop 6th December 2007. Published on EdinburghGuide.com December, 2007