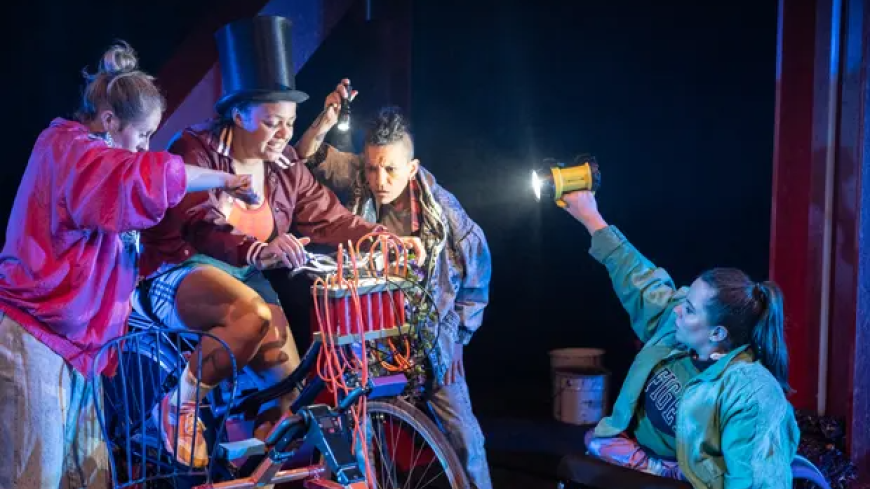 Production
Cailtin Skinner (director), Christine Ting-Huan Urquhart (set and costume designer), Simon Hayes (lighting designer), Emma Jayne Park (movement director), Novasound (sound designer), Li Kennedy (production), Hana Allan (production manager), Hannah Henderson (stage manager), Elle Taylor (associate production manager), Annabel Cooper (community engagement producer), Citizens Theatre (Set Construction), Maria Stoian (artwork), Storytelling PR (PR), Eragona Communications (Marketing), Tommy Ga-Ken Wan (photography), Rob Willoughby (videography)
Performers
Amy Conachan, Gabrielle Monica Hughes, Melanie Jordan, Itxaso Moreno
Based on the 1895 science fiction novel by H. G. Wells, The Time Machine: A Radical Feminist Retelling stays true to its inspiration as an apocalyptic, thought-provoking and kooky dystopian adventure but veers into new territory with this stage production. 
Venturing into our near and impossibly distant future, the four cast members take us through vignettes of life in a doomsday bunker interjected by scenes of a time traveler visiting a horrific future where humanity has devolved into the fragile haves and the brutal have notes. 
Serving tank-girl-meets-steampunk-Babysitter's Club, The Time Machine takes us into a turning point for the bunker mates: how to decide who will carry 'The People's Baby' to propagate human evolution and survival of our species after the end times.
Personalities run from aloof to frustrated to bossy to resourceful, but all four mates have one thing in common: they're ambivalent about this task. The switching to and from the misty and dark far future of abstract existence (supported with lighting by Simon Hayes and sound design by Novasound) and back into hyper social commentary on fascism, climate change and most forwardly reproduction is artful but often blurry. All roads eventually come back to the central debate on children: to have or not to have? That is indeed the question, with arguments, subtle and otherwise, for and against either choice under the context of (ever-growing) concerning social and environmental projections for human life on earth.
Disagreements about whether and how to take on the burden or honour, depending on which way to look at the potential conception, threaten to divide the feminist group (called only One, Two Three and Four. Names? In this economy?) and tear down their cohesion, survivalist routines and their fun. The pressures of ensuring this new life created would further equality and act as a beacon for dismantling injustice becomes a dizzying fever of how to use this jar of sperm for good, and if it is even possible. The flashforwards do complement this narrative, but ambiguously - perhaps by intention. Should the visions of millennia to come scare you out of carrying the torch for human existence? Should it be a vision to heed and vow to do your part to change the outcome? These are some, not all, of the questions posed by the script, which is quirky, bold and playful - much like the performances from Amy Conachan, Gabrielle Monia Hughes, Melanie Jordan and Itxaso Moreno under the direction of Caitlin Skinner.
The Time Machine: A Radical Feminist Retelling purposefully does not offer answers to these questions, evoking a contemplative, if uneasy, feeling in the audience. It's a worthy watch for the womb-wielding or otherwise.