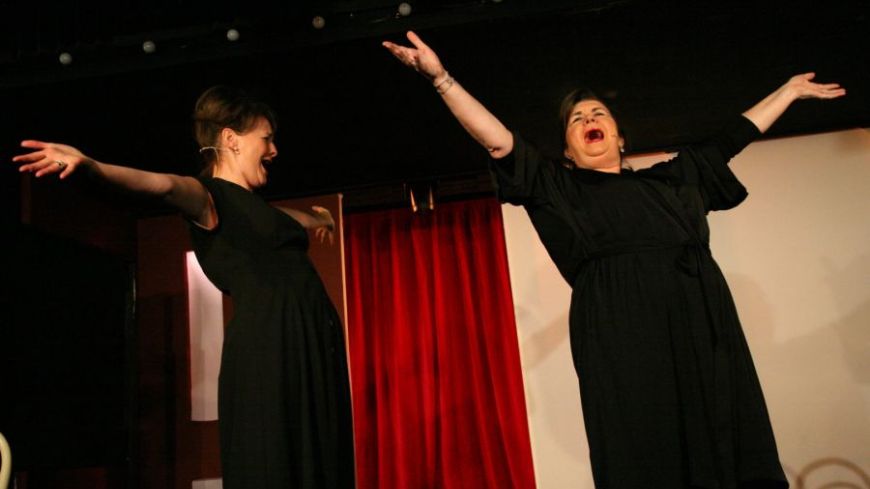 Company
Oran Mor and Traverse Theatre - "A Play, a Pie and a Pint" series
Production
Claire Nicol (writer), Lesley Hart (director), James Dunsmore (musical director), Andy Cowan (sound), Ross Kirkland & Chris Reilly (lighting), Jonathan Scott & Gemma Patchett (designers)
Performers
Elaine C. Smith (Mary McGowan), George Drennan (Robert Menzies, Band musician, teacher, father, mother).
Mary McGowan, who passed away four years ago age 85, enjoyed global success as the singer with the Clyde Valley Stompers, performing with Louis Armstrong and knocking Doris Day off the No.1 spot.  This entertaining musical-drama delves into the life of this legendary jazz singer, described as "the girl with the sweetest growl." 
The play starts in the early 1980s, backstage at the Theatre Royal, Glasgow, where Mary is preparing for a reunion show with the Stompers. She sits at the dressing table with her head in her hands, "I can't do this. I'm too old. What if I can't sing?" 
The idea started with a letter from Kate, her childhood friend, who had observed her rise to fame and then, twenty five years earlier, her swapping showbiz for family life.  She thinks Mary should perform again, "Half of Glasgow will turn up! Why brush your career under the carpet!"
In a series of humorous flash backs, we first observe Mary and Kate at school when asked by their teacher what they want to be when they grow up. Mary replies "I want be a singer, travel, eat lobster and meet Frank Sinatra."  At home, she sings a medley with her father comprising of "Old Time Religion" and "My Only Sunshine", instilling her love of music.
Like an early X Factor show, she takes part in a talent competition, standing at the microphone in a black dress and cardigan – she may not look like a star but her talent as a singer shines through - reminiscent of  Susan Boyle's stunning audition on Britain's Got Talent.  
In this lovely scene, Elaine C Smith shows off a rich, country blues tone of voice in "I've Got a Fortune in Dreams," expressing Mary's heartfelt passion to perform.
With only daydreams to keep me at night, I get along and I'm doin' alright
I haven't got a bankful, but I'm thankful to say I've got a fortune in dreams put away
I've got a fortune in dreams.
And so her showbiz life on the road kicks off, well illustrated with TV footage of a pop chart show and a gig at the Cavern Club, Liverpool.  She reminisces with Kate about when The Beatles were their support act and about how Louis Armstrong, "a bear hug of a man", always trumpeted her vocal genius.
We have a glimpse into her private life, too, in love with a merchant seaman away for months at a time. In "Won't You Come Home, Bill Bailey," the lyrics express her own difficult experience of relationship blues. 
Back to the night of the concert in the dressing room, and in a heart to heart conversation, Kate gently tries to persuade Mary that, of course, she can sing again. It's her 5 minute call before curtain up. 
This intimate and poignant wee play encapsulates Mary's musical journey with sound effects, film clips, the big band sound and songs with period atmosphere.  Both women curiously, are dressed throughout in plain black dresses (donning an occasional jacket or sequin top), but colourful vintage clothes would nail a more fashionable '50s look.
George Drennan plays several fine cameo characters with just a quick change of clothes, and Hilary Lyon as Kate has a charming voice, too, but stands quietly in Mary's shadow.
Centre stage is Mary McGowan, portrayed beautifully and brilliantly by Elaine C. Smith with a gutsy, Glaswegian personality as the lassie from the Gorbals as well as capturing the power of her raw, bluesy jazzy voice. Just listen to the real girl with the sweetest growl on YouTube! 
Show times:
Tuesday 15 - Saturday 19 October @ 1pm. Friday 18 October @ 7pm.
Tickets: £13.50 (includes ticket, pie and drink).