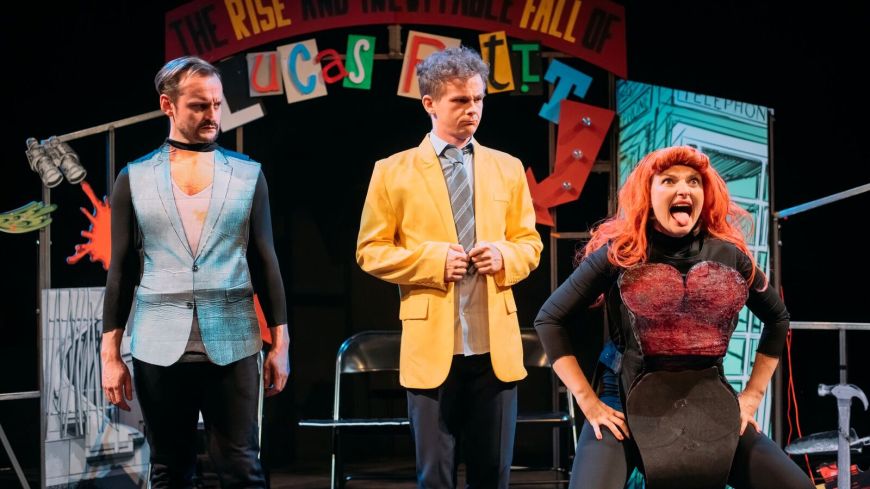 Company
Sleeping Warrior Theatre Company, Macrobert Art Centre in association with Showroom
Production
Andy McGregor (writer/director/composer), Alice Wilson (design), Simon Wilkinson (lighting design), Darren Brownlie (choreography), Callum Smith (producer)


Performers
Alasdair Hankinson (Lucas Petit), Ashley Smith (Lucifer, Natasha & others), Darren Brownlie (God & others)
Lucas Petit (Alasdair Hankinson) may wear a jacket bright enough to be coveted by Michael Portillo, but he is a man who likes the mundane. Petit by name; petit by nature. He has a boring job in a call centre where he just loves 'doughnut Thursday'. Like the conventional Reginald Perrin, who conversely fell and rose, he arrives home by the same route at the same time every day to his Dennistoun home. In spite of being married to the dynamic Natasha (Ashley Smith), the highlight of his week is a trip to B & Q, not to indulge in DIY but to go to their café. Then one day he comes across a wise guy (Darren Brownlie) claiming to be none other than God who tempts him with a smart leather briefcase that holds mysterious properties. This Glaswegian Kenny Everett, also known as a Dave, has a sidekick known as Lucifer (aka Brenda). From then on the life of Lucas Petit, who is "a perfect pawn to play with", takes some new turns and will never be the same again.
Created in the style of a comic strip brought to life, writer Andy McGregor has created an irreverent all singing and all dancing fusion Faust for the 21st century. With its bright coloured set that resembles the entrance to a fairground, there is the air of a kids' show but with the adult content of sex, violence, religious fanaticism and Clouseau style political intrigue. Comically effective cardboard cut outs props reminiscent of The Kenny Everett Show and crazy Velcro costumes all add to the show's wackiness.
Was it God and Lucifer or just Dave and Brenda? That remains ambiguous but 2D costumes becoming 3D hint at reality kicking in towards the end yet when 'God' is dying, the Pieta pose is surely not accidental. This highly inventive energetic show on the perils of gullibility comes with high credentials across the board. It is cleverly written, brilliantly choreographed, lively music and sound, is terrifically well performed by the three actors and mostly really enjoyable so it's hard to say why it misses hitting that magic spot. Maybe the 20 minutes added to its original hour's running time during the show's development tipped the balance from leaving an audience hungry for a bit more to having had enough.
19 - 20 Sep 2016 Age Recommend 12+ Tour continues