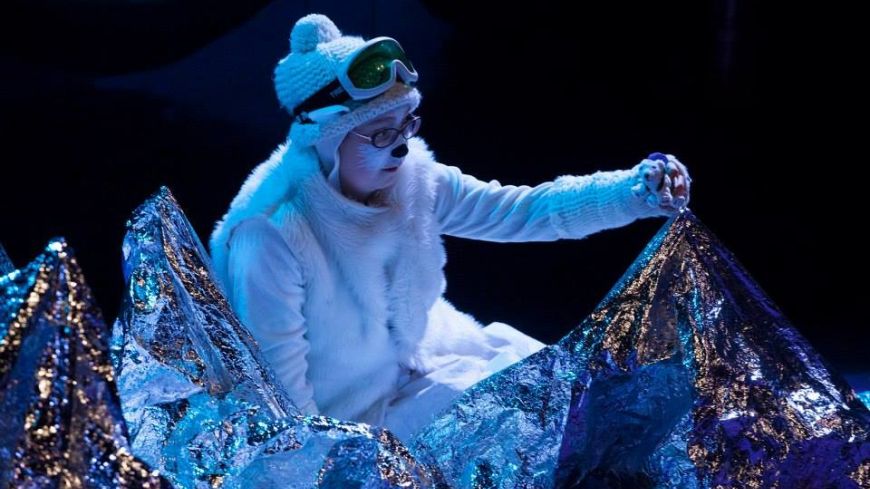 Company
macrobert and Fish & Game
Production
Claire Halleran (designer), Greg Sinclair (composer), Grant Anderson (lighting design), macrobert (producer), Julia Bauer (photographer)
Performers
Eilidh MacAskill (Big Polar Bear), Fiona Manson (Wee Polar Bear)
Award winning Glasgow-based theatre company Fish & Game is back on the road with a national tour of their highly successful children's show The Polar Bears Go Wild that opened at Durham's Take Off Festival on 23rd October and finishes with a festive run at Edinburgh's Traverse.
Four big interspersed triangles form the simple set of this charming show. They cleverly become the destinations of the two rucksacked polar bears who appear on stage like a pair of bewildered map consulting tourists ready for an adventure.
Gentle music of harp and soft percussion with rhythms reminiscent of warmer climes elicited a question from a small companion that the polar bears in the show might be African! Well, while anything's possible in theatre, and in this delightful show disbelief is thoroughly suspended for all ages, the two enchanting and utterly engaging ursine characters were definitely traversing a cold and snowy terrain!
From river to ski slope to forests and mountains, the two billy- canned intrepids silently tick off their destinations and with quiet gentle humour climb, ski, paddle and picnic their way along their intrepid journey to the delight of their audience.
Incorporating some cool bum swaying dance moves and some serious ski slope posing, this is innocent, inventive, inclusive fun that ends with a tune from what has to be the happiest instrument in the world, the ukulele.
Delightful entertainment and a lovely piece of Christmas magic for the wee ones – and not so wee ones!
Show times
Thursday 5 - Saturday 21 December, 10.30am & 2pm (no performances on Sundays or Mondays)
Ticket Prices
£10 / £8 (Family Ticket) Family tickets at £7 each on Thu 5 Dec, 10.30am or 2pm. One child minimum.