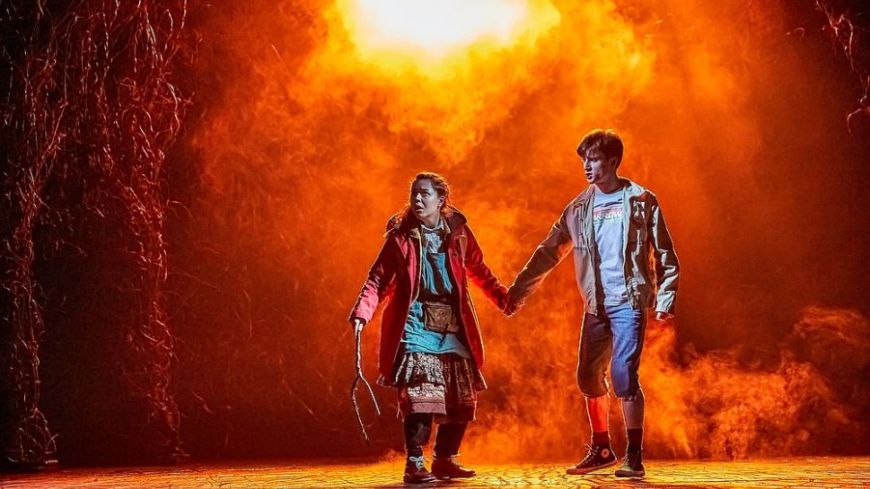 Production
Neil Gaiman (author), Adaptor Joel Horwood (adaptor), Katy Rudd (director), Fly Davis (set designer), Samuel Wyer (costume and puppet designer), Steven Hoggett (movement director), Jherek Bischoff (composer), Paule Constable (lighting designer), Ian Dickinson (sound designer for Autograph), Jamie Harrison (magic and illusions director and designer), Finn Caldwell (puppetry). Naomi Downham (casting director), Sophie Dillon Moniram (associate director), Tim Blazdell (associate set designer and draftsperson), Jess Williams (associate movement director), Rob Casey (lighting associate for Ammonite), Tom Turner (lighting associate and LX programmer), Christopher Reid (sound associate), John Bulleid (magic and illusions associate), Gareth Aled (associate puppetry director), Kate Godfrey (voice and dialect coach), Eleri B. Jones (resident director), John Maddox (flying effects for Suspended Illusions Ltd.)
Performers
Millie Hikasa (Lettie Hempstock), Kier Ogilvy (Boy), Daniel Cornish (Boy (alternate)), Trevor Fox (Dad), Charlie Brooks (Ursula / Skarthach), Finty Williams (Old Mrs Hempstock), Kemi-Bo Jacobs (Ginnie Hempstock), Laurie Ogden (Sis, ensemble), Ronnie Lee (Lodger / ensemble), Emma-Jane Goodwin (understudy and ensemble), Paolo Guidi (ensemble), Lewis Howard (understudy and ensemble), Jasmeen James (understudy and ensemble), Aimee McGoldrick (understudy / ensemble / policewoman), Domonic Ramsden (ensemble / policeman), Joe Rawlinson-Hunt (understudy and ensemble), Risha Silvera (understudy and ensemble).
"I remember my own childhood vividly … I knew terrible things.  But I knew I mustn't let the adults know I knew.  It would scare them" – Maurice Sendak (from the epigraph of Gaiman's novel).
It is a day for remembering the dead for the man attending his father's funeral, returning to his childhood home of some 40 years earlier and feeling like he is "pretending to be an adult".
He revisits the neighbouring farmhouse at the end of the lane, so old that it was mentioned in the Domesday Book, home to the unlikely dynasty of the Hempstock women. Recalling playing with young Lettie, who convinced him that adjacent duck pond was an ocean the past, everything, floods back.
He meets Lettie following some dark happenings at home, which seem a tipping point with a barely coping father, struggling in reduced circumstances after the death of his wife and a quarrelsome sister.  It's not exactly a happy childhood, exemplified by a birthday party that no one shows up to, but he lives in books more than anywhere else, escaping to worlds of The Chronicles of Narnia, Peter Pan, and Alice in Wonderland. Books are safer than other people anyway.
But he is about to go down the rabbit hole as Lettie, with an uncanny knack of knowing things, feels that something has woken up, a female presence that is pushing at the boundaries of the boy's world.  When their new lodger, the seemingly charming Ursula moves in, only the boy sees her as a sinister force and so begins a magical battle of wits against powers that would seek to destroy everything in his world.
This magical-realism fairy-tale makes a relatively slow start but takes the audience by the hand and pulls them into the often terrifying uncertain borderland between a child's imagination and sometimes harsh realities of adulthood, and, as the pace ramps up, it doesn't let go.  The source novel is a slim one, originally intended as a short story, and where the fairly simple plot attempts to bridge between fantasy and science it feels a little shaky, but the sheer theatricality wins out.
The production is visually stunning and the combination of set, lighting, sound, large scale puppetry and seamless movement pull off a something that is truly theatrical in a way that could not be captured in a big budget movie. Moments of magical effects exist where misdirection is not distracting but conjure a childlike sense of wonder and for all the fantasy, the performances are credible, charming and at times touching.
Amidst all the fast-paced action the show also looks at the nature of home and loss, be it memories, people, or childhood dreams; how we survive to fill the empty spaces and broken hearts and how memories change - "Remembering is no different from imagining ... memories change along with the people remembering 'em". 
A huge immersive production of "fantastic fiction" that will leave vivid memories.
Show Times: 18 to 22 April 2023 at 7.30 pm.  Matinees 20 and 22 April at 2.30pm.
Running time 2 hours 30 minutes including 20-minute interval (approx). (Tour continues until 7 October 2023). 
Tickets: £19.50 (£16.50) to £45.50 (£42.50).
Suitability: 12+ Note: Contains high intensity lighting and strobe, haze and smoke, pyrotechnics, loud sound, and blackouts. The production contains moments that some people may find frightening, including references to death.