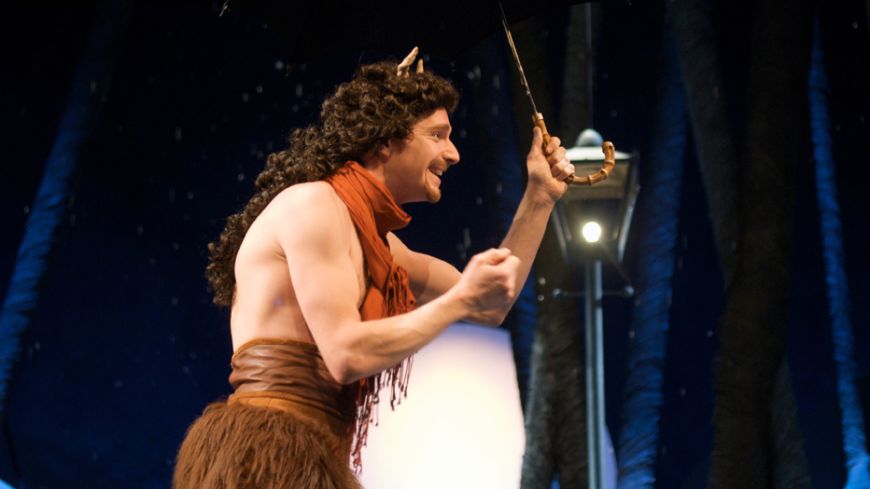 Company
Royal Lyceum Theatre Company
Production
CS Lewis (author), Glyn Robbins (scriptwriter), Mark Thomson (director), Ken Harrison (designer), Malcolm Sheilds (associate director - movement), Philip Pinsky (associate director - music), David Cunningham (lighting designer)
Performers
Scott Hoatson (Peter), Jenny Hulse (Susan), Neil Thomas (Edmund), Amy McAllister (Lucy), Daniel Williams (Father Christmas/Aslan), Sandy Grierson (Professor/ Maugrim), David Lucas (Mr Tumnus/ Mr Beaver), Ruth Connell (Mrs Macready/ Mrs Beaver), Meg Fraser (White Witch), Owain Rhys Davies (Dwarf)
To Narnia once more through the wardrobe, as we travel to one of the most iconic literary lands in the hands of the Lyceum - a theatre deserving of its reputation for creating truly stylish Christmas shows but which, on this occassion, falls just short of the mark.
Glyn Robbins' adaptation tightens the CS Lewis classic tale focusing on all the best, memorable bits to ensure the audience stay alert.
Opening with a montage of activity as Lucy, Edmund, Peter and Susan are evacuated to a big, lonely house during the Second World War, the darting actions of the household staff around the bemused children creates an intriguing beginning.
When Lucy is left on her own and discovers the wardrobe there is a defining silence in the auditorium as she goes inside and we are transported to Narnia and the lampost - transitioned beautifully by Ken Harrison's design which is simplistic, magical and without excess.
Amy McAllister's stubborn Lucy is portrayed with an endearing willingness to believe that hits a note with everyone in the audience who's ever played make-believe. Her meeting with Mr Tumnus is joyously delivered, with David Lucas' faun executed with warmth, humour and fear of the land Narnia has become under control of the power hungry self-declared Queen and her mignons.
Mark Thomson's direction for this cut-down classic plays up the humour of the book. While too much darkness might not sit well in a family show, there is some jarring with this approach. Where it does work is in the witty duo of Mr and Mrs Beaver - a high octane double act who wiggle and dance and kiss noses - brought to life wonderfully by David Lucas and Ruth Connell.
Where it doesn't work is the scenes with the White Witch and her two main dog bodies Maugrim (Sandy Grierson) and Dwarf (Owain Rhys Davies) as a trio of comedic idiots, which comes across as patronising and undermines the role the White Witch represents in the force against good.
There is enough light in CS Lewis' tale to allow the shade to truly come in with the evilness of these darker characters. Meg Fraser's portrayal of the white witch as a cackling, ferociously angry shrew with hints of ADD is a performance you'll either love or hate but which is beautifully contrasted in the regal understatement of Daniel Williams's Lion King, Aslan, who manages to retain a mysteriously dignified air throughout while his physical stature is perfectly suited to the powerful, majestic animal he portrays.
After we are introduced to Aslan at the beginning of Act Two, it all seems to go downhill from there. The second act is full of awkward transitioning and rapid story revelations that leave children and adults alike scratching their heads with not much room to emotionally connect to the stories subtleties.
Thomson's decision to slowly build up Narnia then jump straight into the action does not do full justice to the potential of the piece. Instead of creating cultural relevancy, which is only hinted at through the matriarchial scottish tones of housekeeper Mrs MacReady, this plays out as a passive recreation, no better exemplified than in the unneccessary plums-in-mouth posh accents adopted by the children. The tyranny and oppression of the original tale is lost in a polite re-telling where the meatier plot moments fail to ignite - the battle scene in particular being a messy affair.
This is a well-presented stage version of a classic children's story about right and wrong, good and evil and imagination. But rather than embrace the rich spectrum of theatre and its tricks it chooses to limit itself to a play-by-numbers approach rather than the usual energised Christmas celebration we are used to.