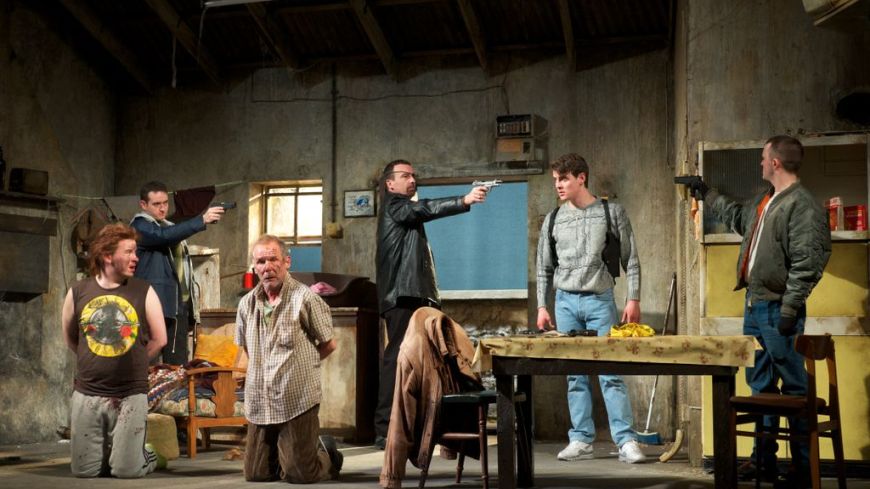 Company
The Royal Lyceum Theatre
Production
Martin McDonagh (Writer), Mark Thomson (Director), Colin Richmond (Designer), Chris Davey (Lighting Designer)
Performers
Peter Campion (Padraic), Christopher Fairbank (Donny), Rory Murphy (Davey), Rose O'Loughlin (Mairead), Grant O'Rourke (James), Mark Prendergast (Brendan),Jamie Quinn (Joey), Liam Brennan (Christy)

The genius of Martin McDonagh is his precision in structurally plotting classic plays then throwing in a curve ball to the basest storyline, echoing the importance of entertainment in theatre.
There are no deep psychological portraits presented of the people who reside on the isle of Inishmore as McDonagh transports us back to the early 1990s when the Northern Ireland peace process is faltering at the first hurdle, and volatile militant groups are incited by romanticised righteous nationalism.
Instead the gruesomely funny piece defines its characters by commenting on how it's easy to be caught up in the warped sense of accomplishment and excitement of republican terrorism. At the core of the piece each character is living in a morality of their own making, rarely listening to any voice that doesn't echo their own opinions, be they informed or indoctrinated.
INLA man Mad Padraic (Peter Campion) is busy at work ripping toenails off Belfast drug pusher James (Grant O'Rourke) and waxing lyrical about splinter groups. Perfectly at ease and eager to remove James' right nipple, Padraic is interrupted by a call from his father Donny (Christopher Fairbank) who has the misfortune of breaking the news that his son's beloved moggie Wee Thomas is a bit poorly.
Wee Thomas is in fact sans brain after being found lying on the roadside by Inishmore's local layabout Davey (Rory Murphy), who is having a hairy fit at what crazy Padraic will do when he finds out. As Padraic hot foots it back to the rural isolation of his youth, Davey and Donny hitch a far-fetched and poitín fuelled plan, soon foiled by the grief stricken and vengeful psychopath determined to have justice for losing his feline, and only ever, friend.
Along with Padraic's former comrades laying in wait, aware of whispers of splintering, as well as air rifle-toting teen Mairead (Rose O'Loughlin) who still believes in heroes and is erotically caught up in the temptation of violence, the ensuing explosion of events is unhinged jumbles of trivial and exaggerated, which meld around a deliciously macabre farce with an escalating body count.
McDonagh's improbable piece asks what ideologies are worth in a world where human lives aren't as important as that of a cat in a horribly funny assault, using the mundane to exemplify xenophobia amidst the inflated egos of terrorist idiots, self-appointed with authority and armed for kneejerk revenge.
Credit to Mark Thomson who fully embraces McDonagh's ludicrous vision, directing the fast-paced, one-liner fuelled romp with gusto, enhanced by an on form cast ensuring their moments of slapstick where counteracted with mesmerising subtleties. Campion in particular deserves a mention for his unsettling turn and comic nuances.
Show times

Runs until Sat 12 May