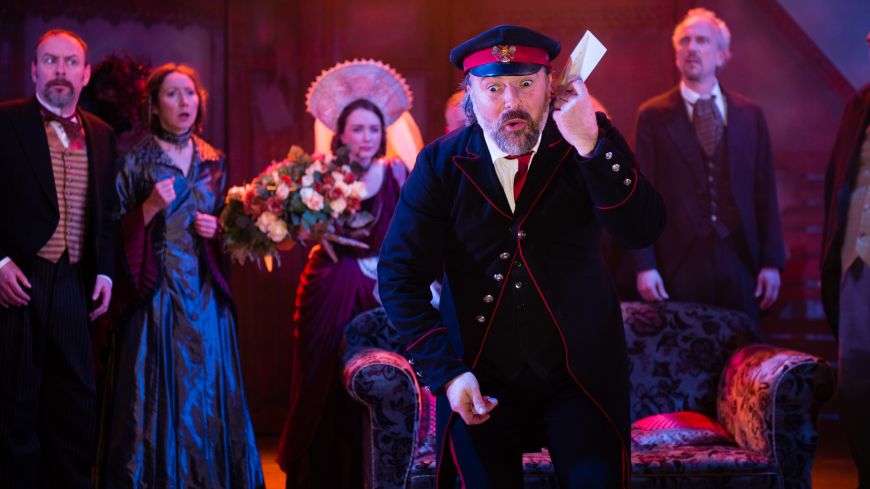 Company
Communicado Theatre Company & Aberystwyth Arts Centre
Production
Gerry Mulgrew (Director), Nikolai Gogol (Writer), Jessica Brettle (Designer), Sergey Jakovsky (Lighting Designer), Malcolm Shields (Movement Director), Kirsty Glover (Scenic Artist)
Performers
Stephen Marzella (The Governor), Kate Quinnel (Marya), Barrie Hunter (Bobchinsky), Ieuan Rhys (Dobchinsky), Jams Thomas (The Postmaster), George Drennan (Charity Commissioner), Pauline Knowles (Anna), Malcolm Shields (Judge), Wendy Weatherby (Avdotya/Musician), Oliver Lavery (Khlestakov)
It must be a difficult job satirising politicians. Not to tarnish them all with the same brush or anything, but they really are self-satirising. Even wonderful shows like The Thick Of It are mere understatements when compared to the fantastical antics of those who genuinely 'represent' us.
The Government Inspector, written by Ukrainian-born Russian dramatist and novelist Nikolai Gogol in 1836 (though revised in 1842), is a rare piece that you can genuinely label a satire. Bursting with humour, wit and intelligence – how can this possibly be an accurate reflection? However, there is a sinister slime bubbling near the surface that oozes through from time to time, leaving a distinct taste of evil in the air and a queasy, unsettling shudder in our stomachs.
A cutting portrait of a profession clothed in corruption, bloodlust and…well…laughs. Imagine, if you will, P.G. Wodehouse meeting Martin Scorsese in a vodka bar in 19th century St Petersburg and you've pretty much found the conditions needed for the birth of The Government Inspector.
The play follows a group of corrupt officials within a small town in Russia who come to learn that a government inspector is on his way to assess their activity. Whilst attempting to cover up their considerable misdeeds, they are interrupted with news that a mysterious individual has been spotted just down the road and that it is believed to be the man about whom they are concerned.
Without so much as a second thought, they shower this elegant mystery man with comforts, compliments and gifts. But is this man truly who they believe him to be? Or are they all about to get a nasty taste of their own medicine?
Much as I suggested above, the script is pretty much flawless. Fast, funny and coloured with the most beautiful language, it would be an entertaining read let alone theatrical performance. The only criticism one could have is that it occasionally goes one joke too far, leading to a niggling belief that maybe it all could have been a little bit shorter.
The play knows how clever it is and can perhaps be accused of a lack of discipline at the odd moment. But this really is a small quibble and I would never like to accuse anybody of being too clever.
The show itself does the writing mighty justice, with fabulous performances by an outstandingly talented cast. Can they sing? Can they dance? Can they play instruments? Yes! Yes! And, that's right, you guessed it, yes! And they're not bad actors either.
For the most part it bangs along at a rollocking pace, leaving nothing but an echo of laughs in its wake. A celebration of the very best of theatre, this is a fantastic night out worthy of your well-earned wages.