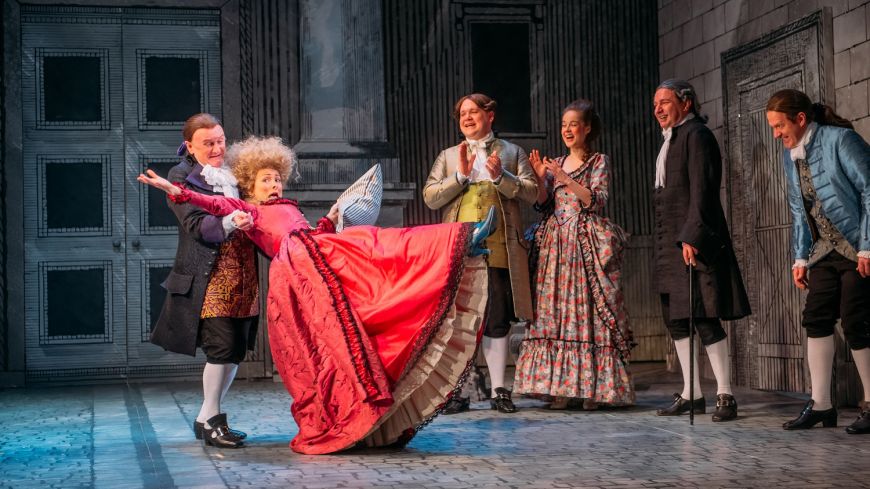 Company
The Royal Lyceum Theatre Edinburgh
Production
Hannah Cowley (writer), Tony Cownie (adaptor and director), Neil Murray (designer),
Tina McHugh (LX Designer), John Kielty (composer), Kally Lloyd-Jones (choreographer)

Performers
Richard Conlon (Baillie/Courtall), Angela Hardie (Letitia Hardy), John Kielty (Saville), Pauline Knowles (Mrs Racket), Helen Mackay (Lady Frances Touchwood), Steven McNicoll (Provost Hardy/Phillip/Gibson), Angus Miller (Doricourt), Grant O'Rouke (Sir George Touchwood/Geoffrey), John Ramage (Flutter/Dick), and Nicola Roy (Mrs Ogle/Kitty).
Hannah Cowley's near forgotten 18th century feminine riposte to George Farquhar's earlier play The Beaux' Stratagem has been revived in a hilarious fantoosh farce by the master of the form, Tony Cownie.
Transposed from its original Georgian London, the action takes place in the early days of Edinburgh's New Town - 9 March 1788 to be precise. The dashing Doricourt (Angus Miller) is back in town from Europe to take the hand of the Provost's daughter, Letitia Hardy (Angela Hardie) in a marriage that had been arranged since her birth. Instead of being charmed by his promised lass, he finds her dull and unsophisticated compared to her European counterparts. Whit does he ken?!
As he enters the marriage dutifully, but not joyfully, Letitia hatches a cunning plan to make her betrothed unwittingly fall for her by seducing him in disguise during the Masquerade Ball in the Assembly Rooms. Running alongside are the dodgy plans of the Capital's scoundrel and wanabee Viscount Valmont, the aptly named Courtall (Richard Conlon). His sights are on the innocent Lady Frances Touchwood (Helen Mackay) who is fresh in town from rural Ayrshire as the new bride of the man child that is Sir George Touchwood (Grant O'Rouke). And so begins the fabulous cat's cradle of farcical confusion that's full of fops and dolly mops.
The comedy may be primarily a comment on marriage and female liberation; the separate spheres of the male and the female of the time and the ensuing battle of the sexes, but Cownie's adaptation looks at much more. He capitalises on Edinburgh's trademark duality exposing what lurks behind the douce grey walls of Edinburgh's New Toun whose grey Doric pillars are created in chiaroscuro and contrasted by sartorially sumptuous costumes, all designed to delight the eye by Neil Murray, as does the gorgeous dancing choreographed by Kally Lloyd-Jones.
As a greyish opaque screen, like an Edinburgh haar, divides scenes in this pantomime inspired piece full of audience asides, real characters and events of the time such as Jacobitism, the Scottish Enlightenment and Burns' visit the previous year, are woven through the text, even throwing in one of the Bard's risqué quotes.
Though unfair to single anyone out from this brilliant all Scottish ensemble studded with some serious comic actors, John Ramage is a steal as arch gossip Flutter, the local reporter aye greedy for a catch phrase, and Nicola Roy a comic delight as both Mrs Ogle and Kitty the prostitute.
The Belle's Stratagem dialogue is packed full of wickedly delicious wit that's smattered with enough old Scots words to authenticate but with cheeky contemporary words and references to balance and avoid a script of cringemaking contrivance.
Duality is embedded in human nature, and we are reminded that we all live behind some mask or other. This glorious production of The Belle's Stratagem manages the trick of providing a great night's entertainment at the theatre while delivering a strong societal message about women's place there.
15 February – 10 March 2018