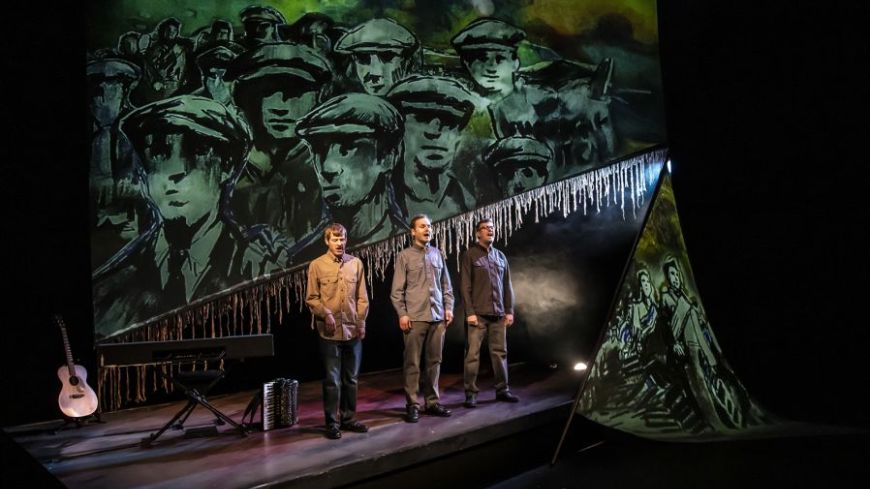 Company
Northern Stage, The Young'uns & Harbourfront Centre Toronto co-production
Production
Lorne Campbell (Director); The Young'uns (Writers & Composers); Kai Fischer (Designer – Set, Costumes, AV & Lighting); Scott Turnbull (Animation Designer); Aaron Brady (Animator); Mariam Rezaei (Sound Designer); Andy Bell (Sound Engineer)
Performers
The Young'uns – Sean Cooney, David Eagle, Michael Hughes
Award winning folk trio The Young'uns have created a beautiful lyrical homage to a real life (previously unsung) hero, Johnny Longstaff. This is a story of an ordinary man who stood up for his beliefs with extraordinary actions, first with the Hunger Marches of the 1930s, then fighting the fascism of Mosley's blackshirts in London, followed by the fight against Franco in Spain of the late 1930s and then finally serving in WWII. 
In many ways this snapshot of the 1930s unrest strikes parallels with the world of now – those fighting against unjust actions and leaders, a backdrop of poverty threatening both those who are vulnerable and those who fight to protect the vulnerable, and the camaraderie of those who work together for the common good.
Music works exceptionally well in telling the story of Longstaff. The Young'uns bring a warmth and down to earth emotional intelligence to their storytelling: the mix of songs, narration, banter and Longstaff's own recorded diary merge seamlessly, smoothly bringing the audience into the journey of Longstaff's life. His voice, as it interjects at key points with a straightforward but entertaining delivery, is the backbone of the piece, giving a real flavour of the man.
Lorne Campbell's direction is deceptively simple: the movement and changes seem uncomplicated and seamless, yet there is a hidden complexity in making the range of storytelling styles flow with the folk song harmonies and the eye-catching animation.  The Young'uns themselves sing, play instruments, move into formations and with disarming honesty, bring us into the world on stage. The folk music seems modern yet is underpinned with tradition sounds, as the dynamic harmonies ring clear - it is folk, but not as you may imagine it.
Unexpectedly moving but ultimately uplifting, The Ballad of Johnny Longstaff deserves to be told for a long, long time.
Times: Friday 28 & Saturday 29 February @ 7:30pm; matinee Saturday 29 February @ 2:30pm
Tickets: £1.00-£17.00
Photo: (L-R) David Eagle, Sean Cooney, Michael Hughes; Photo credit Pamela Raith