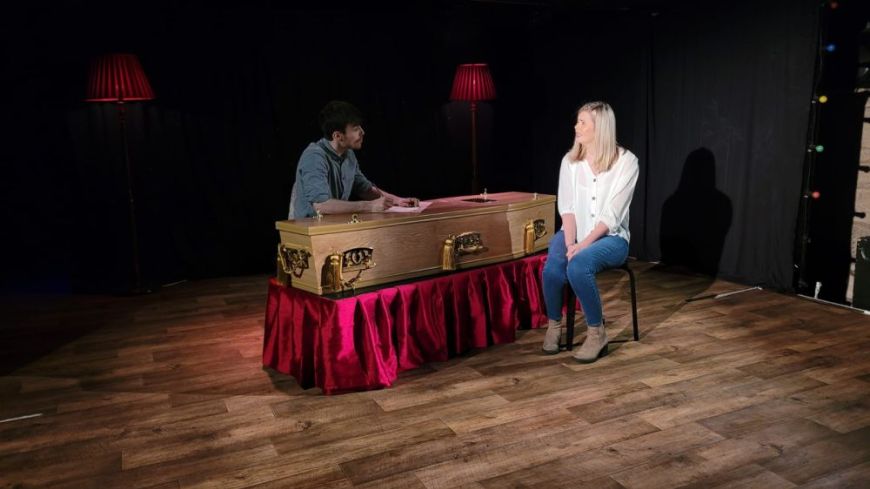 Company
A Play, a Pie and a Pint, Oran Mor, presented by the Traverse Theatre
Production
Dani Heron (writer), Sally Reid (director), Gemma Patchett (set design), Andy Cowan (Sound), Ross Kirkland (Lighting)
Performers
Dani Heron (Claire), Julie Wilson Nimmo (mother/ensemble), Andrew Still (ensemble), David McKnight (ensemble)
'And now the end is here
And so I face that final curtain,
My friend, I'll make it clear
I'll state my case, of which I'm certain.'
 
Frank Sinatra's "My Way," one of the most popular songs selected for a funeral, is played as a prelude before we meet the bubbly, blonde Claire, aged 29: she is single, works in a blood donor centre, likes the sound of rain on the window, cannot drive, loves Nutella .. but then adds, "I am dying."
The set is furnished with a vase of flowers, two tall standard lamps and a large coffin as a symbolic and disturbing reminder of death, whatever the location as the drama unfolds.
At the hospital, the doctor explains the diagnosis in bleak, bold detail, "stage 4, aggressive tumour, rate of survival", while Claire hardly listens, the stark fact that she has a terminal illness not sinking in.  She drowns her sorrows with a few vodka shots, sharing the news with an air headed, naïve barmaid: "Stage 4 cancer, is that bad?"
But she wisely suggests Claire should compile a Bucket list: "A number of experiences or achievements that a person hopes to have or accomplish during their lifetime." 
Her wishlist of ten final things to do – #1, get a Tattoo, #3, learn to drive, #4, visit Amsterdam - are neatly dramatised through short, snappy scenes with an ensemble cast playing friends and family.  The multiple role playing is at first a tad confusing such as when her helpful, vodka serving confidante re-appears as her mother with no change whatsoever to clothes, tone of voice, accent or personality.
This is a funereal black comedy with no reflection of reality or emotion: Claire is in denial of the truth, carries on as normal and unable to tell her mother, colleagues or ex-boyfriend that she just has a few months to live.  Much of the action relies on OTT, over-acted, farcical encounters, and sadly, the dialogue is peppered with the F word and crude expletives which is tedious, lazy writing and far from amusing. 
The economical set design with the coffin centre stage is soon laid with a bizarre collection of accessories and props to illustrate her adventures.  The funeral director (who never speaks), dressed in a sombre black coat, acts as a stage manager, gliding across the stage with a ghostly presence and seamless grace. 
And so Claire continues to tick off her bucket list: # 2, sing in a karaoke bar when sober; #6, have a bath of baked beans – all in energetic, high spirits and happy-go-lucky demeanour.
'I planned each charted course
Each careful step along the byway,
And more, much, much more
I did it, I did it my way.'
Showtimes:
Tuesday 8 – Saturday 12 March, @ 1pm
Ticket price: £16
(includes a pie, beer/wine/soft drink).
Age guidance: 14+
https://www.traverse.co.uk/whats-on/event/a-play-a-pie-and-a-pint-ten-things-to-do-before-you-die