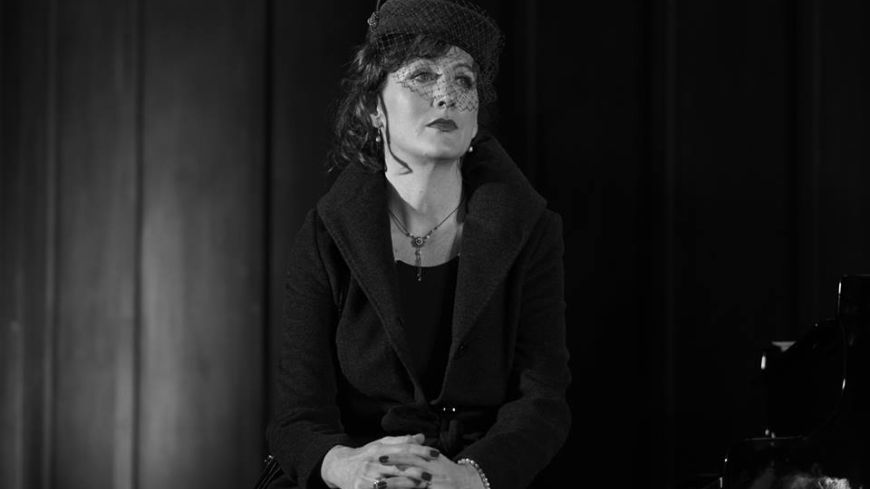 Performers
Taylor Wilson (Jenny), Karen MacIver (Music Director, Keyboards, Accordion), Marion Christie (Percussion, Flute, Keyboards), Robin Mason (Cello, Singing Saw)
"Jenny" is seductress, hustler, immigrant, survivor. Take a Walk on the Weill Side, helmed by Taylor Wilson as Jenny, aims to take you on a journey through Kurt Weill's repertoire, developing a narrative that links his best works together. It is a velvety night of 1930s-era German cabaret told through the perspective of a woman who has dabbled in both the fancy and the frightful things in life.
The debonair "Schadenfreude Orchestra", directed by Karen MacIver, plays as the audience settles, sat beside the staged chaise lounge and coat rack. Keyboards, cello, percussion, (not to mention an impressive singing saw at one point) and accordion keep the time and the mood throughout famous numbers like Surabaya Johnny, Mack the Knife and the pinnacle Pirate Jenny. The music is beautiful, filled with subtlety and nuance, and the three accompany Jenny with aplomb.
Taylor Wilson as chanteuse displays her musicianship not only through her instrument but also through her delivery, obviously having done her homework with the text analysis so that the inflection and meaning behind the German and French songs were not lost on those whose tongues could not understand the lyrics.
Musically, she has a lovely lower register and good control of her range and dynamics, all aspects that bring nuance and colour to Take a Walk on the Weill Side. Her Pirate Jenny soared; what a delight.
As an actress, she is intriguing- she would make a great Vanda in Venus in Fur, if any casting agents are reading. Her portrayal of Jenny is melodramatic, which is arguably in keeping of the ambience of the opulent VooDoo room; however, the narrative doesn't always lend the support her acting needs to pull off the emotional intensity.
The bones of this piece are flavourful: music, recordings, monologues tying together Weill's works is a spectacle unlike any other "jukebox musical" you've ever seen; however, the individual parts do not yet effectively coalesce. It feels like perhaps this piece has been workshopped to fit into an hour, and, therefore, much of the necessary exposition may have been lost. Because of this, along with the fact that a good portion of the show is not in English, it takes too long into the hour to really "get" Jenny and her story. At this stage, this show is likely for the educated Weill fan, or at the very least someone who is privy to Weimar-era music traditions.
Kurt Weill was arguably the greatest showman of his time; his writing was surprising, memorable and dripping with satire and political commentary. His works, along with his collaborations with Bertold Brecht, live on with esteem. A show such as Take a Walk on the Weill Side is a rich homage to this time and to this man, and it's a pleasure to see it done with the skill and intelligence it needs.
To keep an eye on future performances, please visit:
https://www.facebook.com/pg/TakeaWalkontheWeillSide/about/