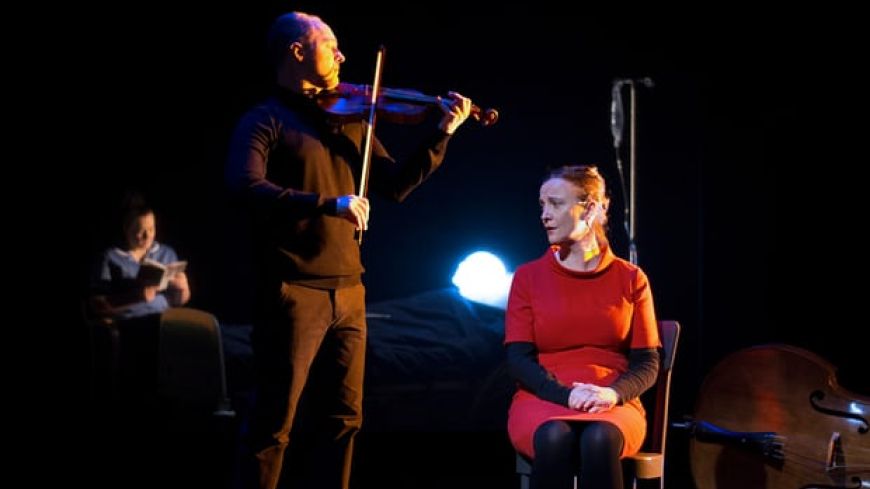 Company
Vanishing Point / Scottish Ensemble
Production
Vanishing Point:
Matthew Lenton (artistic director, concept director, co-writer, designer), Severine Wyper (executive producer), Eleanor Scott (administrative producer), Gillian Garrity (associate producer), Elicia Daly (creative associate), Kai Fisher (creative associate, lighting designer), Sandy Grierson (creative associate), Peter Kelly (creative associate), Pauline Goldsmith (creative associate, co-writer), Brian Daly (finance manager), Niall Walker (marketing manager), Lesley Booth of New Century PR (PR), Rachael Light (work student placement), Gillian McCormack (chair of the board), Faith Liddell (board member), Francis McKee (board member), Judith Patrickson (board member), Caroline Thompson (board member), Mark Thomson (board member)

Scottish Ensemble:
Jonathan Morton (artistic director, musical direction, board member), Fraser Anderson (chief executive), Jenny Jamison (director of artistic planning), Duncan Sutherland (project manager), Scott Crawford Morrison (projects & fundraising officer), Rosie Davies (marketing manager), Samantha Barber (chair of the board), Andrew Berridge (board member), Jeff Fergus (board member), Robert Fleming (board member), Laura Ghiro (board member), Rachel Gwyon (board member), Neil Kelly (board member), Andrew Lockyer (board member), Stella Morse (board member), Lesley Paterson (board member), Lesley Watt (board member), Nick Zekulin (board member)

Fraser Lappin (design assistant), Fiona Fraser (production manager), Lee Davis (stage manager), Alison Reid (deputy stage manager), Matthew Clayton (deputy stage manager), Kara Jackson (assistant stage manager), Andy Gannon (lighting technician), Amir Sherhan (sound designer & technician), Sophie Ferguson (costume supervisor), Big House (set build), Hugh Carswell (film & photography)
Performers
Arvo Pärt (music)
Pauline Goldsmith (performer)
Sarah Short (performer)
Violin: Jonathan Morton, Cheryl Crockett, Daniel Pioro, Clio Gould, Joanne Green, Laura Ghiro
Viola: Jane Atkins, Andrew Berridge
Cello: Alison Lawrence, Naomi Pavri
Double Bass: Diane Clark
Piano: Sophia Rahman

Marcus Sedgwick (author of <em> Snow </em>)
Named for the album played constantly in one man's last days of fighting his losing battle with cancer, Tabula Rasa is mystical gig theatre, an imagining of humanity's negotiation between life and death by way of an hommage to Arvo Pärt's solemn and profound music.
Apparently Arvo's music is particularly profound for those in their final days on this earth, thus the premise for this multi-genre work incorporating monologue, string and piano performance, and contemplative selections read from Marcus Sedgwick's Snow .
An upright piano, prepared grand piano, three chairs and a cello create the set, paired with reflective flooring and a fluorescent hospital light hanging overhead. A man appears in the background, as if already an apparition; a woman in a bright red dress delivers bits of stories about the final moments for her friend Peter. Wrought with dark humour, Pauline Goldsmith is a natural storyteller, her no frills tales about the reality of death and dying feeling like she's had the entire audience over for a cuppa.
Arvo's music bookends Goldsmith's monologues, the pieces themselves conveying the juxtaposition of life's opposites: of two friends, one living another dying, of black and white, of piano and forte, of good and evil, of music and silence. This merging is felt viscerally in the "tintinnabuli" form of musical composition throughout the evening, a philosophy that melody and accompaniment become one. "One and one, it is one - it is not two," remarks Part.
The pieces are chilling, ominous in their simplicity and repetition, quite, well, grave, in feel. The violinists in their concert black feel like Valkyries, wielding their bows and carrying death, at once both noble and terrifying, on the lilt of their phrases. One piece feels like a lullaby, bringing in yet another dichotomy of birth and death. Another features three consequent sections of a song repeated at length: the first section frenetic, the second melancholy and drudging, the third culminating in a chime from the prepared piano reminiscent of a clock's. One piece features a cello's final note standing alone, the resounding fermata eerily like a flatline. Lead violinist and conductor of one pieces ends another final note as the scrim closes on an empty room flooded with white, sterile light. Arvo's pieces are mesmerising, stoic and ethereal.
White is a common thread throughout this entire performance. The glowing white head of the every-patient lying in the hospital bed. White. Simple, both at once containing all colours and no colours at all, much like Arvo's compositions, at once minimalistic but at the same time full of weight and esotericism. White. White like snow, it is also containing many dualities. Light and heavy, cold and warm, unique but part of a collective.
White. The colour of mourning for many cultures.
Tabula Rasa communicates so many threads of metaphor, teetering on being too ambitious in its delivery. There are metaphors of snow and its beauty and perishability, of the dualities of life, of the importance of care (especially throughout several poignant 'Ode to a Nurse' type pieces throughout), but the overarching message is the importance of music and art in humanity's ultimate hours.
Just as Goldsmith decrees in the first funeral monologue, "There was music...and it was fabulous."