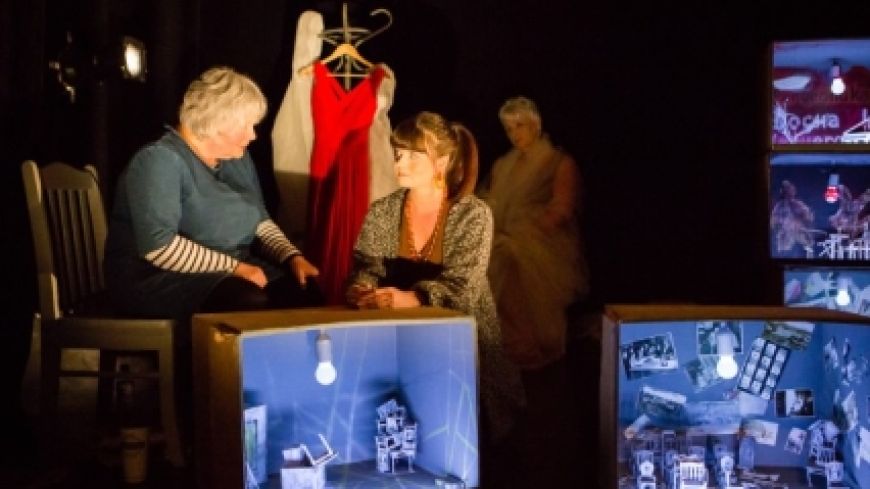 Company
Sylvian Productions
Production
Svlvia Dow (writer), Muriel Romanes (director), John Byrne (designer), Jeanine Byrne (lighting designer), Philip Pinsky (sound designer).
Performers
Carol Ann Crawford (Magda), Romana Abercromby (Chrissie), Pauline Lockhart (Jackie), Rosemary Nairne (Mama).
"This is the house where the hoarder lives."
So we are introduced by daughter, Chrissie and social worker Jackie. They are clad in white protective suits like crime scene investigators, and speak in one voice, clear that this is the day for action.
As far as Magda is concerned it is not a good day, not a good day at all. She lives in a bubble, surrounded by piles of boxes each containing stuff. It is almost a job dealing with it, so much so that problems and stuff are put off to another day. Living in the past is preferable, safer, but when every object is of equal importance, be it an empty bag which once held a Greggs doughnut or a most cherished family memento, which does she hang onto? The answer is everything.
As Chrissie and Jackie help her to tidy, and in the process slowly unpack her memories, the lines soon become stacked, overlapping in a messy, chaotic way. What is revealed is a life coloured by a love of music and a history of difficult, complicated relationships, things that appear to run in the family genes.
Foremost of these is the looming ghost of Magda's mother, a spectral opera singer who appears unbidden and fills a space in her heart. The question is, can she let some of these memories go and find room to move on?
The production follows the well-received rehearsed reading, and adds to it elegant and inventive set design comprising boxes which in themselves contain miniature sets, little dioramas packed with the described rooms and memories, the manifestation of a somewhat messy past. A history which is also brought to life in projected vintage family movies. Both sound and lighting design add significantly. Performances also shine, from the moving Magda to harried Jackie, distanced Chrissie and haunting diva.
There are some arresting moments in the exploration of stuff, particularly in relationships and memories. Being comparatively short (under 55 minutes) the approach is less than forensic and it doesn't delve very deeply into the effects of those with hoarding disorder or those around them. There is probably still more to unpack.
Show Times: 6-7 November 2018 at 8pm.
Tickets: £17 (£9 - £14)
Suitability: 12+