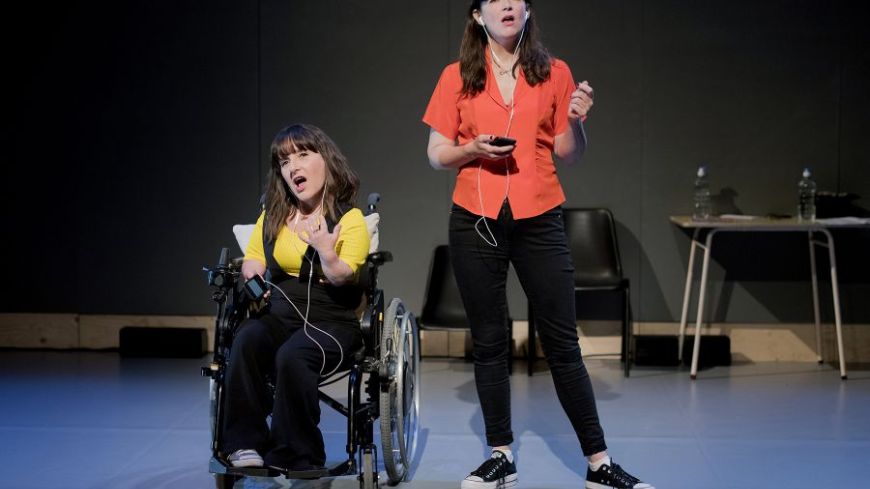 Company
Bunny in association with Ellie Keel Productions and Traverse Theatre
Production
Lisa Hammond, Lee Simpson, Rachael Spence (Writers); Lee Simpson (Director); Ben Stones (Designer); Colin Grenfell (Lighting Designer); Gareth Fry (Sound Designer); Mishi Bekesi (Production Manager; Josh Bowles (Deputy Production Manager); Original Co-production: Improbable and The Royal Court Theatre
Performers
Lisa Hammond (Lisa); Rachael Spence (Rachael); Mat Fraser, Liz Carr, Cherylee Houston, Simon Startin (Voices)
A development of Bunny's show No Idea from 10 years ago, this new incarnation Still No Idea, keeps to its basis of mixing verbatim theatre, light humour and witty sketches. This initially gentle format of sketch comedy springing from the openness of the verbatim text, unfolds into moments of heart-breaking poignancy and an undercurrent of the awareness between conscious and unconscious attitudes to disability (Lisa Hammond is a disabled actor and Rachael Spence is not).
The premise – asking people what kind of play Hammond and Spence (actors and writers) could make, is an interesting one, with fellow writer Lee Simpson contributing to the piece. This leads to some amusing – and occasionally shocking - sketches of the imaginary worlds that the actors could create: what becomes clearer however, as the story unfolds, is just what the interviewees focus on and what they overlook. The discussion about how the perception and comments have changed in the past 10 years is also fascinating, as is the recognition that increased visibility of disability on screen and in public life does not, in itself, mean that life has improved for those with a disability.
Hammond and Spence work well together and their storytelling styles complement the piece. The 'Cheeky Face' song is very simple and upbeat, yet layered with meaning. They know when to go full out with the humour and when to maintain a simple touch with the starker moments. What really stands out are two sections: the figures relating to the DWP and the end, when the recognition of what – and who - is not seen becomes uncomfortably clear.
The pace of the show is uneven at times and can seem to meander when it could pick up the pace. It also feels that some of the sketch material could benefit from a deeper exploration. Nonetheless, what the audience takes home is a bleak understanding of just what being seen as invisible, or 'other' can result in, despite all good intentions to the contrary. In today's unsettled world, this is a powerful image with which to be left.
Times: Friday 8 November 2019 @ 7.30pm (relaxed performance)
Tickets: £5 -£17
Photo by Camila Greenway