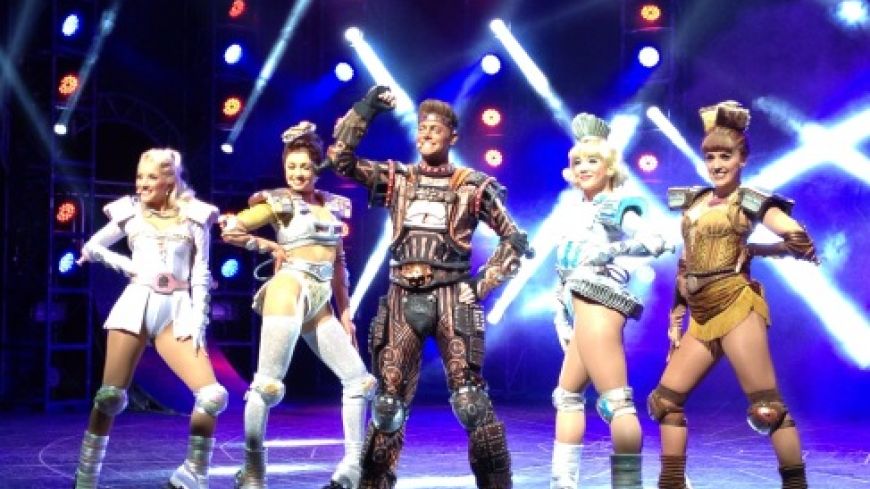 Company
Bill Kenright production
Production
Andrew Lloyd Webber (music), Richard Stilgoe, David Yazbeck (lyrics), Alexandra Ferguson and Julian Napier(3D film), Arlene Phillips, (choreographer and director).
Performers
Kristopher Harding (Rusty), Amanda Coutts (Pearl), Jamie Capewell (Greaseball), Ruthie Stephens (Dinah), Lothair Eaton (Poppa), Camilla Hardy (Buffy), and ensemble. Live Orchestra under director, Dave Rose.
After the success of hit shows, Cats, Evita and Jesus Christ Superstar, the idea for Starlight Express began in 1975 when Andrew Lloyd Webber first thought of a musical based on the "Thomas the Tank Engine" books. But without full permission from the author, Rev. Awdry,  the project was stuck in a siding.
A few years later, he devised an original storyline based on a little boy's dream in which his toy train set comes to life, taking part in a race to become the fastest engine in the world.  Arlene Phillips was given the challenge of choreographing the dance movement for the cast of singers who perform on roller skates – a genius solution for staging speeding trains on a track.
Starlight opened on London's West End in 1984 and ran for 18 years, one of the longest running musicals with 7,461 performances.  From Broadway to Las Vegas, Germany to New Zealand, there have been numerous revivals over the decades.   This new production has been given a makeover for the 21st century - Ashley, the Smoking Car has been removed, language revised, and music refreshed with the addition of new, contemporary pop songs.
The blurb describes it as "two hours of speed, spectacle, energy, daredevil stunts, combined with an electrifying sound track, dazzling sets and costumes, extraordinary choreography and memorable hits", which is perhaps a tad OTT in its description.
The plot is of course written as a very simple, children's bedtime story.  Rusty, the shy but reliable steam engine, plans to race against Greaseball, the dynamic diesel locomotive, to attract the eye of Pearl, the gleaming, glamorous first class carriage.
The original staging featured a series of skating ramps around the auditorium, but now due to health and safety issues, (and for this touring production), all the physical racing is illustrated on a rather spectacular 3D film. Remember to wear your safety goggles!
The train characters are created with wit and imagination, whose engaging personalities draw us into the predictable but cute romantic tale of Rusty and Pearl,  Buffy, the buffet car, Dinah the dining car, and old Poppa, the vintage steamer, amidst a motley crew of electrified engines charging around the stage.
Impressive. high energy dancing on skates involves twirls, twists and spins to a bold and brash soundtrack, switching from rap to rock and roll.  The training is rigorous for the ensemble, who have to be proficient as singers, dancers and roller skaters.
A few additional somersaulting stunts on the Hot Wheels-style slide tracks on stage would create more of a sense of true "daredevil" danger sport and acrobatic circus pizzazz.
Unlike such previous smash hits as "Memory" from Cats, and "Don't Cry for me Argentina", from Evita, what songs from Starlight do you know?  Some of the lyrics are just ridiculously banal, and the music, surprisingly, forgettable.
But there are some hidden gems -  "He'll whistle at me"  sung by the sweet and seductive Amanda Coutts as Pearl and "U.N.C.O.U.P.L.E.D",  a cheesy but fun country and western number performed with gusto by Ruthie Stephens ( Dinah), as a humorous pastiche of Divorce.  Alastair Lloyd Webber shows a spark of his father's talent, with the charming, "I Do" love duet for Pearl and Rusty.
An estimated 24 million people worldwide have seen Starlight since its first night nearly 30 years ago. This was the first time I had seen it and can't quite appreciate why this rather outdated 80s rock musical maintains its perennial fan base.
But witnessing the shrieks of applause and laughter at the Playhouse, Edinburgh, proves once again that this freshly resprayed Starlight Express now steaming off on a UK tour, is unlikely to be derailed any time soon.
As light hearted entertainment for young and old,  mums, dads and the kids, this fastest show on earth is perfect for a family night out.
Showtimes
3 - 14 July, 2012. 
UK tour - around England, Wales and Scotland until February 2013.
His Majesty's, Aberdeen. 2 - 13 October, 2012