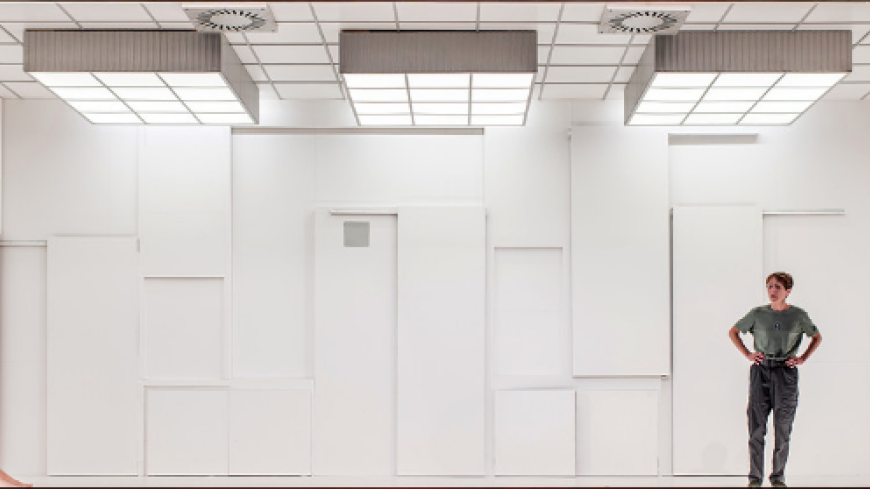 Company
Royal Lyceum Theatre Edinburgh, Malthouse Theatre and The Lyric Hammersmith Theatre
Production
David Greig (writer), Matthew Lutton (director), Hyemi Shin (set & costume design), Paul Jackson (lighting design), Jethro Woodward (sound design & composition), Tov Belling (cinematography), Katie Milwright (cinematography), Toby Angwin (visual effects), Stephen Hawker (lighting realiser), Laura Donnelly CDG (casting director), Dan Travis (deputy stage manager)
Performers
Polly Frame (Kris Kelvin), Keegan Joyce (Ray), Jade Ogugua (Sartorius), Fode Simbo (Dr. Snow), Almila Kaplangi (Child), Maya Mckee (Child), Hugo Weaving (Gibarian)
Day 700. 
A crew of intergalactic explorers have lost contact with Earth. Each month they grow increasingly spooked as their mission to understand the mysterious planet Solaris yields ghostly recreations of memories long buried. Something inexplicably strange has been developing on the space station...visitors from each crew member's lightyears-gone past have found their way, impossibly, aboard the ship.
Solaris has had a few shapes in the last fifty years: first, as Stanislaw Lem's 1961 sci-fi novel, next as a cult 1972 film by Tarkovsky, then as a Soderbergh 2002 remake with a twist. In stark contrast to the ornate theatre that is the Lyceum, this sleek, feverish adaptation of the original novel iteration of Solaris, David Grieg's new play of the same name, is a gripping dive into communication, connection and escapism. Like all the best psychological thrillers dealing in extraterrestrial domain, this one resists anthropomorphising alien life (even while human life itself is used as a sort of language tool). A successfully ambitious production, Solaris seeks to describe the indescribable, much like Meg describing colour to sightless Aunt Beast in A Wrinkle in Time. Themes of xenophobia and trust dissolve into an enveloping examination of otherness. How do we confront what lies beyond our comprehension? Will we see our collective synapses and find them beautiful, or will we see only our differences and find them terrifying? 
All six actors are astonishing, and Jade Ogugua as Sartorius and Keegan Joyce as Ray are particularly dynamic as the skeptic of the group and visitor, respectively. Whether or not they want to make contact with the sentient, gelatinous ocean that covers the surface of Solaris, when the planet evidently chooses to communicate by sending increasingly sophisticated human forms copied from their dreams, visitors arriving in the forms of lost lovers or children, they are each forced to look inward to their own loneliness and longing, wrestling with logic, fear and love. 
Jethro Woodward's sound design is atmospheric and unnerving. Working together with the set design by Hyemi Shin and lighting design by Paul Jackson, it creates a dreamy, yet cold, setting for our combined, satisfying disorientation. 
"We are human. That is the problem," the projection on the scrim advises. As the finale grows closer and the airlock is shut, words from earlier on in the piece somehow linger in the mind, "You have to get lost to find yourself," and the play, like all the best science fiction flicks, ends ambiguously and open, leaving you with more questions than answers. Inventive David Grieg has done it again; sci-fi for the stage has just set a new bar. 
Thu 19 Sep - Sat 5 Oct 
EVENINGS, 7.30pm
Tuesday - Saturday
£16 - £33
MATINEES from 18 September, 2pm
Wednesday and Saturday
£14 - £29
Contains some violent imagery
Photo credit: Mihaela Bodlovic