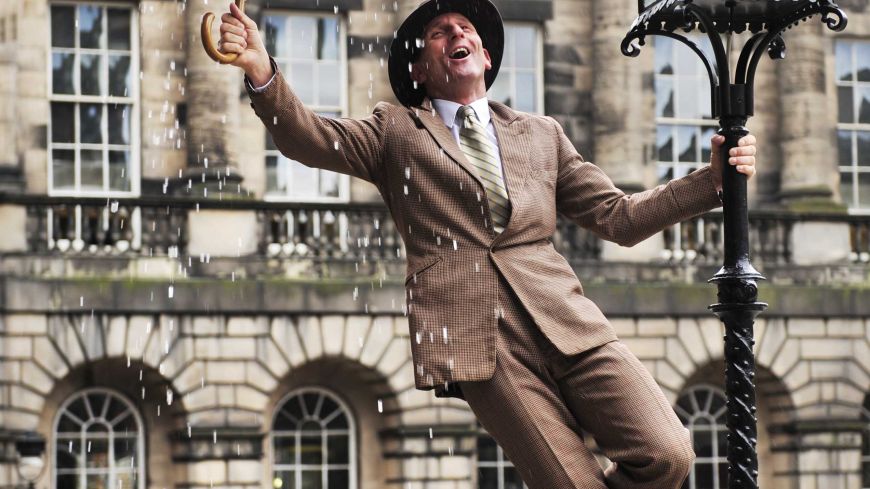 Company
The Bohemians Lyric Opera Company
Production
Malcolm J. Burnett (Director), Peter Robinson (Musical Director), June Geissler (Choreography), Simon Gillies (Technical Director)
Performers
Peter Tomassi (Don), Zoe Bellamy (Lina), Rory Maclean (Cosmo), Gina Muego (Kathy)
Bohemians went for a big splash as they start their second centenary of producing shows in Edinburgh. Singin' in the rain presents considerable risk both in terms of making a storyline from a bygone age seem credible and staging a production with technical  challenges throughout including the 'rain' scene known by nearly everyone in the audience.
"Singin' in the Rain" is based on the 1952 film of the same name immortalised by Gene Kelly. It's set in Hollywood around the start of the 'talkies' and has a plot not dissimilar to various shows using the trials and tribulations of getting a Broadway show on stage.
It tells the story of the silent-film romantic hero Don Lockwood and his leading lady, Lina Lamont. Whilst Lockwood and Lamont smoulder onscreen, in real life they can't stand each other. As the rise of the talking picture is set to make Don an all-singing and all-dancing star, there is just one problem, Lina hasn't any of these attributes. As usual, there is a potential star in Katy Selden ready to save the day aided an abetted by Don's best friend Cosmo Brown.
The creative team led by Malcolm Burnett has done a remarkable job in bringing this show to the stage. It's well dressed, there is a lot of investment in sets and backcloths and includes some original silent movie content.
The principals are all good with Zoe Bellamy as 'Lina' with a voice that would stop traffic and Rory Maclean, the consummate song and dance man is outstanding and a delight every time he is on stage. Peter Tomassi as 'Don' meets the challenge of the 'Gene Kelly' part and with Gina Muego as the rising star, they make an excellent leading couple.
June Geissler's chorography is of a high standard with Cosmo's 'Make them laugh' sequence perhaps having the edge over the 'rain' scene
The script is amusing and there are some familiar songs but the show is dated and lacks the edge of some of the newer musicals.
While the show is staged creatively, some changes could have been improvised to avoid pauses between scenes and occasionally there were empty stage moments that could possibly been avoided.
The 'rain' scene probably through necessity was set at the back of the stage but this detracted from the impact that you might have expected of the close of the first half.
If however you are a fan of the old time musicals then this is for you.
Show runs:
Wed 24 March, Thu 25 March, Fri 26 March, Sat 27 March
7.30pm, Saturday 2.30pm