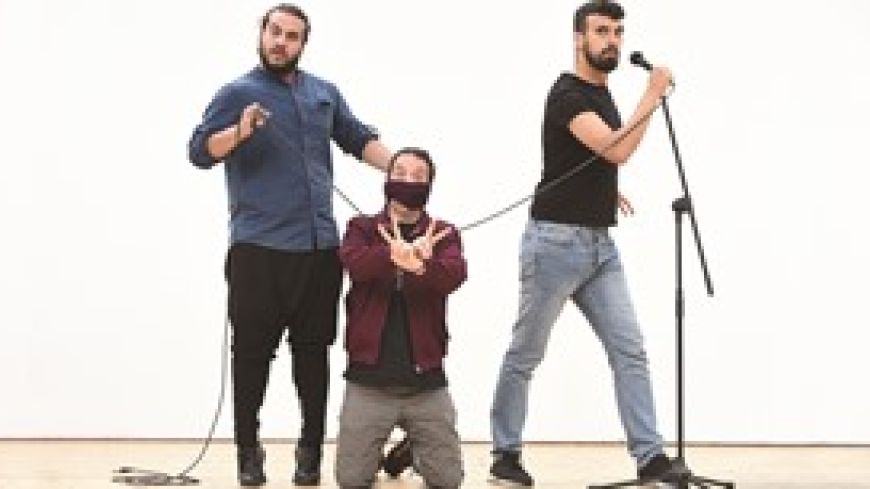 Company
Lakin McCarthy in association with Theatre Royal Stratford East
Production
Mark Thomas (writer), Joe Douglas (director)
Performers
Mark Thomas, Faisal Abualheja & Alaa Shehada
Mark Thomas has a long history of picking his way through a precarious path, with protest on one side and comedy on the other, so it's rather fitting that the inspiration for his latest gig, Showtime from the Frontline, came from walking a literally dangerous path along the length of Israel's wall in the West Bank.
Back then, he met Juliano Mer-Khamis who was director of the Jenin Freedom Theatre, a theatre with human rights at its heart, situated inside a Palestinian refugee camp. Later, in 2017, it was this venue that Thomas chose to house his new comedy club. Despite the fact that Juliano had been gunned down outside it in 2011. Despite the fact that this would be the last place most people would look to find a funny story. But Thomas doesn't do faint-hearted and the sheer incongruity of it must surely have appealed to his rather roguish nature.
Showtime from the Frontline then is a comedy show about how to set up a comedy show, but is also so much more. Thomas describes putting together the series of comedy workshops with friend and colleague Sam Beale that culminated, for most of the rookie recruits who came from Bethlehem and beyond, in two performances at the Jenin camp. For Faisal Abualheja and Alaa Shehada, it was the launch pad for putting together this touring comedy show with Mark Thomas and travelling around Britain telling their stories and the stories of the others who, for various reasons, are unable to join them on their journey.
Thomas states at the start that the Palestine-Israeli situation is not a 'conflict' but a military occupation. The performances in Jenin had taken place during the Palestinian prisoners' hunger strike and there is some reflection about the tensions and moral questions that this throws up. The video clips shown of the Jenin performances are unsettling, black comedy that makes jokes out of pipe bombs and curfews. Fun is poked at the Palestinian National Authority who are laughed at for both incompetence and colluding with the Israeli occupation. Thomas, Faisal and Alaa together send up the concerns of the regime who, among a host of other things, are agitated by women and men working together, of women being on stage at all, and it is so heartening to see a couple of women in the videos – one with a hijab and one without – practically stealing the show.
Thomas relishes the fact that authoritarian regimes hate being laughed at. In Jenin, this trail-blazing group were laughing right in their face. If that were all, it would be enough. But this show also gives a voice to the voiceless and tells the untold stories from the other side of the wall. Thomas and co have walked the walk and now it's all about the talk. Laughing as we go.
Runs 14th – 17th February,