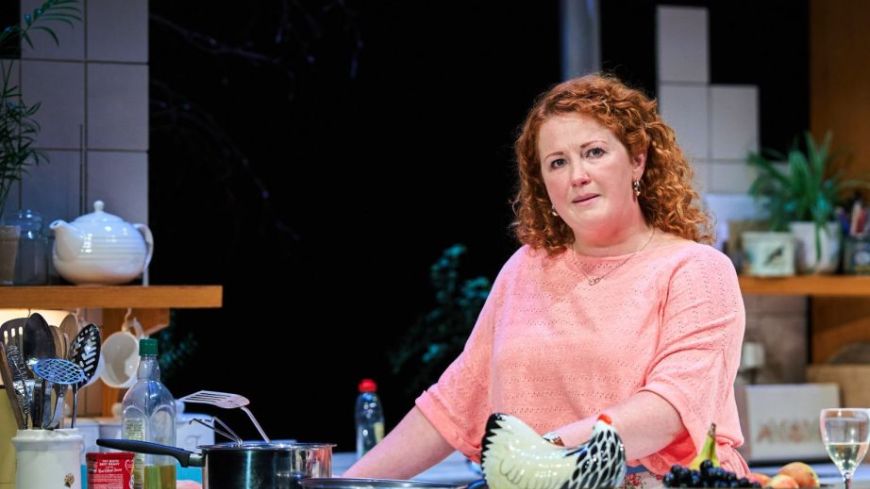 Company
Pitlochry Festival Theatre in association with An Tobar and Mull Theatre
Production
Elizabeth Newman (director), Emily James (set and costume designer), Jeanine Byrne (lighting designer), Nick Trueman (head of production), Dino Melia (assistant production manager), Mike Whalley (technical manager), Robert Gear (workshop manager), Peter Fennell (lighting & sound manager), Katy Nicholson (pre-production stage manager), Alex Tosh (assistant stage manager), Julie Carlin (wardrobe manager), Iona Eterman (senior cutter), Patricia Panther (sound designer), Magnus Rack (lighting programmer), Jessica McKay (deputy stage manager), Natalie Mitchell (wardrobe assistant/ cutter), Anna Preston (wardrobe assistant/ cutter), Andrew King (senior technician - sound), Simon Wild (senior technician - stage), Max Davidson (senior carpenter), Toby MacFarlane (technician), Grahame Scott (scenic engineer), Suzi Potts (senior scenic artist), Dhira Chakraborty (scenic artist), Alison Olson (scenic artist)
Performers
Sally Reid as Shirley Valentine
"You don't start again at 42, you know" crestfallen, empty nester mum and wife Shirley says to her kitchen wall with a crisp white wine in hand, a ceramic chicken on the bunker next to her holding essential ingredients for tonight's tea: chips and egg. 
While Shirley talks to the wall, her husband Joe talks to the fridge, and they don't half talk to each other. Once in love with her partner and with life, family responsibilities and complacency within her relationships have now grown to the point where Mrs Shirley Bradshaw no longer recognises the carefree Shirley Valentine she once was in youth, before marriage and kids. Starved for appreciation and desperate for the affection she once knew before the boy called Joe became her disenchanted husband, she now grabs sparks of tenderness wherever she can find them - in a dog's grateful gobbling up of mince meant for Joe's dinner and in the soft kiss on the cheek from a happenstance meeting with an old school rival. Then, an opportunity appears that Shirley cannot resist: a two week adventure in Greece with her mate Jane. Something new, something marvellous. How will she tell Joe? On holiday, Shirley sheds the stagnancy of her life back in Liverpool and meets Costas, but it is with herself that she falls in love again. 
In an impressive monologue in two halves, naturally funny and heartwarming Sally Reid as Shirley Valentine confronts the mundanity of her stale marriage and the disappointment of dreams ignored and arrives at the moment she takes all her life and hope back. 
As Shirley, comedic actress Reid (Scot Squad, The James Plays) could have chosen to sucker punch the jokes within Willy Russell's delicious writing, but approaches the role instead with a subtle and conversational dry wit, totally embodying the character and evoking laughter and tears through her gentle and wise reminiscing. Hands in apron, rubbing the back of her neck, smiling through sad eyes, Reid has a firm grasp on the physicality of Shirley Bradshaw, her longing and regret oozing out from behind the cooker where she fries up supper in real time. When in Greece, Reid's Shirley aptly feels lighter, taller, as she bravely steps out of the routine poisoning her life back home and seizes the chance to feel alive and passionate again. 
Though Shirley stands alone on stage, myriad complex characters come to life, inviting the audience to imagine them for themselves against two static and charming sets: Act I a homely and unassuming British kitchen and Act II a sand strewn Grecian sea setting backlit by sparkling tiles (Emily James). Though physically absent, these characters have so much vitality that they seem to breathe air despite living only through the warmth of Reid's storytelling and the illumination of Russell's script. The only one-note role of the bunch is that of the abusive primary school teacher, a fitting comment on how the rest of the flawed characters are forgivable but the one who crushes a child's spirit and squashes their ambitions is a right villain. 
Shirley Valentine made its world premiere in Liverpool in 1986 before opening in the West End in 1988 where it won two Olivier awards. It opened on Broadway in 1989, the same year the film starring Pauline Collins was released. Though this overnight classic is now 36 years old, the play today still feels immediate and fresh, a celebration of women, freedom and courage.
Under stunning direction by Elizabeth Newman, the rightfully beloved Shirley Valentine is intimate but stirs a huge emotional response. Sally is a wonder in the title role and her performance should not be missed.
In Act II a butterfly surprises audience and Reid alike by fluttering about during a pivotal scene where Shirley blossoms into her best self, a poignant moment that sings to the beauty of live theatre, as Sally acknowledges the winged thing with an 'Oh!' and incorporates into this stretch of her monologue, her Chicago Steppenwolf improvisation training showing. 
Like live theatre, life is fleeting and spontaneous and cannot be duplicated, a message rung home in Shirley Valentine; it is a call to live, really live, and to leave no life unused on your way out.
Pitlochry Festival Theatre
13 – 29 October
Access Performances:
Captioned perf: 22nd Oct, 2.00pm
Audio Description: 27th Oct, 2.00pm
BSL Interpreted: 27th Oct, 7.00pm
Image by Fraser Band