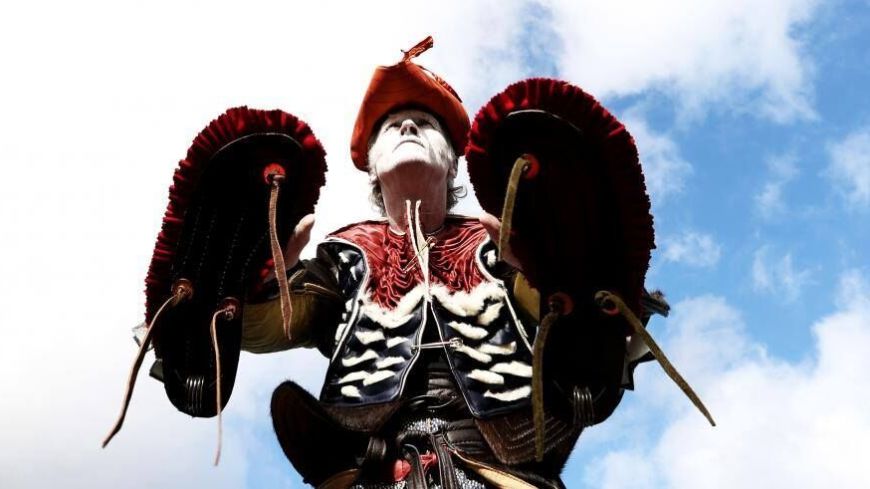 Production
Alex Rigg (designer and director), Florencia Garcia Chafuen (director) Joey Sanderson (technician) Alex Rigg, Florencia Garcia Chafuen, Leo Marsh,Plymouth College of Art, Ruth Webb (costume)
Performers
Laini Chrismas, Jen Cunningham, Breezy Elthalion, Philip Alexander McDonald, Richie Merchant, Alex Rigg, Anders Rigg, Lewis Sherlock, Anna Tagg, Pete Tagg,
Guy Veale (Performers)

In a celebration of Orkney's Festival of the Horse and its ancient traditions of ploughing contests, site-specific performance company Oceanallover, based in SW Scotland brings, their latest work work Sea Hames to this year's Manipulate Festival. The performance is inspired by the phenomenon that took place late one day in the mid-summer of 1984 when two Clydesdale horses jumped their gate and galloped down to Orkney's Bilia Croo beach, where they danced and strutted on their hind legs.
Entering Traverse 2, the audience is met with low ethereal tones from a double bass played by one of the members of a four- piece, white faced band that look as though they have landed from another place and indeed another time. That otherness has a distinct ancient Venetian look and the troupe already looks as though they would be more at home in a piazza than in the confines of a theatre, even in the Traverse and even at Manipulate! Some way in to the performance, they burst the bounds of their confinement when Alex Rigg, white faced, stooped and bedecked in horse's tails, beckons all to follow on a promenade that spills out to the unknown.
Oceanallover has created a strange and compelling world that steps at its own singular pace with the ensemble at once moving in unison yet remaining utterly in their own individual zones. They do this in elaborate costumes that look worthy of the creations from historical costumier Ninya Mikhaila and her team, who feature in BBC4's fashion programme A Stitch in Time. The horses are portrayed as uniquely as the rest of the performance, being utterly human yet simultaneously equine and other worldly. Overall, the actions are undoubtedly smile inducing but certainly not laugh out loud funny. They are too intriguing and special for that.
The utter incongruity of the strangely robed cast against the sleek interior of the glass building that houses the Traverse as well as offices may have made some late office workers look through their windows, think they were hallucinating and think it was time to get home! Making for a rather fluid running time, the cast and audience meandered round the block on this bitterly cold February night to the bemusement of passers- by and some neighbours who got a brief free show.
Their undefinable music style melds the raw insistence of circus trumpet root- tooting, a bit of saw playing with blues sung by the stunning voice of the performer holding what can only be described as a pudding basin megaphone, along with unique versions of songs from Westerns Do Not Forsake Me, Oh My Darling and Ghost Riders in the Sky that seem at odds with the medieval garb (ok, cowboys, horses…!) adding to this physically poetic, mesmerising and atmospheric experience.
It's not every company that gives away an LP as the show's programme (sort of!) but that's exactly what Oceanallover did at this performance. Let's hope everyone going home clutching the souvenir like '60s teenagers still have access to a turntable!
Thursday 1 February, 9.00pm age recommend 12+