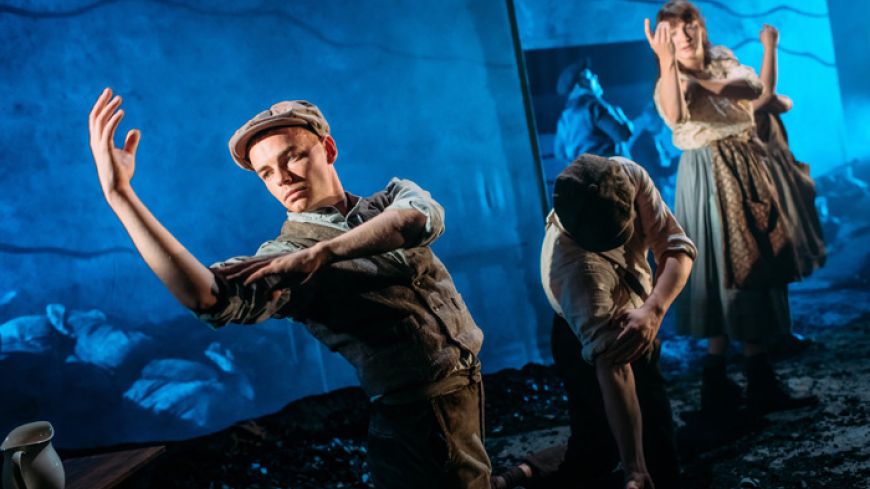 Company
Theatre Gu Leò, National Theatre and Abbey Theatre
Production
Muireann Kelly (Director and Co-Writer), Frances Poet (Co-Writer), Liz Lochhead (Scots Speech Adaption), Charlotte Lane (Set and Costume Design), Simon Wilkinson (Lighting Design), Laoise Kelly (Music), Ross Wilson (Sound Design), Jessica Kennedy (Choreography), Pamela McQueen (Dramaturgy), Callum Smith (Producer)
Performers
Ryan Hunter (Michael), Faoileann Cunningham (Molly), Cian McNamara (Fraoch), Colin Campbell (Seán Óg/Gaffer's Son), Stephen McCole (Aonghas/Gaffer/Scots Man), Mairi Morrison (Morag/Squad Woman), Anne Kidd (Grace/Forewin/Scots Woman), Alana MacInnes (Piper/Girlín), Catherine King (BSL Interpreter)
Theatre Gu Leòr, with the support of NTS have brought forward an untold tale, entwining the cultures, languages of the Scottish and Irish with one fatal injustice at the helm. Making her playwriting debut Muireann Kelly, with the assistance of Frances Poet and Liz Lochhead, gives a trilingual voice to the victims of the Kirkintilloch fire of 1937, and highlights how little has changed in a over century regarding migration prejudices.
Accessed through a slightly forced, yet ample, contemporary link that sees young gaelic speaking, Glasgow boy Michael (Ryan Hunter) researching the unsolved fire which killed 10 young potato pickers from Achill, Kelly & Poet present us with the facts. Through dream-like meetings with female survivor Molly (Faoileann Cunningham) the boys who burned to death in a farm bothy finally receive recognition. Delivered in English, Scots and Irish Gaelic, Scotties is a collaboration of voices and vernaculars with no need for supertitles to aid comprehension. Their message is clear.
Ryan Hunter's heritage hungry Michael drives to story, with his daydreaming research methods and wistful conversations with female survivor Molly. Faoileann Cunningham's grieving girl lifts the piece with her ability to communicate is such clarity - even if you don't speak Irish Gaelic. The twinning of her captivating lilt with Laoise Kelly's music offers stark definition to the piece.
Despite the embodiment of 10 boys within Cian McNamara's Fraoch, there is wider sense of loss exuded from this tale. Loss of justice, loss of life, and loss of recognition for the mistreated names, and more recently the mistreated many.
Friday 5th & Saturday 6th October
Coláiste Achill Island, Co.Mayo, Ireland