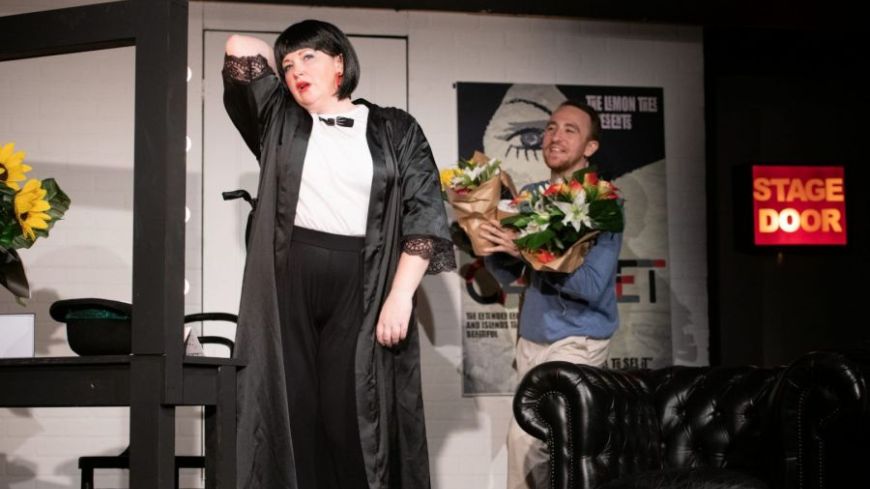 Company
A Play, a Pie amd a Pint, Oran Mor
Production
James Ley (writer), Jemima Levick (director). Presented in Association with Aberdeen Performing Arts and The Traverse Theatre
Performers
Sally Reid (Sally), Sam Stopford (Tyler)
Opening in November 1966 Kander & Ebb's musical, Cabaret was a smash hit on Broadway, and then the Oscar-winning movie starring Liza Minnelli as Sally Bowles.
This brilliantly crafted, dramatic comedy, with underlying political bite, is set backstage during a series of performances of the show, Sally's Cabaret. With a medley of songs, ' Two Ladies,' 'Maybe this Time,' et al., the set is neatly furnished with a dressing table, leather armchair and a Picasso-esque poster: The Lemon Tree presents the extended, explosive Highlands & Islands tour. 'Kill to see it.' Tilda Swinton.  
With the sound of rousing applause, Sally arrives in her dressing room surprised to see a young man waiting for her. 'I am your new assistant, Tyler', he explains, suggesting she takes another bow. 'No more than 7 curtain calls" is her quick response.  Here is the iconic image of Sally Bowles with a short black bob, casual 'Tuxedo', bowler hat and silver shoes. Sally's Cabaret is a solo show with puppets and pre-recorded music which has enjoyed full houses due to Sally breaking down the fourth wall Brechtian-style, to chat with the audience.  
The show is now transferring to Festival Theatre but Sally seems to be taking success in her stride, keen to know the celebrities in house, then party time, sipping pornstar martinis with Edith Bowman.  Tyler is in charge of her schedule and guest list – name dropping Adele, Susan Boyle, Lorraine Kelly - and revealing that Nadine Dorries Conservative MP, is in the theatre - again. 
Based on Christopher Isherwood's memoir, 'Goodbye to Berlin,' Cabaret is set in the early 1930s where at the Kit Kat Klub, the Emcee and Sally rock the songs to mock the political mood of the pervading Nazi presence and power.  It was premiered during the Vietnam era and the movie in 1972 during the Watergate era.  
2022: Sally's Cabaret is a sharply sardonic, modern political satire, in which she covers Conservative ideals, Brexit, right wing fascist movements, Trump, Marine Le Pen and Kim Jong-Un. But is it all getting out of hand if 2,000 people give a standing ovation? 
Backstage, lounging around in a black negligee, the musical star is now clearly morphing into the flamboyant, fun loving, Sally Bowles, shaking up a prairie oyster to counteract a serious hangover.  One afternoon, dressed in a grey coat, hat and huge sunglasses, she tells Tyler that she has just had lunch with Lisa, (two martinis). 'I asked her how to cope with Broadway' then imitates Lisa's deep drawl to a T, 'Aaah'll show you!" with a slow slurring of words. A fabulous sketch.
Sam Stopford portrays Tyler with boyish charm, eager and keen to please, but hiding behind a Machiavellian mask. It's fascinating to observe the changing relationship with Sally, from tentative start to friendship as they tour with the show together. Describing him as 'sinister and cute,'  does she trust him.?  Akin to the Emcee in Cabaret, Tyler is like a puppeteer, writing her scripts, and controlling her every move.  
With topical, pantomimic, political references (Liz not Boris), the script is peppered with witty one-liners and laugh out loud humour.  Sally has an inspired idea for a 'Sound of Music' spin off focussing on Sister Margaretta's love life – this is just one of many slick, sassy and hilarious highlights of the play.  
Christopher Isherwood based Sally Bowles on Jean Ross, the wealthy but wild, Scottish charismatic chanteuse he met at a Berlin jazz club. Perfect then for Sally Reid to take on the role with perfect poise, elongated vowels and aristocratic manner as an insightful portrait of Sally, the actress - her public and private persona.  While we don't see a performance of Sally's Cabaret, we can clearly imagine her launching into a raunchy rendition of 'Money, Money, Money' with exuberant, glamorous glee.
Show times:
20 – 24 September, 2022 @ 1pm
Ticket price: £16 (includes the play, a pie and a drink).