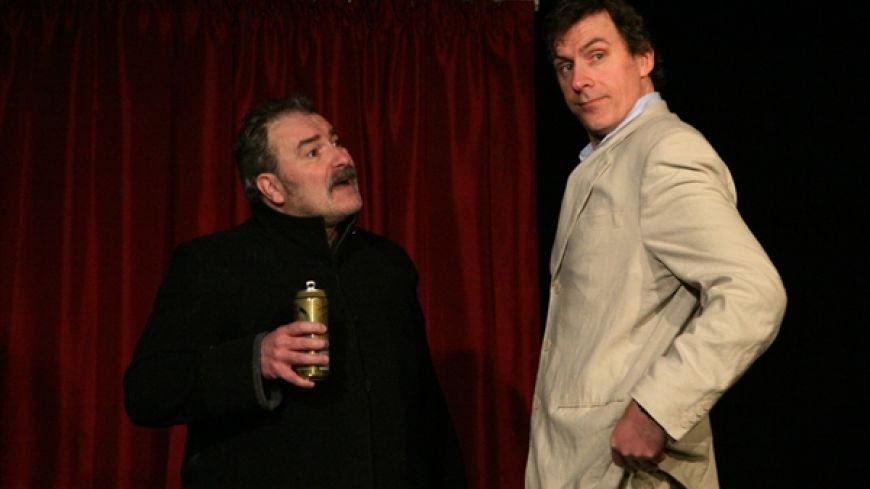 Company
Òran Mór presented by the Traverse Theatre
Production
Steven Dick (writer), Pete Collins (director), David Maclennan (producer), Sarah Macfarlane (assistant producer), Andrew Cowan (sound design), Eszter Maralko (dramaturg), Patrick McGurn (designer), Jonathan Scott (assistant designer), Camilla O'Neil (stage manager), Susannah Armitage (associate producer)
Performers
Selina Boyak (Claire), Russell Layton (Will), Stewart Porter (Peter)

Even with the immediacy of today's communication, it is still slightly disquieting to deal with harsh living history through humour. The latest play in the Traverse's sixth season of a Play, a Pie and a Pint, The Commission, by comedy writer, stand up performer and first time playwright, Steven Dick, has done just that.
The Ministry of Defence has commissioned a work of art from war artist Peter Harris (Stewart Porter) as a gift to the nation, but really a gift to the Prime Minister as it is his office walls it will grace. His dealer, Will (Russell Layton) is sending manic messages to him as the maverick artist has gone AWOL.The Minister (Selina Boyak) is due any minute to unveil the artist's latest work but when Harris turns up, his idea of conceptual art does not chime with his dealer's expectations.
Arriving on stage in paint- stained overcoat like a Gogolian extra, Stewart Porter embodies the bevvying, cursing, anti-establishment Glasgow School of Art graduate who is now an official war artist. He is supposedly just back from Afghanistan (that he likens to Largs) and has an idea to make people view art for longer than the average 2 seconds it has been estimated they spend looking at each piece in a gallery. He has found a way to create his own version of a two minute silence in his artwork.
In this unique take on modern methods of warfare, Dick has used humour that is charcoal dark in its fresh, farcical look at truth, art and politics. The male characters' provenance, with the rough talking Scots artist turning out to be the Surrey born son of an English surgeon and the lily livered, linen suited dealer turning out to be the son of a cleaner from Carlisle seemed contrived and tokenistic.
That apart, the script, a comic drama expertly drawn in chiaroscuro, has a robust anti- war message brought to life by strong direction and cast, Selina Boyak being every inch the prim and eager senior civil servant with just the right pinch of naiveté.
Dick's play is the winner of Channel 4 / Òran Mór's inaugural Comedy Drama Award whose aim is to find the best in comedy writing in the UK from new or established talent. It is gallows humour rather than belly laughter on the menu of this excellent debut play but no less enjoyable for that.
Show times
19 Mar 2013 to 23 Mar 2013 at 1pm
Tickets
£12 (includes a play, a pie and one of the following: a pint of beer, 125ml glass of wine, regular glass of Pepsi, Diet Pepsi, lemonade, orange juice, tea or filter coffee)