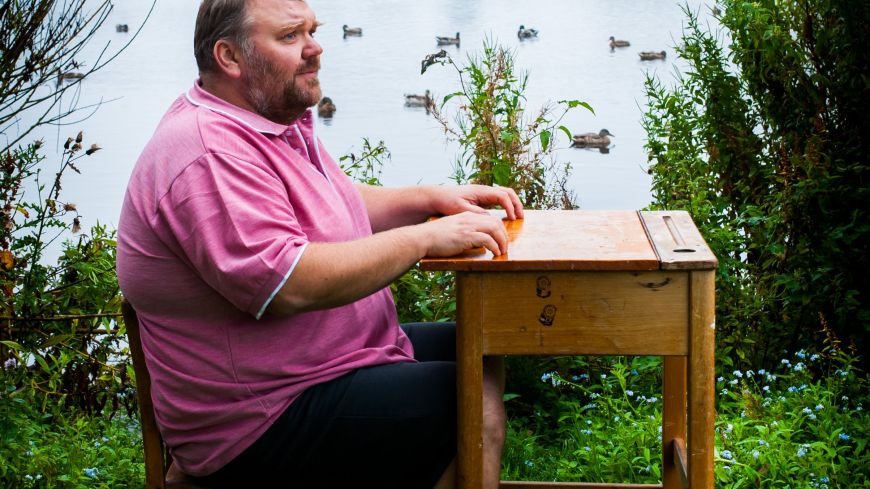 Company
Catherine Wheels Theatre Company
Production
Gill Robertson (Artistic Director), Danny Krass (Composer), Karen Tennent (Design), Simon Wilkinson (Lighting Design)


Performers
Antony Strachan
It's no fun being 'in with the out crowd' at any time of life but it's especially painful as a young person in a new country.
It's the 1970s and Martin has just arrived in Scotland from Birmingham. His first day at a new school is shared with another new start, Simon. The two awkward lads are poles apart in background and outlook but find a bond in their shared isolation. Simon has a powerful imagination that lets him vent his frustration at the injustices of the so- called Neanderthals that rule the roost in class and playground by creating a comic strip that Martin, though more at home on a football pitch, helps him make. After an adventurous summer together, one moment of disloyalty means their paths start to divide and their previously firm friendship starts to wither. Will its strong memory reach in to their adult lives or will their reversed fortunes cancel it out?
Music from The Knack and ELO set the time frame for this compelling piece of active storytelling that takes place against a simple but highly creative set that includes some luminous stick men graphics from Karen Tennent, ingenious lighting from Simon Wilkinson and atmospheric music from Danny Krass. Actor and narrator Antony Strachan promenades the stage with ease, taking on a variety of characters from the two boys, male and female teachers and Sharon the spaghetti haired bully in his stride and pretty much holding the young audience at the Brunton in the palm of his hand as this tale of some of childhood's pains and pleasures tumbles out across the hour. He also displays some nifty football skills and his costume change on stage from child to adult is slick and smart.
Pondlife has toured the world, being performed in an informal stripped back style since premiering in Scottish schools in 2008. This new production has been developed with a redesigned set and lighting. The result is a clean, sharp production that gives the perfect backdrop to this thoroughly captivating piece of circular storytelling on the complexities of relationships at any age. Top marks!
Friday 23rd September2016 tour continues till 3rd November age recommend 9+