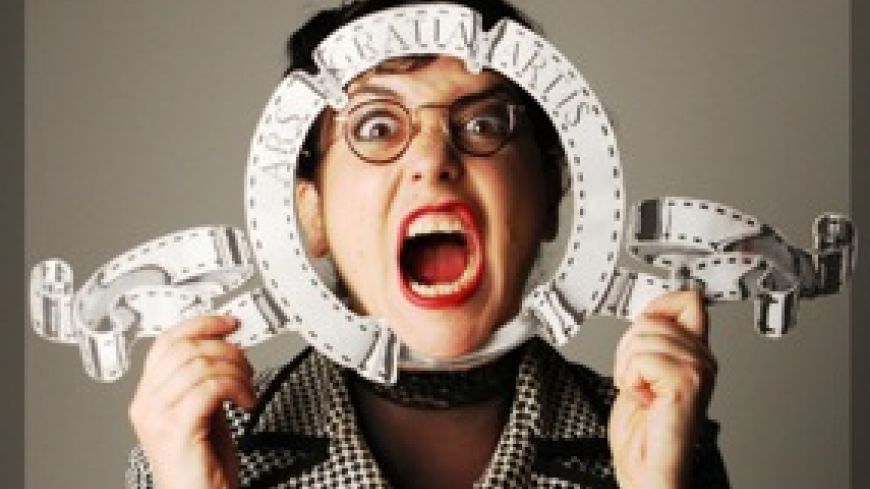 Ruth Spencer sits dressed in 1950s' librarian chic, angle-poising across her office desk and chatting to the audience as they fill Traverse 2 as some jaunty jazz piano plays in the background. This highly comic and inventive one woman performance from Jerusalem born Yael Rasooly, that has been performed and won awards at festivals worldwide, is instantly diverting and engaging.
Paper Cut is a tale of a lonely secretary who is in love with her boss, plummy voiced Richard McCormack, who only appears as a voice off and flashing red light on the intercom, part of the red motif in the otherwise black and white (ish) theme.
Ruth Spencer compensates for her own isolated existence, where she is shunned by her colleagues who nick name her Bulldog, by creating a black and white film fantasy world from magazine paper cut outs.
Starting with her own hilarious MGM snarl, she gives herself the starring role, acting out love scenes from the silver screen going through the characters with scissor sharp precision. There are menacing shades of Rebecca and Psycho as well as the chisel chinned clichés from her cardboard matinee idols.
She sings in a sweet vampish voice that makes you expect her to do that glasses removal, coiffed hair tossed loose thing as she goes through a repertoire of snatches of songs like a series of radio stations being dialled through. Brilliant stuff!
She takes the paper people on a honeymoon to world capitals where she speaks in each language to show their comically similar experience in each one, making a guid stab at Lothian Scots when they reach Edinburgh!
With her gifts of song, timing, mimicry and puppetry, Yael Rasooly is a powerhouse of imagination that deserved every clap of the warm applause and endless curtain calls in this (curtainless) performance. The technical side of sound production has no credit but deserves a mention as its synchronisation was vital to the show. This lonely story told with great humour and held together firmly like a 'bulldog clip' by Yael Rasooly, ironically left her Edinburgh audience very happy.
Recommended 10+
Performance: Thursday 07 February 9.15pm