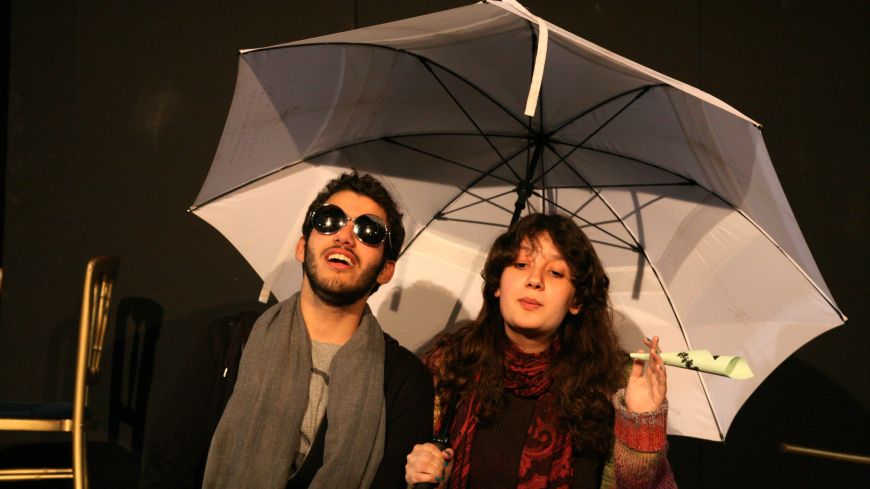 Company
National Theatre of Scotland in association with Òran Mór, presented by the Traverse
Production
inter alia - Aleadeen Chouriref, Nazeeha Saeed, Abdelrahim Alwaj, Zeinab Magdy, Somar Dhagestani, Shima Hamed, Leila Soliman, Wael Quadour, Nawja Sabra, Arze Khodr (writers)
David Greig (director), Fiona MacKinnon (assistant director ) Patrick McGurn (designer), Kirsten Hogg (assistant designer), David MacLennan (producer), Susannah Armitage (associate producer),Sarah McFarlane (assistant producer), Andy Dempsey (stage manager), Andrew Cowan, Gary Wilson, Ross Kirkland, Niall McMenimen (technicians)
Performers
Seif Abdelfattah, Sara Shaarawi
The penultimate play in this season's A Play, A Pie and A Pint  series of writing from the Arab world is a collaboration among several writers and miscellaneous people who contributed various tales, slogans and related experiences and has been devised by the show's directors David Greig and Fiona MacKinnon and the two actors, Seif Abdelfattah, Sara Shaarawi.
How to Stage a Revolution in 18 Easy Lessons does exactly what it says on the tin.  To the penny whistle sounds of a souk, the two young 'revolutionaries', Egyptian actors Seif Abdelfattah and Sara Shaarawi, appear on a leaflet strewn stage and take us from Tunisia to Cairo to Beirut to Damascus to Alexandria for the lessons.
In this quick fire, funny and energetic performance (yes, energy even from the wheelchair bound Abdelfattah who tried to tell us he'd been run over by a tank whereas he'd actually fallen off a stage!) the theatre's 'fourth wall' is immediately crashed and the audience looped in.
We are passed an onion to counteract tear gas, given a tennis ball with a radical message to be thrown at a given moment and encouraged to take live photos of the cardboard placards containing slogans like the heart stopping 'Forgive me my love I mentioned your name in the investigation'.  
The blackboard backdrop becomes a map of the Middle East (with a suitably close Scotland!), heaven and random internet images at the stroke of a piece of chalk.   Who would have imagined a Tuesday afternoon Edinburgh audience shouting the universal rhythm of protest, 'Ashab yurid iskot an izam' (The people want to bring down the regime) while punching the air? The slogan was written phonetically for ease and to let us see the sound that looked and sounded like Scot. In the midst of the serious messages, the piece was full of Scots sensibilities like the smoking ban and a comic reference to the pies in the bar upstairs that went down well.
There was even the start of an Edinburgh revolution with a setting alight of the male character using no more than a water-filled petrol can, the trusty blackboard, red lights and Seif Abdelfatta's chilling screams. Sara Shaarawi gave an enthusiastic performance showing female perspectives and transforming herself from revolutionary to conservative older woman with just the flick of a scarf.
The entire production was simple, powerful and effective, reminding us that any change is not an end in itself but part of a process.  Now where have I heard that before? 
Show details

29 May 2012 to 2 Jun 2012 at 1pm
Tickets £12 (includes a play, a pie and a pint of beer/ 125ml glass of wine/ regular glass of Pepsi, Diet Pepsi, Lemonade or Orange Juice/ Tea/ Filter Coffee)