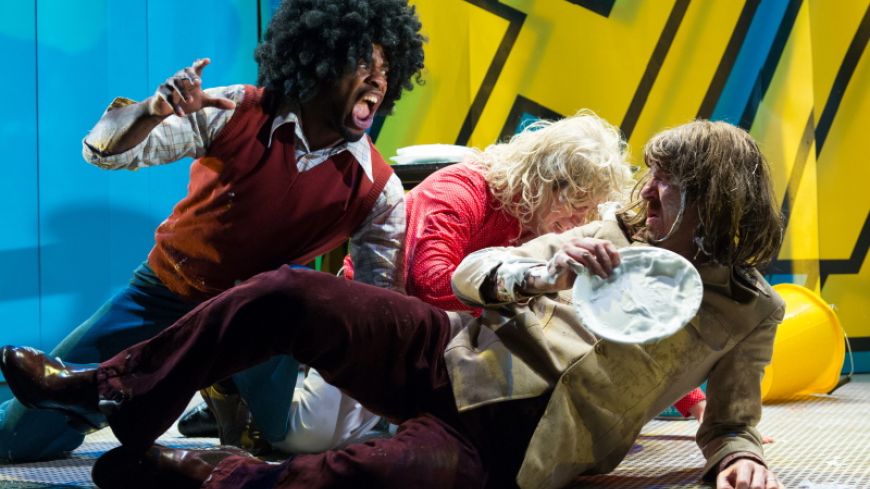 Production
Paul Hunter (director), Michael Vale (designer), Simon Hoole (lighting design) Dan Hood (sound design)
Performers
Niall Ashdown, Okorie Chukwu, Stephen Harper, Petra Massey, Dudley Rees, Ged Simmons
Band - Vertebrae
Told By An Idiot celebrate 21 years of producing remarkable theatre this year, but their current production takes us back to our collective childhoods and an up-close and personal look at the way we were and may yet be.
Niall Ashdown (the company use their given/stage names for the characters in this piece) presents a show entitled 'Looking Back (Together)', a curious cross between an Arran sweatered version of Jeremy Kyle and Sue Macgregor's 'The Reunion' for BBC Radio 4.
The subject in Ashdown's cross hairs is 'Shushi', a children's television show of some thirty years ago, cancelled after an incident which went out live. Ashdown has tracked down some of those who worked on that show and has persuaded them to appear on his.
No sooner has Ashdown introduced himself and his own show than we are transported back in time to the set of 'Shushi' and a glimpse of the events leading up to the show's sole female presenter Petra Massey attempt to take her own life after stripping off and covering herself in cold baked beans.
Flashback scenes alternate with Ashdown interviewing former members of the 'Shushi' team. Scenes taking place in the 'Shushi' studio enable the company to turn its attention, in a carefully crafted and skilfully physical way, to the underlying themes Told By An Idiot wrestle with here; the exploitative nature of television, racial and sexual stereotyping and prejudice, and the question of whether we ever 'grow up' to see others as anything other than 'other', to be mocked or attacked for their difference.
Told By An Idiot's touch, however, is always light and the opportunities for high-order physical theatre and comedy are here exploited to the full – rarely has so much shaving cream been thrown around to such great effect.
The end result is a delight to watch as well as giving much food for thought. Told By An Idiot has given the rest of us a wonderful 21st birthday present.
Show times
26-29 March, 7.30pm