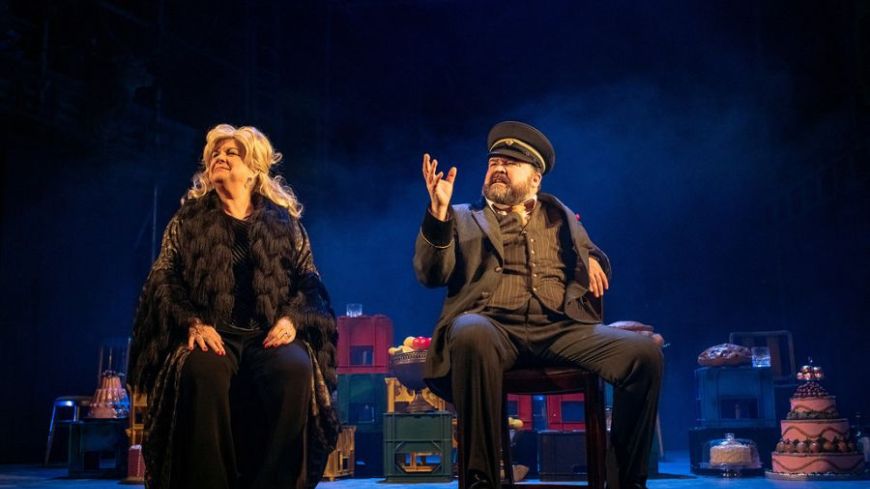 Company
Co-production between Royal Lyceum Theatre Edinburgh and Citizens Theatre in association with DOT Theatre, Istanbul
Production
Bertolt Brecht (Writer); Denise Mina (Adapter); Murat Daltaban (Director); Tom Piper (Designer); Katharine Williams (Lighting Designer); Oğuz Kaplangi (Composer and Sound Designer); Max Johns (Associate Designer); Louise Shephard (Assistant Director); Emma Jayne Park (Movement Director); Laura Donnelly CDG (Casting Director); Maya Kurdoglu (Translation and Production Assistant); Özlem Daltaban (Executive Producer for DOT); Susan Hingley (Literal Translation); Halil Unsal (Project Assistant); Owen Thomas (Deputy Stage Manager); Calum Paterson (Sound Associate); Janette Knibb & Myra Galletley (Audio Description); Rachel Amey & Louise Holden (BSL Interpreters); Christabel Anderson (Captioning)
Performers
Elaine C. Smith (Mrs Puntila); Steven McNicoll (Matti); Natalie Arle-Toyne (Emma The Dealer, The Redhead, The Parson, The Waiter); Rebecca Banatvala (The Cleaner, The Weak Man, The Media Mogul, McClure's Eldest Child); Richard Conlon (The Attaché, Red McClure); Liam King (Fina, The Red Trousered Man, Bulldog); Beth Marshall (The Shopworker, The Worker, The Lawyer); Joanne McGuinness (Eva); Oğuz Kaplangi (Musician); Stephanie Payne (Laina, The Cattle Doctor, Bulldog); Chloé-Ann Tylor (The Carer, The Judge)
The premise behind moving the setting of Mrs Puntila and Her Man Matti to modern day Scotland is an interesting one. Following in the footsteps of Brecht's original, it takes a look at the difference between wealthy landowners in Scotland with a financial wherewithal that is far beyond the ken of the average working class person, and how the lives of those less well off are impacted. Mrs Puntila, a wealthy landowner, is fun to be around when drinking and promises the world to those around her, but when sober she reneges on every promise and tends to fire those she hired. She sees people as objects but appears to receive no pleasure or happiness from her wealth: everything is a disappointment to her. Her driver, Matti, is a foil to this and with his dry sense of humour, dances around the excesses of Mrs Puntila, somehow managing to keep going despite the occasional firing. A host of workers and handful of family also dance to her attendance with varying success.
Denise Mina's adapted and updated text has witty moments and any humour is milked for every last drop with the double act of Mrs Puntila and Matti. This comes in the form of, respectively, a mainly ebullient performance from Elaine C Smith and an assured execution by Steven McNicoll. Smith's sober, mean persona is less engaging than her happy drunk. Everyone loves a great villain: in this production that strength of stereotype is lessened, leading to less power in the message that Brecht aimed for.
The songs are fun, with Natalie Arle-Toyne's vocals particularly powerful. The workers lured with false promises by Mrs Puntila are an interesting dynamic in this show and work really well together. The second act is when the show seems to get into its stride, whether by accident or design.
Many Brechtian elements are put into play in this production: the functional frame of the set, the breaking of the fourth wall, actors in multi-roles, the visible stage management team and the use of song and movement. The aim of these elements should be to engage the audience, to provoke thought about the messages being given. Unfortunately we are left with confusion and disengagement, which is disappointing, especially as the 11-strong cast work hard, giving their all to bring the text alive. The direction is full of competing elements which often overwhelm the over arching message. The play itself is also over-long: with less variety and more targeted elements, this may have allowed the show to be what it aims to be.
Times: Tuesday 10 March – Saturday 21 March @ 7:30pm (not Sundays); matinees: Wednesdays & Saturdays @ 2:00pm; Accessible performances: Thursday 12 March, 7:30pm (Audio Described, Touch Tour @ 6.15pm); Saturday 14 March, 2:00pm (Captioned & Audio Described, Touch Tour @ 12:45pm); Wednesday 18 March, 7.30pm (BSL Interpreted)
Tickets: £14.00-£33.00
Photo: (L-R) Elaine C Smith, Steven McNicoll; Photo credit: Mihaela Bodlovic