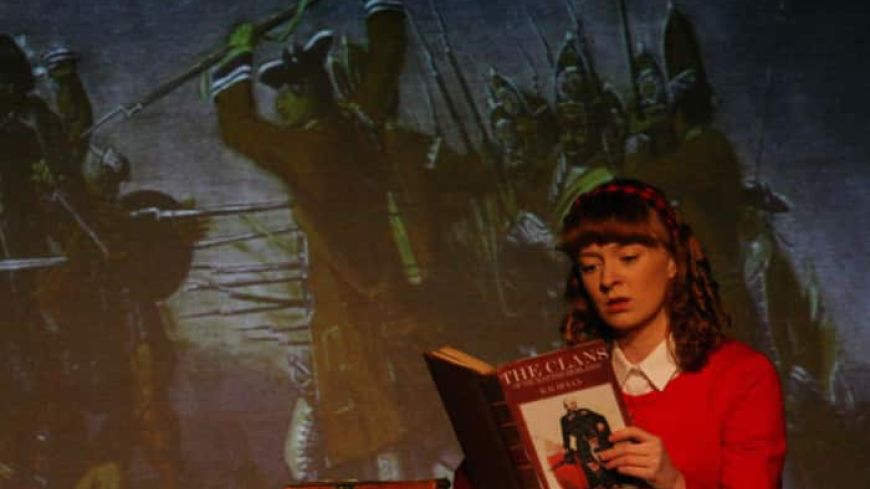 Company
A Play, A Pie and a Pint, Oran Mor
Production
Val McDermid (writer), Marilyn Imrie (director), Andy Cowan (sound), Ross Kirkland and Chris Reilly (lighting), Jonathan Scott and Gemma Patchett (design)
Performers
Tori Burgess (Margaret), Simon Donaldson (Father, Tam, PC Ferguson), Clare Waugh (Mother, Librarian, Jean)
" Nothing sells newspapers more than a good murder" is one of the grim comments about a Missing Girl, reflecting on George Orwell's 1952 essay on the British obsession with murder. Val McDermid is an internationally renowned writer of crime fiction and while you might expect a stage thriller, "Margaret Saves Scotland" is a quirky musical comedy with a wee mystery thrown into the colourful plot.
In the intimate space of Traverse 2, the stage is set with a piano (and other instruments), kitchen table and three stools, an old travel trunk and plethora of costumes and props. A large screen shows a classic Tourism Poster of Galloway with its green rolling hills, rivers and farmland with the lively tune of "Dashing White Sergeant" to enhance the Scottish landscape.
The narrative is told through the eyes, thoughts and feelings of a nine year old Yorkshire lass, Margaret Holt who is so excited to be going on holiday with her parents to Dumfries and Galloway. The year is 1958. With Margaret crammed in the back seat, ("Are we nearly there yet?"), the family sing songs to pass the time with a rousing version of "Bonnie Glenshee" as they motor from Keighley to Kirkcudbright. A backdrop of an old film shows vintage cars driving along a country road, (curiously on the right hand side).
Margaret is enraptured by the peace and beauty of the countryside –it's "Love at first sight" and she sends herself Postcards every day with her holiday stories about crab sandwich picnics and black and white belted Galloway cows. In contrast to the red brick houses of her home town, the wild open landscape of Scotland is Real, wrapped up in the magical myths and romantic tales of Mary Queen of Scots ("who invented marmalade"), William Wallace and Bonnie Prince Charlie.
With wide eyed, youthful innocence, she laps up the history and is determined to help Scotland be free again from English domination. And so we follow her journey back home where she devours library books on Scottish clans, great inventions and politics as she plots her secret escape back to Scotland. Tori Burgess is simply amazing at capturing schoolgirlish glee and sense of adventure, dressed in a grey pleated skirt, red sweater and tartan headband, straight out of a Malory Towers or Chalet school story.
The action shifts smartly and swiftly through a series of short scenes: Simon Donaldson and Clare Waugh play her parents and then with just a quick change of clothing and dialect, step into the shoes of a host of other characters. The cast are talented musicians too playing the piano, accordian and inventive percussion with a wooden spoon in a soup pot.
Margaret is indeed a strong minded young girl with a mission to succeed. While she is warned that "Maybe Scotland doesn't want to be free. We are happy as we are," her quick response is "Maybe you need the right leader!" which is greeted with a burst of laughter from the audience.
Imaginatively directed by Marilyn Imrie, the drama flows along with the musical rhythm of traditional Scottish songs, as Margaret takes the high road and the low road from Yorkshire to Angus and eventually makes her way proudly to Westminster.
As well as the charming period style and setting, what adds to the authenticity and emotional spirit, is that this is based on a true story. Joyful in its humour and inspirational endeavour, this short, sharp, couthie comedy is perfect lunchtime entertainment, served on the side with your Pie and Pint. Bon Appetit.!
Showtimes:
Tuesday 17 - Saturday 21 April, 1pm; Fri 20 April, 7pm