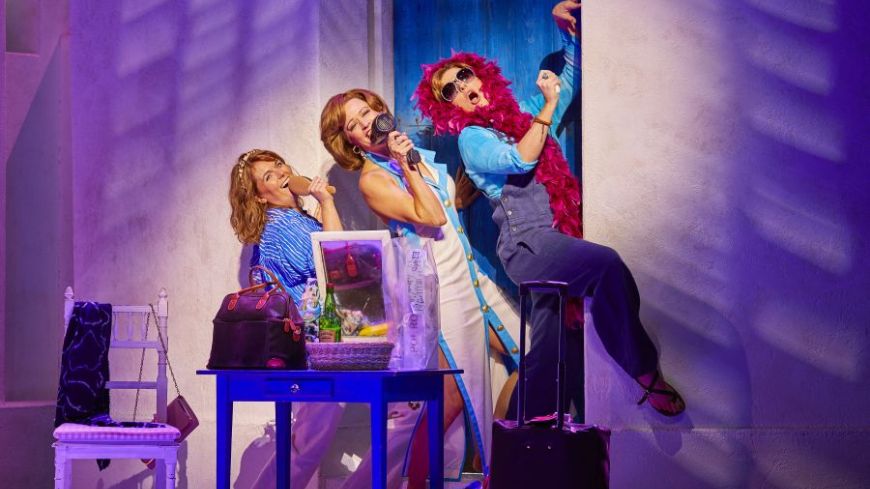 Company
Judy Craymer, Richard East and Björn Ulvaeus for Littlestar in Association with Universal Stage Entertainment and NGM
Production
Benny Andersson & Björn Ulvaeus (Music & Lyrics); Stig Anderson (Co-creator - Additional Songs); Catherine Johnson (Book); Original Creative Team Phyllida Lloyd (Director); Anthony Van Laast (Choreographer); Mark Thompson (Production Designer); Howard Harrison (Lighting Designer); Andrew Bruce & Bobby Aitken (Sound Design); Martin Koch (Musical Supervisor, Additional Material & Arrangements); Nicholas Gilpin (Keyboard Programmer); Anders Neglin (Transcription); David Grindrod (Casting Consultant); UK Tour Creative Team Paul Garrington (International Associate Director); Steven Paling (Associate Director); Nichola Treherne (Associate Choreographer); Carlton Edwards (Associate Musical Supervisor); Jonathan Allen (Associate Set Designer); Lucy Gaiger (Associate Costume Designer); Andrew Voller (Associate Lighting Designer and Programmer); Brian Buchanan (Associate Sound Designer); James Drew (Keyboard Programming and Recording Editing); Lee Turner (Assistant); Stephen Crockett (Associate Casting Director); UK Tour Production Team Nikki Davis Jones (Resident Director); Robert Knight (Assistant Choreographer, Dance Captain); Ellie Rutherford (Assistant Choreographer, Assistant Dance Captain); Maria Baker (Company Manager); Adam McClelland (Stage Manager); Matthew Lambart (Deputy Stage Manager); Natasha White (Assistant Stage Manager/Book Cover); Jodell Hill (Assistant Stage Manager/Book Cover); Gareth Dewar Willow (Sound No 1); Adam Fenton (Sound No 2); Emily Coley (Sound No 3); Freddy Marlow (Head Electrician); Dominic White (Deputy Electrician); Corwin Cook (Assistant Electrician); Ben Pavey (Head of Stage); Dan Lee (Deputy Head of Stage); Lee Kerry (Head of Wardrobe); Hilda Greenwood (Deputy Head of Wardrobe); Ellie Garcia (Wardrobe Assistant); Hayley Kharsa (Head of Wigs, Hair & Make-up); Hannah Forbes (Deputy Head of Wigs, Hair & Make-up)
Performers
Sharon Sexton (Donna Sheridan); Nicky Swift (Rosie); Helen Anker (Tanya); Rob Fowler (Sam Carmichael) ; Daniel Crowder (Harry Bright); Jamie Kenna (Bill Austin); Emma Mullen (Sophie Sheridan); Toby Miles (Sky); Marie Findlayson (Ali); Mariella Mazzilli (Lisa); James Willoughby Moore (Pepper); Eamonn Cox (Eddie); Matthew Ronchetti (Father Alexander); Taylor Bridges (Ensemble); Ambra Caserotti (Ensemble); Martin Dickinson (Ensemble); Billy Downes (Ensemble); Katie Dunsden (Ensemble); Matt Kennedy (Swing); Lewis Kidd (Ensemble); Emma Odell (Ensemble); Blair Robertson (Ensemble);Kaine Ruddach (Ensemble); Ellie Rutherford (Swing); Chiara Sparkes (Ensemble); Amy Thiroff (Ensemble); Cameron Vear (Ensemble);Sarah Wilkie (Swing); Robert Knight (Swing); Mark Macdonald (Musical Director/Keyboard 1); Nick Tudor (Assistant Musical Director/Keyboard 3); Kieran Young (3rd Conductor/Keyboard 2); Robbie Gibson (Drums); Mike Dunne (Guitar 1); Alan Sweeney (Guitar 2); Gordon Davidson (Bass Guitar); Maurice Cambridge (Orchestral Management)
The music of Abba has endured since they first burst onto the scene in the 1970s, finding fresh listeners throughout the decades. This musical, springing from writers Benny Andersson and Björn Ulvaeus, who lightly create a story based on those songs, uses the premise of an impending wedding, a mother with a secret and a daughter trying to find an unnamed father.
What Mamma Mia brings in droves is fun, fun, fun. The tunes are poppy, irresistible, with catchy song lyrics that spring from long forgotten memories with ease and wonderfully entertaining dance routines. This show is not afraid to have its tongue firmly in cheek, milking every last drop of humour from the mix-up of three potential fathers: Sam, the lost love, Harry, the former musician and Bill, the traveller; the feistily independent mother, Donna, with her wise cracking friends, Rosie and Tanya; and Donna's daughter Sophie whom, in marrying her fiancé Sky, is looking for the family on which she imagines she missed out. Love is everywhere, celebrated and commiserated unabashedly, with that slight awkwardness that means the audience has sympathy, rooting for the happy ending, rather than running away from too much schmaltz.
The first acts gets off to a slightly slow start but soon picks up the pace so that when Money, Money, Money comes around, the chorus routine is a crowd pleaser and the energy in the room starts flowing. There are also some wonderful examples of great comic timing, particularly from Jamie Kenna's Bill as the Australian writer who professes to prefer the single life. Sharon Sexton is well cast as Donna, the heroine of the piece. Her powerful voice takes the familiar tunes and brings an emotionally charged interpretation to them, particularly with One of Us. Ably supported by Nicky Swift's cheerful Rosie and Helen Anker's delightfully flirty Tanya, the trio remind the audience that our teenage selves still live within all of us.
The second act is a more emotional and heartfelt section, although light relief comes from the romantic overtures and interactions that are speckled through this section. Anker's rendition of Does Your Mother Know, ably supported by James Willoughby Moore's hilariously love struck Pepper, is a work of art and raises some well-deserved cheers. This is countered with a swiftly followed, heart-breaking rendition of The Winner Takes It All that Sexton nails beautifully, leaving the audience pining for Donna's – and possibly their own - lost opportunities. A perfectly timed piece of comedic storytelling brings back the lightheartedness to the show when Rosie suddenly discovers Bill's charms.
Emma Mullen as Sophie Sheridan, the daughter with the unknown father, and her beloved Sky, played by Toby Miles, are a charming couple, but the show really belongs to Sexton, Swift and Anker, who give their all in displaying the wonderful range of humour and pathos that complement the unashamedly emotional and upbeat songs.
This show makes for a fun and entertaining night out, reminding the audience of the power of music.  As Shakespeare himself said: "If music be the food of love, play on."
Times:
Evenings: Sat 21 Sept, Tues 24 Sept - Sat 28 Sept @ 7.30pm
Matinees: Sat 21 Sept, Thurs 26 Sept, Sat 28 Sept  @ 2.30pm; Sun 22 Sept @ 3.00pm
Tickets: £13-£75
Photo: © Brinkhoff Moegenburg