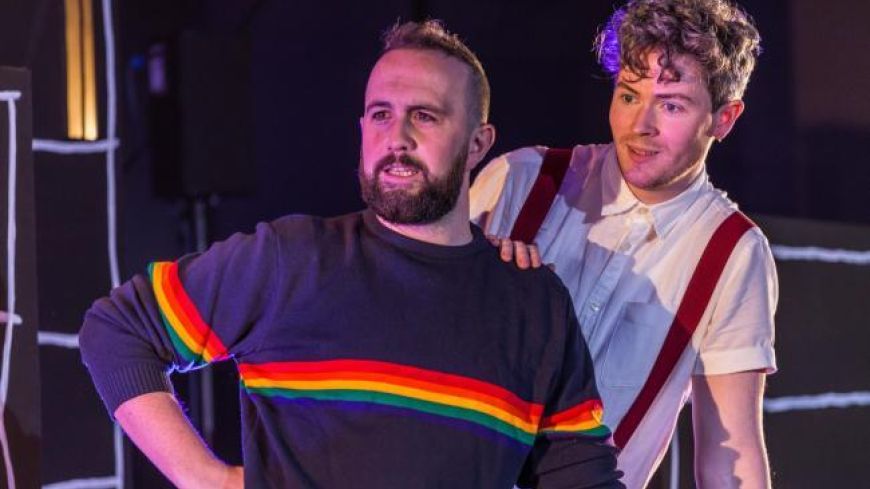 Company
Co-production between Royal Lyceum Theatre Edinburgh and James Ley
Production
James Ley (writer), Ros Philips (director and dramaturg), David Greig (dramaturg), Mamoru Iriguchi (designer), Kevin Murray (sound designer), Katharine Williams (lighting designer), Emily Kenyon-Roberts (costume designer), Bee George (production manager/ stage manager), Sarah Farrell (assistant director- original production), Annabel Coo (producer)

Performers
Pierce Reid (Lewis), Matthew McVarish (Glen), featuring the voice of Sigrid Neilsen
It is astounding to think that in homes across Scotland on Thursday night, 10th October 2019, Ru Paul's Drag Race UK plays on mainstream BBC telly while we, the Lyceum audience, sit poised and ready to observe characters Glen and Lewis as they pay homage to Lavender Menace, the first gay and lesbian bookstore in Scotland, opened post-1980 legalisation of homosexuality in the country. 
Pierce Reid and Matthew McVarish as Lewis and Glen, respectively, are sublime storytellers, each containing a cast of characters within themselves that spring to life in tangential moments, some comical and others poignant. Reid's Lewis is passionate, dramatic and quixotic while McVarish's Glen is affectionate, earnest and magnetic. The pair together coaxes more than one belly laugh from the house.
In place of any real plot, the two book sellers engage in unexpected, original rom-com-volleying and edutainment on queer life during Thatcher-era Britain, trailing off of the central premise--marking the closing of Lavender Menace through a celebratory performance for owners Sigrid and Bob-- in digressions that illustrate gay culture in Edinburgh's New Town during the '80s, when booming night club Fire Island stood on Princes St (before it became a Waterstones) and when visiting Broughton street was met with raised eyebrows by conservative passersby. 
Love Letters to Lavender Menace manages to marry rich, complex topics alongside a kind of subversive whismy, delivering monologues that take on the capitalisation of gay culture along with the slow pick up the feminist movement had (has?) with intersectionality while also offering warmth, romance, genuine laughs and dance breaks. The constant diversion from a central story or figure can be a bit odd and disorienting, but, as the two sales assistants break the fourth wall to convey, "Well, it is weird-- but they'll love it."
One of the things this play really gets right is the geographical nuances and details on Edinburgh itself, little treats for its residents in the audience. As the first UNESCO City of Literature, Edinburgh has always been a hallmark for the written word, and a play on the power of literature and community a real life bookshop brought to this city does well by leaning into the luscious descriptions of the area. Written by James Ley and directed by Ros Philips, this piece is not merely an homage to a beloved, pioneering local bookshop and priceless cornerstone of the Auld Reekie queer community, but it is an homage to the literary, musical and political influences that emboldened the empowerment of the LGBT community in the 70s and 80s.
9-12 October 2019
EVENINGS, 7.30pm
Thursday - Saturday
£17 - £20
MATINEE, 2pm
Saturday 12 October
£17 - £20
14+