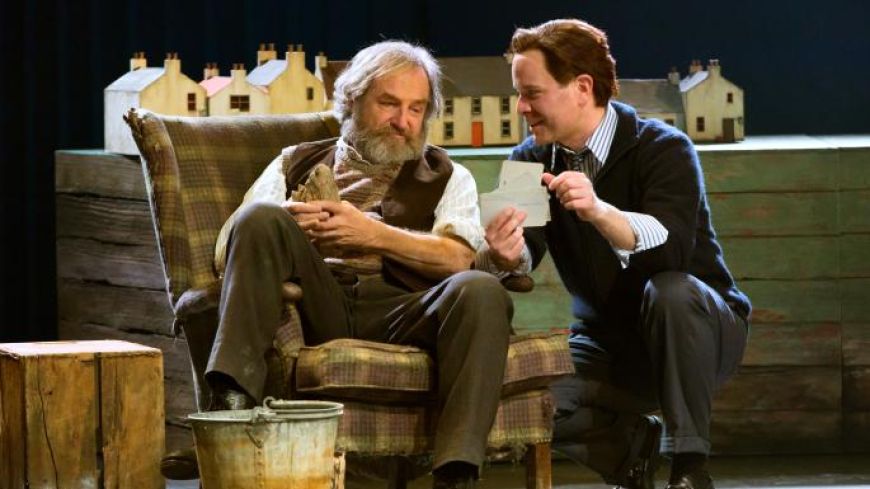 Company
Royal Lyceum Theatre Edinburgh and The Old Vic
Production
Bill Forsyth (Book), David Greig (Book),Mark Knopfler (Composer and Lyrics), John Crowley (Director), Scott Pask (Set & Costume Design), Paul Arditti (Sound Designer), Luke Halls (Projection Designer), Lucy Hind (Movement Designer), Will Burton CDG for David Grindrod (Casting Director), Dave Milligan (Musical Supervisor), Phil Bateman (Production Musical Director), Guy Fletcher (Music Producer), Benjamin Holder (Assistant Musical Director), Maria Crocker (Associate Director), Eve Nicol (Assistant Director), Lynette Mauro (Costume Supervisor), Shirley Robinson (Costume Supervisor), Nicole Smith (Costume Supervisor), Marcus Hall Props (Specialist Props), Linda McKnight (Wig Designer), Lone Shacksen (Associate Designer), Rob Casey (Lighting Associate), Rob Bettle (Projection Associate), David Gallagher (Musician's Contractor), Ros Steen (Voice and Dialect)
Performers
Scott Ainslie (Ownie), Katrina Kryan (Stella), Caroline Dyega (Pauline), Julian Forsyth (Ben), Damian Humbley (Mac), Emmanual Kojo (Reverend Murdo), Helen Logan (Netta), Matthew Malthouse (Malky/Swing), Suzie McAdam (Shona/Swing), Joanne McGuinness (Rhona), John McLarnon (Iain), Adam Pearce (Viktor), Matthew Pidgeon (Gordon), Simon Rouse (Happer), Wendy Sommerville (Mistress Fraser), Phil Bateman (MD/Keyboard 1), Joseph Peach (Accordion/ Keyboard 2), Patsy Reid (Fiddle), Ross Milligan (Electric Guitar/Acoustic Guitar), Malcolm Macfarlane (Electric Guitar/Acoustic Guitar), Duncan Lyall (Bass Guitar/ Double Bass), Tom Gordon (Drums)
How can you put a value on something that is priceless? How can you count the grains of sand upon a beach? With a book by Bill Forsyth and David Greig and music/lyrics by Mark Knopfler, Local Hero, a new musical based on the 1983 film of the same name, centres around what is fleeting and what is lasting. Houston oil executive Mac Macintyre travels to a small Scottish small village to buy out the town for its perfect oil refinery conditions. Trading in the power suits and the perms of Texas for Ferness, Mac swaps his electric briefcase for a brolly. The townsfolk are colourful and charming, namely hotelier/lawyer/accountant/cab driver Gordon and his partner Stella. Mr. Happer, president of Knox oil has also tasked Mac with another mission: to find a comet; he can't see one for the light pollution in Texas, and he wants his name on that bright light.
With our ecosystems and natural wonders under threat by political appeasement of corporate interests, this story's political parallels are so immediate, drawing comparisons to similar real life efforts, such as Trump's attempt at bulldozing special sites in Aberdeenshire for the purpose of an ultimate golf course. Comparisons are obvious but not overstated; this doesn't purport merely "American acquirer versus local lands protectors", but shows that there are very real reasons that the locals are attracted to the buyout, as evident in the (hilariously entertaining) ensemble number Dirty Filthy Rich.
The ensemble is truly a wonder with Local Hero. Every character has their own story regardless of their stage time, creating the fully-realised Ferness. Matthew Pidgeon as Gordon is especially hilarious and alive. Damian Humbley's development from starched-and-ironed to mesmerised-and-hopeful is a joy second to his vocal chops. Ingenious set design (Scott Pask) brings, at once, an overwhelming and quaint feel, itself a representation of the dichotomies in the show with a half moon screen shifting with the sky and the stars looming over a small-scale replica of Ferness that creates the illusion of looking over the bay.
Musically, as lyrics turn pensive, the score grows celtic; as lyrics focus on enterprise, the music sways into 80s pop/rock. Local Hero zigs when you think it will zag; it doesn't depend on a romance line to move it along and, instead, digs its toes into clever writing, quirky dance numbers and electric chemistry. One of the loveliest love letters to Scotland, it has a captivating score, especially with impressively-voiced numbers by Katrina Bryan as Stella.
Divided into notions of consumerism and sustainability, this show stresses stars and sea over finer things a refinery could bring. In a world ripe with greed and quick payouts, this piece sings encouraging messages of conservation, migration and friendship. It's about the people who think they can buy even the stars and the people that can't be bought-- a masterpiece of the modern musical, beautiful and true.
Local Hero runs from 14 March to 4 May 2019
Evenings Tuesday-Saturday 7:30pm
Matinees from March 27, Wednesdays and Saturdays at 2pm
For ticket prices and to book, please visit: https://lyceum.org.uk/whats-on/production/local-hero