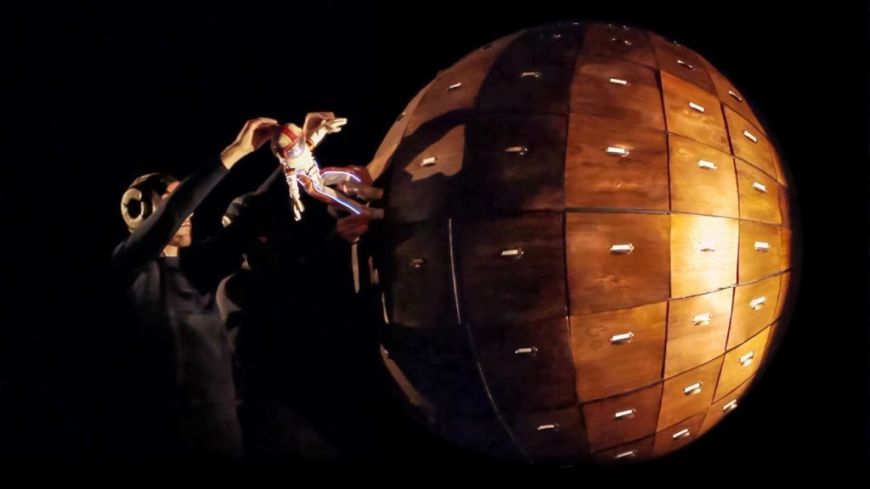 Production
Emma Williams (director), Kate McStraw (creative producer), Adam Fuller (dramaturg), Preben Faye-Schjøll (dramaturg), Marianna Thallaug Wedset (lighting design), Simon Preston (composer), Emma Windsor (video content creator), Chris Pirie (Artistic director, design/fabrication), Emma Powell (design/fabrication), Izzy Bristow (design/fabrication), Nick Willsher (design/fabrication), Max Dorey (design/fabrication), Kyle Hirani (design/fabrication), Jazz Cousins (design/fabrication), Dean Sudron (technical stage manager), Tom Richmond (touring technical stage manager), David Burns (PR consultant), Paul Blakemore (photographer)
Performers
Emma Keaveney-Roys (devising performer), Adam Fuller (devising performer), Chris Pirie (devising performer)
In a marvelously mad display, Green Ginger has dazzled with the Scottish premiere of its dystopian, near-future piece, Intronauts . Fusing classic sci-fi with absurd comedy, this production is like if Star Trek met Mighty Boosh with a narrative reminiscent of an upbeat Black Mirror episode. Captivating original music by Simon Preston, puppetry, and innovative, integrated animations make this production an absolute stand out.
You've heard of astronauts, but, in this futuristic time, there are now intronauts. Yes, they're boldly going where no one has gone before: inside of the human body. Humans can now shrink themselves down to become internal cleaners, carrying out "essential maintenance" on your internal organs. But what happens when the problem lies in the unexplored (and forbidden) brain? The "cleaners" are barred from here, but when one man desperately wants to lift his mental health struggles, he negotiates with the woman deep inside his anus...or his liver, wherever she may be, uh, tidying.
The Intronaut maneuvers within a submarine/VW bus of sorts (is this a nod to the iconic The Magic School Bus episode where Ms. Frizzle takes the class inside schoolmate Arnold?). The woman inside this contraption is restless and isolated, surrounded only by technology to which she nicknames and speaks (her own kind of "Wilson" moment). Although she longs for club dancing, she faces only the red abyss of the central nervous system. The man inside whom she floats and scrapes is not unlike her. He, too, is restless and isolated, surrounded only by his computer, the companion with whom he frequently plays a game of "high-five." This commentary on the evolution of technology dovetailing with human loneliness is not lost in the slightest. The bit of human connection that ties the two together is the comm system that he uses to direct her around his body, the same system he uses to persuade her to ditch the rules and poke around his brain to fix his sadness.
Like many dystopian narratives, this one draws many questions that will not be answered. How do the intronauts get more food supplies? Can they call home? What is their motive for taking this isolating job? Can they restore themselves to full size? Of course, these pragmatic questions are not the point with a production that serves as a commentary on human connection, technology and mental health. The symbolism and puppetry in this piece are astounding; a brain is seen as a giant sphere of filing cabinets after briefly appearing as a massive Pac Man game projected onto a scrim.
The only fault found is that many scenes dwell too long as exposition or as vignettes that don't drive a composite narrative; however, making technology a more central focus to the story than the characters (they don't even have names), is likely a calculated move.
Insanely imaginative, this is one perfectly suited to the Traverse and for the manipulate Festival for its social critique, fresh approach, and impressive imagery.
Intronuats ran on February 5th, 2019 at the Traverse Theatre. To see a trailer of the production, click here: https://www.youtube.com/watch?v=nNdpx2lJHgA
To see more productions in its tour, visit this link: https://www.greenginger.net/tour-dates/