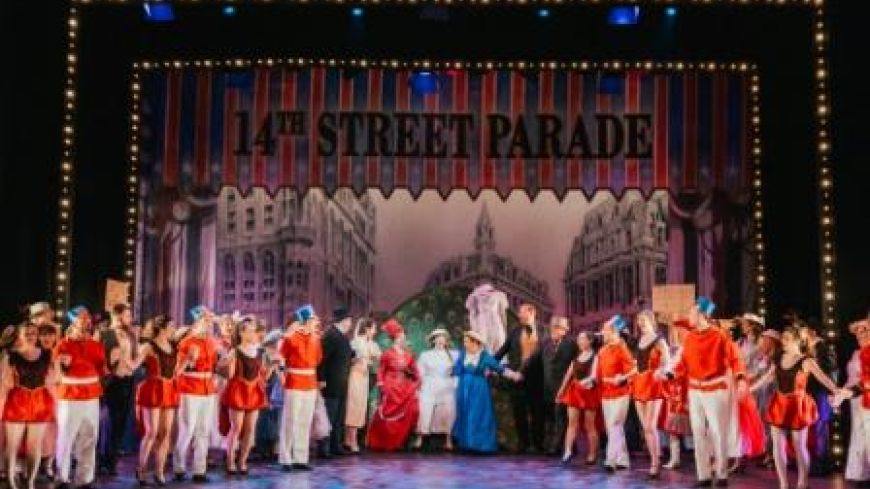 Company
Southern Light Opera Company
Production
Michael Stewart (book), Jerry Herman (lyrics), Andy Johnston (director), Louise Williamson (choreographer), Crawford Moyes (musical director), Andrew Thomson (assistant musical director), Louise Hunter (production assistant).
Performers
Elspeth Whyte (Dolly Levi), Judith Walker (Ermestina Money), Matt McDonagh (Ambrose Kemper), Alan Hunter (Horace Vanergelder), Robyn McCormack (Ermengarde), John Bruce (Cornelius Hackl), Matthew O'Hagan (Barnaby Tucker), Tanya Williamson (Irene Molloy), Nicola Dryburgh (Minnie Fay), Dorothy Johnstone (Mrs Rose), Stephen Boyd (Rudolph Reisenweber), Kerr Syme (Stanley), Matthew McDiarmid (Harry), Andrew Brown (Louie), Scott Walker (Harmonia Gardens Chef), John Whelan (Judge), Jonathon Tait (Policeman), Chris MacFarlane (Court Clerk).
Southern Light Opera Company, hailed by their president Jonathon Tait as the 'mother of Edinburgh am-dram', celebrates its 121st birthday this week with their first ever production of Hello Dolly.
From Betty Grable, Ginger Rogers and a whole host of famous others on Broadway in the 1960s, through Barbara Streisand in the 1969 movie, and back to Broadway in 2017 with the inimitable Bette Midler, the role of Dolly Levi has had its share of star turns. It's a role made in sassy, brassy heaven, with a title song that carried enough chutzpah to knock the Beatles off the top of the charts right at the height of their fame. It's a great show for a big company, but it's some pressure for the leading lady.
Set in New York in the late 19th century, against a backdrop of extreme wealth rubbing alongside abject poverty, the widowed and mouthy Dolly Levi meddles in other people's lives. With diverse sidelines such as teaching dancing and the mandolin, Dolly mostly makes a living through matchmaking. Setting out to find a wife for the curmudgeonly half-millionaire Horace Vandergelder, it becomes clear early on that Dolly intends to bag this one for herself. And what Dolly wants…
This is a huge, pull-out-all-the-stops production, from the giant neon Hello Dolly sign hanging over the stage, enveloped in a heart and changing colour as the overture is played, to period costumes with bows and whistles and a cast of thousands. Well, not quite, but during the big production numbers there's not much room to move up on stage and there's quite a queue of people waiting to shuffle off again afterwards. With a fifty-plus cast, such incidents are probably unavoidable, but there is a lot of movement and comings and goings, even in the quieter scenes, that unfortunately leads to sluggish ends. Overall, picking up the pace between cues and cleaner exits would give a slicker feel.
There is, as always, a range of talent on show. John Bruce and Matthew O'Hagan act the parts of Cornelius Hackl and Barnaby Tucker in fine style, and Tanya Williamson as Irene Molloy, with a voice that could happily grace any West End stage, sends a hush over the audience with her beautiful rendition of 'Ribbons Down My Back'. But all eyes are on Elspeth Whyte, who begins a little tentatively but rises to the challenge to do a fine, if a little subtle and refined, job with mega-madam Dolly. The confidence to be a bit more brazen and a whole lot more brash could really give this role the sucker-punch it needs.
It is, though, a thoroughly warm and welcoming evening of light entertainment that's just the thing to say so long dearie to the remnants of the beast from the east.
Runs 7th – 10th March .