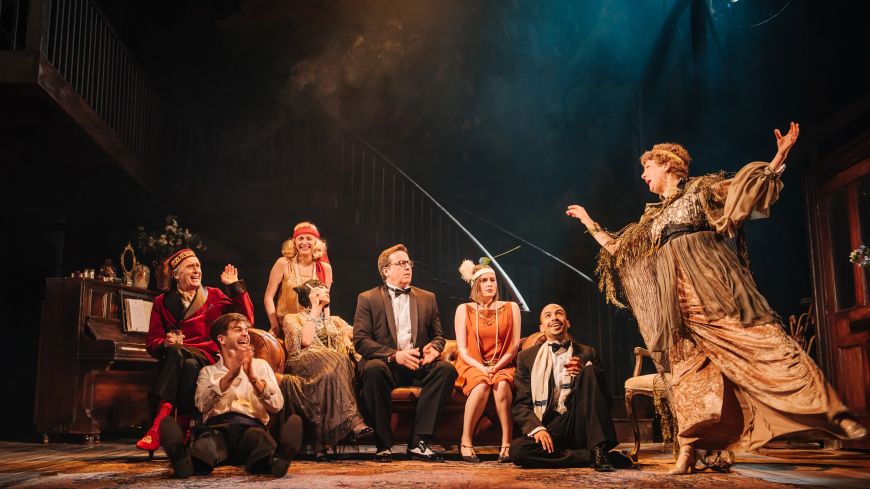 Company
The Royal Lyceum Theatre Edinburgh and Citizens Theatre
Production
Noël Coward (writer), Dominic Hill (director), Tom Piper (designer), Chris Davey (lighting designer), Claire McKenzie (composer)


Performers
Susan Wooldridge (Judith), Benny Young (David), Charlie Archer (Simon), Rosemary Boyle (Sorel), Hywel Simons (Richard Greatham), Katie Barnett (Jackie Coryton) Nathan Ives-Moiba (Sandy Tyrrell), Pauline Knowles (Myra Arundel) and Myra McFadyen (Clara)


The Blisses don't live up to their heavenly name. They are a bohemian family of four living in the relative sticks of Cookham, Berkshire so not an immediate part of the London set of the 1920s. To relieve their lazy boredom each has invited a guest to stay. It is the consequences of their thoughtless gestures of hospitality that make for Noël Coward's brilliantly observed comic farce where a cat's cradle of messy relationships and flirting resulting in some strange pairings and great hilarity.
Coward's plays are inside jobs. He opens the French windows of the privileged world familiar to him but exotic to most other folk, lending his apposite use of language to create a set of voices that ring with authenticity and a kindly bite.
Instead of the trope of these elegant windows, the set for this production from Tom Piper is of lugubrious brown with utterly authentic looking furniture that's lit with a 30 watt feel of the time. The attention to detail results in a faithful period rendition not least in the utterly gorgeous and immaculately created costumes that are the sartorial icing on that cake.
While the first scene feels a bit tedious as we witness these very idle if not particularly rich lot laze about, throwing their ill-conceived entertaining plans around like confetti, it is a necessary scene setting for what follows.
Once we get to scene 2 all is forgiven. As the guests are subjected to a slightly cruelly esoteric parlour game, the entire cast has utterly warmed to the task of playing their roles in heightened comic style.
From the get go, recent graduate from the Royal Conservatoire of Scotland, Katie Barnett, is wonderful with her perfectly achieved dress tugging, eye popping social terror. But this entire cast gives all round consummate performances from Pauline Knowles' frosty Myra Arundel to Rosemary Boyle's flibberty gibbet Sorrel not to mention Benny Young as the louche old roué and head of the Bliss household, David.
The bit of a prop failure in Scene 3 was handled seamlessly all round to the delight of the Lyceum audience! As the Blisses fold back to their 'normal' life, the guests escape with cartoonish mannerisms like a group of extras from an adult Bugsy Malone scene.
Under Dominic Hill's expert direction, the ploy of having Myra McFadyen perform a medley of songs from the '20s at a crooner style microphone is a piece of scene-changing genius. It gives her a platform to show off a pretty decent singing voice that is in stark contrast to her role as the severely put upon maid and general dogsbody to the Blisses, Clara.
It may seem peculiar in the strange times we are living through to be indulged in the fripperies of the decadent upper classes, but sooth, this bit of hay fever has been heavily pollinated with laughter and we can all do with some of that.
Runs 10th March to 1st April 2017 at Royal Lyceum Theatre
Wednesday 5th April to 22nd April 2017 at Citizens Theatre Glasgow Dates