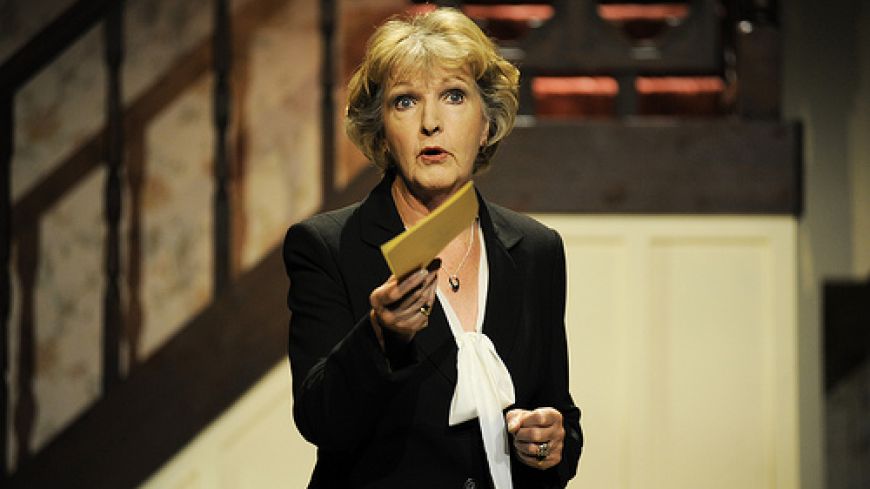 Company
Theatre Royal Bath productions
Production
Keith Waterhouse (author), Tom Little (director), Simon Kenny(designer), Tim Mascall (lighting), George Dennis (sound).
Performers
Penelope Keith (June), Flora Montgomery (Pauline), Jonathan Firth (Eric), Christopher Ravenscroft (The Suit).
Born into a working class family in Leeds in 1929, Keith Waterhouse became a fine novelist and newspaper columnist, collaborating with Willis Hall on plays, films and television series.
Waterhouse had been a clerk to an undertaker before getting a job as a reporter on the Yorkshire Evening Post. Using his experience and keen observations, his best selling comic novel "Billy Liar" is a portrait of a North Country boy who creates a fantasy life to help him cope with his job as an undertaker's assistant.
Fleet Street life and its colourful newspaper characters inspired him to write the play, "Jeffrey Barnard is Unwell" celebrating the hard drinking journalist.
Adapted for the stage from his 1997 novel, "Good Grief" returns to his professional understanding of death and bereavement as well as the world of newspapers.
After the memorial service for her late husband, an editor of a Fleet Street tabloid paper, June Pepper (played by popular TV actress, Penelope Keith) begins to write a journal to express her feelings as a kind of therapy to help the grieving process.
Rather than sitting at a table writing a diary, June addresses the audience with snippets of memories and incidents of her daily life about how she is coping – with large amounts of vodka by the sounds of it.
To add to her problems, she does not get on with her stepdaughter Pauline, who fusses over her and makes unwanted chicken sandwiches. With some witty asides and cutting remarks, it illustrates how humour is the best antidote for dealing with death, laughter not tears.
But then a surprise encounter with a man wearing her late husband's grey suit, which she had donated to Oxfam, leads to regular socialising and a growing friendship in her local Pub.
Shared stories about their respective lonely lives are particularly poignant - the fact that supermarket bags of muffins are too much for one person. These intimate scenes are performed with quiet, sympathetic reserve by Christopher Ravenscroft and the masterly sharp comedic tone of Ms Keith, as the couple drown their sorrows over a few pints of pale ale.
Meanwhile personal stories, letters and past secrets about her husband's former wife and Pauline's childhood are uncovered.
The whole theatrical structure of this traditional "drawing room drama" is staged rather like a TV situation comedy, moving neatly between June's suburban home and the Pub.
The gently amusing, uneventful plot (rather too gentle and uneventful to be totally involving), paints a bittersweet, sardonic portrait of marriage, widowhood and bereavement. As June contemplates her life, past and present, she realises that "Death is not something you get over like measles".
Show times: Monday 1 - Saturday 6 October, 2012