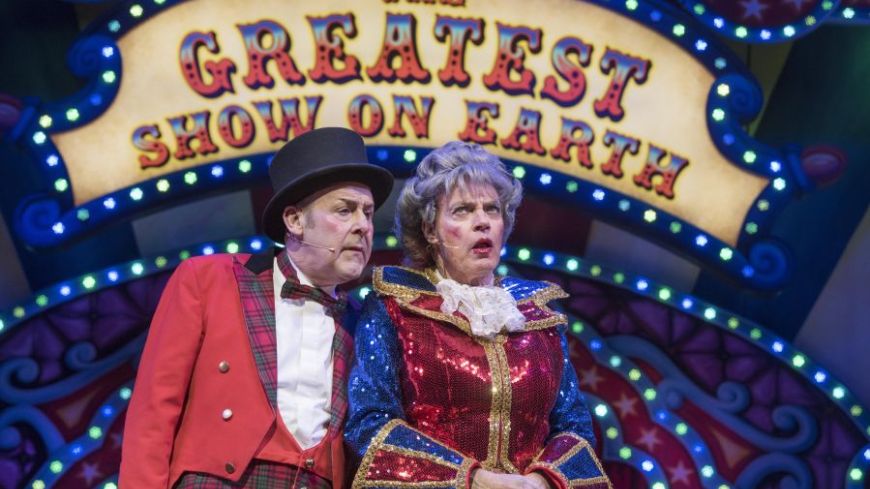 Ladies and gentleman, boys and girls- step right up! This year's panto is juuust right with Goldilocks and the Three Bears - the King's Christmas show that will have you creasing til your smile gets sore!
A larger-than-life circus of amazements and raucous fun sees pyrotechnics, a Globe of Death motorbike stunt, acrobatics, singing, dancing and...of course the panto holy trinity back together: Allan Stewart, Grant Stott and Andy Gray. This season gives a huge razzle-dazzling welcome-back introduction to Andy Gray, with the beloved actor having been away from the Panto last year while undergoing cancer treatment; he now emerges victorious this year as ringmaster Andy McReekie. Joining them this year for his first King's panto is River City's Jordan Young, who smashes it as high-energy Joey.
The McReekie circus may be astonishing, but the money to run it will run out unless they can find a new star of the show! While tight-rope walking Joey vies for the starring role (and for Goldilocks, played by Gillian Richardson), an evil plot is afoot from Baron Von Vinklebottom, the cruel ringmaster from a rival circus looking for new and exotic animals to cage up. Three talking bears find themselves away from their comfy beds and porridge and into the safe arms of the McReekies, but will they escape the grasp of Vinklebottom?
Political jabs a la Prince Andrew and Nicola Sturgeon have the adults howling while the potty humour elicits high giggles from the kids in the audience. Campy and uproarious, the King's panto is clearly for kids of all ages, incorporating pop music, a (very) loosely-told version of the classic Goldilocks tale and a silly and sensational performance (and truly impressive vocal display) from Grant Stott as baddie Baron Von Vinklebottom. Although impressive, some acts do feel a tad long-winded, but it's hard to fault a production with talking Fifer bears, eh? There is also quite a lovely underscore of circus ethics commentary, which coincides with recent news of a German circus using holograms instead of live animals to qualm concerns of animal cruelty. (Take note, Vinklebottom!)
Allan Stewart, celebrating his 30th anniversary at the King's panto this year, revives everyone's favourite Aunty May to hysterics, with costumes that grow increasingly show-stopping with every bit of the night. As Dame May McReekie, this belle of the ball(s) has the audience in stitches, amped up even more with the ad-lib antics with Andy Gray. Classic gags abound, with audience roasts, orchestra pit jumps and lip sync laughs. 
If you are deciding on a panto for a night out this season, Goldilocks and the Three Bears is one farce you can't forget. Don't miss out on the spectacle before the circus leaves town! 
6 Dec 2019 - 16 Jan 2020 
Best Availability:
December: 3 (2pm), 17 (2pm)
January: 7 (2pm), 8 (2pm), 9 (2pm & 7pm), 14 (2pm & 7pm), 15 (2pm & 7pm), 16 (7pm), 17 (7pm)