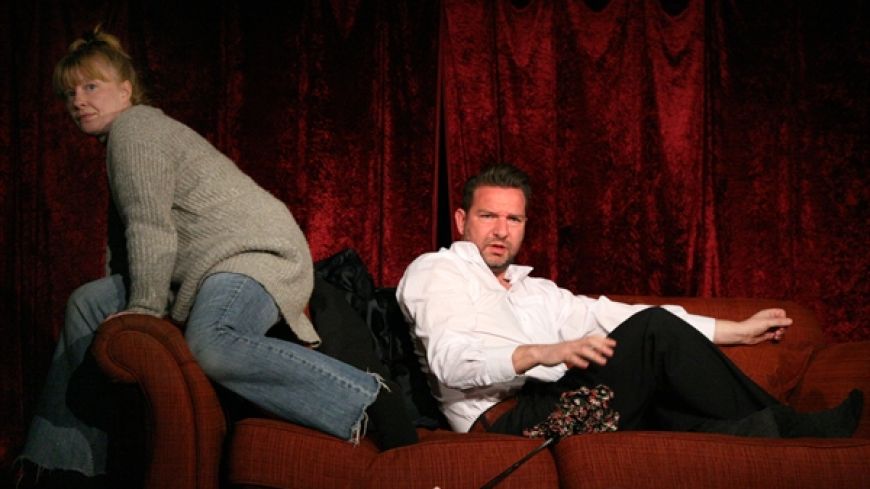 Company
Traverse Theatre in collaboration with Aberdeen Performing Arts
Production
Alison Carr (writer) Joe Douglas (director)
Performers
Meg Fraser (Moira), Richard Conlon (Peter)
More than the ceiling comes crashing down in this scissor sharp black comedy.
Moira (Meg Fraser) and Peter (Richard Conlon) are in a cosy flat that is all soft furnishings and homely rosy glow but already the signs that this is not a shared home are evident. Moira is casually dressed and clearly at home. Peter is in a white crisp shirt and suit trousers but with stockinged feet that are ready to leave as quickly as you can say 'commitment'. The long standing lovers are settling down to an evening meal in their façade of domesticity on a pair of old lady cushioned tray for TV dinners - hardly a couple accoutrement. Moira is convinced there is a crack in the ceiling. Peter dismisses it as her imagination till some falling plaster starts to season Moira's salad. This is followed by a rumbling noise like an elephant's fart after a giant bean casserole as the bulge above them bursts exposing upstairs' neighbour Alice's big fat foot complete with nail polished toes.
There is no attempt to show this part or any other of the enormous Alice nor is there any need to. The two actors take us through the highly comic horror of the situation perfectly. Moira's home is seriously damaged but the disaster of collapsed plaster poses other problems for Peter the 'plate spinning' married man. It means telling other people about the disaster which means blowing the cover of a man whose shoes are already on for him to leave and collect his daughter from whatever class is on that night. His use of male sophistry throughout along with the quiet and casual bombshell of his wife's pregnancy is right on the nail.
The mix of poignancy and humour makes this a great wee gem with its metaphor for the colossal cracks in the couple's relationship acutely observed and incisively as well as entertainingly written by Alison Carr. Under Joe Douglas' astute direction, this clever exposé of a relationship going nowhere shifts to a woman's idea of body image, desirability and the lengths a desperate person will go to please someone they want despite the glaring odds against them. A completely fitting soundtrack of Living Next Door to Alice from Smokie; Queen's Fat Bottomed Girls; House of Fun from Madness and The Jam's A Town Called Malice ends with a resounding Think Freedom from Aretha Franklin, as Moira discovers some anger releasing tap dancing through the catalyst of Alice.¡Ya basta!
Fat Alice was originally commissioned by the Traverse Theatre and first presented in the Festival 2014 Breakfast Plays series.
Tue 7 – Sat 11 April, 1pm
Fri 10 April, 1pm & 7pm
Full Price: £12 includes a drink -beer, wine, soft drink, tea or coffee, plus a pie /vegetarian pie