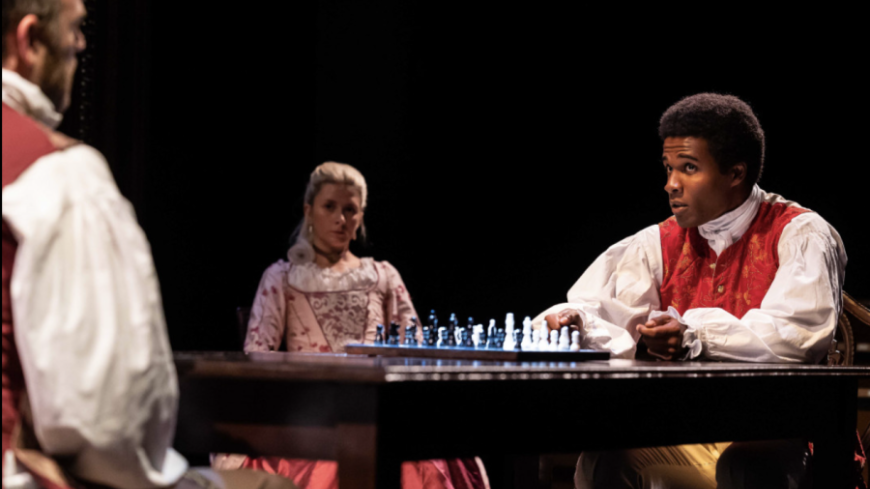 Company
Pitlochry Festival Theatre and National Theatre of Scotland
Production
Emma Jones (lighting designer), Ingrid Mackinnon (movement director and intimacy director), Ana Beatriz Meireles (associate movement director and intimacy director), Fred Meller (set and costume designer), Pippa Murphy (sound designer), Orla O'Loughlin (director), John Pfumojena (composer), Raymond Short (fight director), May Sumbwanyambe (writer), Garen Abel Unokan (associate director), Alice Black (production manager - tour), Conor Burgess (stage supervisor - tour), Julie Carlin (wardrobe manager - tour), Roger Collins (company stage manager), Deborah Dickinson (producer - Pitlochry), Peter Fennell (lighting and sound manager - Pitlochry), Elise Frost (stage management placement), Robert Gear (workshop manager - Pitlochry), Nicki Martin-Harper (costume technician - tour), Katie James (lighting supervisor - tour), Nina Madriz (deputy stage manager), Keir Martin (sound supervisor - tour), Dino Melia (assistant production manager - Pitlochry), Nick Trueman (head of production - Pitlochry), Mike Whalley (technical manager - Pitlochry), Annie Winton (assistant stage manager)
Performers
Omar Austin (Joseph Knight), Catriona Faint (Ann 'Annie' Thompson), Rachael-Rose McLaren (Margaret Wedderburn), Matthew Pidgeon (Sir John Wedderburn)
When required to play opponent to his oppressor, Joseph Knight opens a chess game with a deliberate and apt white knight, breaking onto the board from behind the rest of his troop. John Wedderburn, a slaver of 1770s Perthshire, callously counters with a black pawn, easily discarding what he believes to be dispensable. He doesn't seem to know that when a pawn makes enough gains it becomes a formidable queen. 
Throughout Enough of Him by Glasgow-based writer May Sumbwanyambe and directed by Orla O'Loughlin, we witness a thrilling crucible of power games that tell the true historical tale of once enslaved man Joseph Knight whose lawsuit against plantation owner Sir John Wedderburn resulted in the denunciation of slavery throughout Scotland. 
In the compact quarters of the new Studio at Pitlochry Festival Theatre, the horror and fraught dynamics of the Wedderburn mansion close in on the audience, the set (Fred Meller) mostly sparse, barring a pronounced centre table and an oversized Perthshire landscape portrait of Loch Katrine looming upstage before the quartet ensemble of John Wedderburn, wife Lady Margaret Wedderburn (Rachael-Rose McLaren), maid Ann Thompson (Catriona Faint) and enslaved servant to the Wedderburns Joseph Knight. Physical proximity to the piece demands vulnerability of the detail, every velvet overcoat and staunch stays (Fred Meller) along with every wince or eyebrow raise in sharp focus.
Having grown up on his brother's Jamaican plantation, Wedderburn was forged in the violence, which has consumed him; he made himself a monster that can now only be aroused by sick and tortuous power over another, this scourge responsible for his impotence as he continues to disappoint his wife who desperately wants a child. When he returns to Scotland after purchasing Joseph Knight in the Jamaican slave market, he poses him within his household dressed in silk stockings and fine coat, fosters his literacy and makes empty promises of freedom; he weaponises false intimacy by playing at a father/son relationship which flips in any given moment to its true nature: a twisted, animalistic, almost sexual, dehumanisation. 
Wedderburn supposes that Joseph should be grateful for his Scottish gilded cage, that he should be indebted to John for his learning and his survival of the physical brutality and fatalities experienced by other enslaved people. This suspension between frying pan and fire carves for Joseph his own, lonely experience of enslavement, where trauma and loss is wrought with survivor's guilt and confusion.
Joseph is cheeky, boyish, charming; it is his design to be, as a placation. Underneath, his rage grows until he subverts the power dynamic when he falls in love with maid Annie and John refuses to abide their marriage. Sham composition and affability for John falls away as he snatches back his freedom, with levels in the staging always reflecting this concept of ownership in the space.
Sporting a dual Scotland and Jamaica tone, sound design by Pippa Murphy and composition by John Pfumojena sees a joining of steel drums beneath Highland lyric, Burns' Parting Glass song calling ahead to Knight's inevitable departure. Lighting projected onto the portrait makes itself a character in the piece, transforming to red when Wedderburn is at his angriest and most dangerous, the trees blurring and changing to blues and yellows when Knight recalls memories of Jamaica or when boundaries blur. 
While in the Wedderburn mansion, Joseph makes a small raft from twigs, the page of a book becoming the sail, but despite his knowledge-fueled success in the court case against his captor, in the end Knight can never chart his path to true freedom as the trauma is too heavy to fully unload.
Viewing Enough of Him is rightfully uncomfortable; enslavement is explored in painful layer upon peeling layer of Sumbwanyambe's script. Here there is intense depth, and as the play, vitally, stays true to fact, the imagined dialogue gives voice and agency to the real late Joseph Knight. Performances from all four but especially from arresting Matthew Pidgeon as vile Wedderburn and powerful Omar Austin as subject of the piece Knight are searing. Your breath will catch in this proud moment for Scottish theatre. 
Enough of Him
Touring until 19 November 2022
Pitlochry Festival Theatre - until 29 October 2022 
Catstrand, New Galloway - 1 and 2 November 2022
Platform, Easterhouse, Glasgow - 4 and 5 November 2022
Lanternhouse, Cumbernauld - 8 and 9 November 2022
Brunton Theatre, Musselburgh - 11 and 12 November 2022
Perth Theatre - 16 - 19 November 2022
Access Performances:
Pitlochry Festival Theatre - Fri 28 October 7:30pm BSL
Pitlochry Festival Theatre - Sat 29 October 7 :30pm AD/CAP
Catstrand, New Galloway Wed 2 November 7:30pm CAP
Platform, Easterhouse Fri 4 November 7:00pm AD/CAP
Platform, Easterhouse Sat 5 November 7:00pm BSL
Lanternhouse, Cumbernauld Tues 8 November 7:30pm AD/CAP
Brunton, Musselburgh Fri 11 November 7:30pm AD/CAP
Brunton, Musselburgh Sat 12 November 7:30pm BSL
Perth Theatre Wed 16 November 7:30pm CAP
Perth Theatre Fri 18 November 7:30pm AD
Photo credit: Sally Jubb