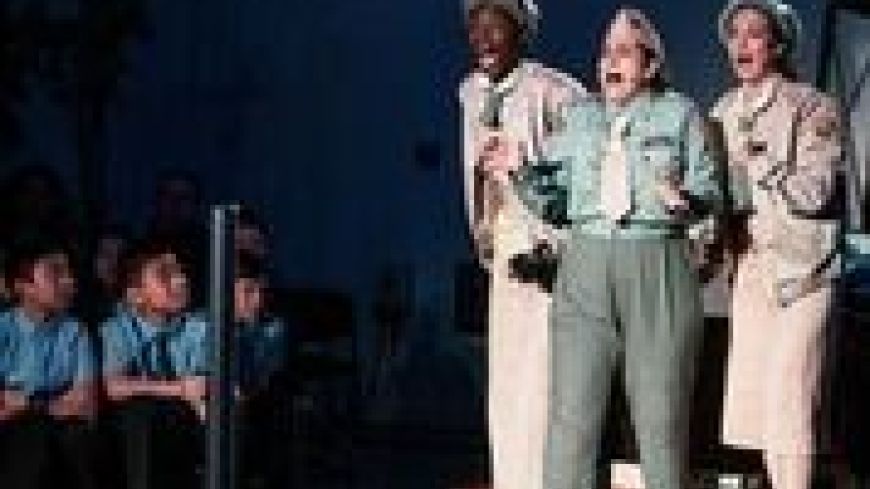 Company
Catherine Wheels & National Theatre of Scotland
Production
Director & co-creator - Gill Robertson, Writer & co-creator - Anita Vettesse, Designer - Karen Tennent, Composer & Sound Designer - Danny Krass, Lighting Designer - Lizzie Powell, Movement Director - Michael Sherin, Vocal Coach/Arranger - Claire McKenzie, Production Manager - Craig Fleming, Stage Manager - Alison Brodie, Assistant Stage Manager - Ali Biggs, Technical Stage Manager (Lighting) - James Gardner, Technical Stage Manager (Sound) - Neil Dewar, Costume Supervisor - Alison Brown.
Performers
Chiara Sparkes (Eddie), Natalie Arle-Toyne, India Shaw-Smith and Colette Dalal Tchantcho (the Slumber Sisters).
Eddie & The Slumber Sisters is another cracking production from Scotland's superlative producer of children's theatre, Catherine Wheels.
Set in the round, the audience is up-close and personal - not always easy when your audience is made up of mostly 8-13year olds – but the three gals from Slumber HQ are ready for anything. With polite greetings and witty asides, the trio mingle among the crowds of children as they take their seats, teaching the Slumber HQ secret handshake to lucky individuals who then pass the knowledge on.
To begin, we learn that these smart and professional women of Slumber HQ exist in another dimension. Their business: to turn earth-children's nightmares back into easy dreams. When their boss Charles calls them on the telephone (a fun nod to Charlie's Angels fans for those of us old enough to remember), he has a particularly difficult mission for them that others have failed to solve.
Schoolgirl Eddie's Gran has died and Eddie has been having terrifying nightmares ever since, triggered at 2.17am when, in her sleep, Eddie can hear her Mum crying in her bedroom next door. When the usual tricks of their trade fail to work, one of the Slumber Sisters must risk everything to abseil down to earth in a last-ditch attempt to bring Eddie, 'a clear mind, a warm heart and beautiful sleep.'
Dressed in attire reminiscent of the American Army circa 1940, when the talented trio of Natalie Arle-Toyne, India Shaw-Smith and Colette Dalal Tchantcho, begin to sing in truly glorious three-part close-harmony, the Andrews Sisters themselves could be there in the room. Together with Chiara Sparkes as a touchingly vulnerable but tough and capable Eddie, they bring drama, humour and a huge amount of style to this slick, unsentimental look at how young people deal with grief and how grown-ups could better help them through it.
The set and staging is a piece of brilliance in itself. With doors that light up at the intersections between the audience seating, perhaps leading to other worlds like in Monsters Inc, and a revolving circular stage area in the centre of the space, opportunities for some inspired directing are opened up and fully exploited.
You will laugh, you will cry, you will swoon at the sensational singing. What you won't want to do is miss it!
Runs until 3rd June