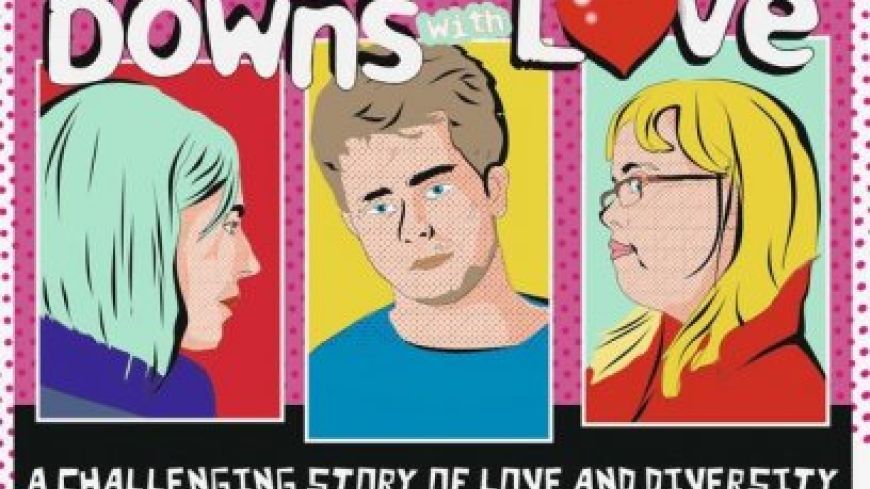 Company
Cutting EdgeTheatre
Production
Suzanne Lofthus (writer/director), Tony Mills (movement director), Sarah Heney (marketing director), Hilly (production manager), Andrew Wilson (lighting designer & operator), James Siggens (composer), Susan Mansfield (PR), Kerry Wilson (marketing design), <ichelle Rolfe (tour booking).
Performers
Abigail Brydon (Beth), Katie Miolne (Tracy), Stephen Arthur (Mark).
It should be a given that everyone deserves to love and be loved, but society appears to be uncomfortable with this when the people involved have a disability. Facing down unhelpful and potentially damaging preconceptions, Cutting Edge Theatre's Downs With Love faces up to the surrounding complex issues, head-on.
Beth is a young woman in her early twenties who has Down's Sydrome. She lives independently, is confident and sassy. She dreams of acting in Corrie, her favourite soap, and she also dreams of boys – particularly a boy called Mark, who sings down her local pub. Beth strikes up a close friendship with new support worker Tracy, but things start to get complicated when Mark and Tracy find they are falling in love.
The production is pared back to its bare essentials which gives it a refreshing sense of clarity. Mime is used instead of the clutter of cumbersome props, and the repetitive nature of Beth's structured daily routines is artfully demonstrated through carefully synchronised movements set to music. This choreography by Tony Mills enhances the storytelling, bringing a lyrical, dance-like quality that contrasts and complements the direct and down-to-earth dialogue. No further theatrical devices or equipment is necessary other than three portable chairs and some clever lighting.
Throughout this performance all eyes are on Abigail Brydon, who portrays a fully-rounded Beth with depth and verve. Full of character and cheek, the witty one-liners have the audience laughing loud and long, before reducing many to tears when she reveals moments of touching vulnerability. Katie Milne plays the less-confident, less-outgoing Tracy with sensitivity, creating a sympathetic character who, in less-skilled hands, could easily be construed as the villain of the piece. The character of Mark is a little one-dimensional and less fleshed out than either Beth or Tracy, but actor Stephen Arthur does well despite the limitations of the 'ordinary, nice guy' role allotted to him.
As intelligently creative, humorous and entertaining as this production is, its power lies in showing a young woman with Down's as an individual, attractive person, equal to her counterpart who does not have Down's. We can see clearly that Mark may well have fallen for Beth, not Tracy, if his head wasn't full of 'what would people think?', the issue here being the discomfort felt around mixed-disability/non-disability coupling. Advice? Get over it!
em>Touring until 12th June