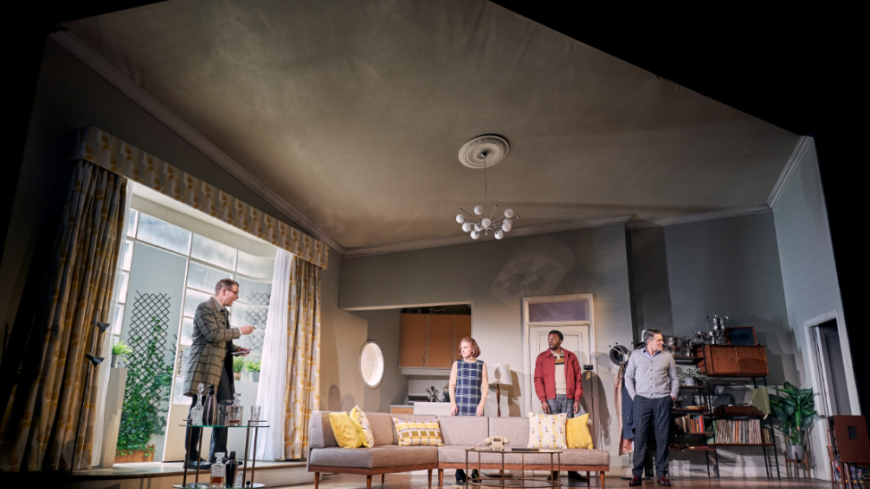 Company
Simon Friend Entertainment and Cavin Kalin Productions
Production
Frederick Knott (writer), Anthony Banks (director), David Woodhead (set and costume designer), Lizzie Powell (lighting designer), Ben and Max Ringham (composers and sound designers), Siobhan Boyd (costume supervisor), Jamie Owens (props supervisor), Betty Marini (wigs supervisor), Alison De Burgh (fight director), Elspeth Morrison (dialect coach), Katy Osborne (resident director), Luke Child (production manager), Nick Earle (company stage manager), Tara Claxton (deputy stage manager), Rod Bicknell (wardrobe manager), Eden Thornton (relighter), Simon Friend Entertainment (general management), Maidwell Marketing (marketing), Story House PR (public relations)
Performers
Tom Chambers (Tony Wendice), Sally Bretton (Margot Wendice), Christopher Harper (Captain Lesgate/ Inspector Hubbard), Adam Morris (Understudy Tony Wendice, Captain Lesgate/ Inspector Hubbard & Max Halliday), Katy Osborne (Understudy Margot Wendice)
Akin to watching a very riveting game of chess (with a fatal outcome), this classic thriller has one thing that surprises (and frightens) the viewer; the, dare-I-say, likeable murderer has you on their side from the start. Based on the 1954 Hitchcock film of the same name, Dial M for Murder was initially written by Frederick Knott for the stage, but only became a successful theatrical production following the success of the film starring Ray Milland and Grace Kelly. 
David Woodhead's set is fleshed out, fully realised, a mid century modern, beige glimpse into the life of Tony and Margot, a couple that haven't been very honest with each other, to say the least. What hides behind the deliberately quite ordinary motif of the preppy white setting is a fervour of deceit and scheme, murderous intentions hiding behind every seemingly simple prop from crystal decanters on the focal bar cart, tennis trophies upon the shelves and rotary phone. Lighting design takes this theme even further with red strobe, hearkening back to vintage 60s mystery-aesthetics and atmosphere. Set in post-WWII Britain, the mod setting is driven home that much more by the soundtrack playing as the audience settles. "You Send Me" transitions to "I Only Have Eyes For You" and then, with a start, the action sets off into a rousing, anxious crescendo.
Layers of suspense fill the story, one unfolding onto the other in re-occurring delight as twists turn and turns twist. Never over-indulgent, the production, under the direction of Anthony Banks, takes care to deliver true suspense and never outright farce in a display that encapsulates the era but also delicately translates to modern times in the hands of the four-strong ensemble. 
Michael Salami as Max Halliday and Sally Bretton as Margot Wendice both struggle to find their rhythm at the start, acting more in recitation than vigor, but they find their strides in the second act, showing sharp and dynamic performances. Christopher Harper shines as Captain Lesgate and then Inspector Hubbard, successfully portraying two entirely different characters, even down to their subtle yet effective accents. Bemusement and playfulness give way to comical nuance that truly elevates the entire production; he has the audience dangling on every word.
Another audience-dangler, Tom Chambers as Tony Wendice is both buoyant and ominous at the same time. Not a stranger to communicating through movement, this Strictly Come Dancing winner uses his place in the space to convey as much as he does with words and expression; no throwaway moments are to be seen. Bit flashy and flirtatious yet deviant, Chambers lights up the stage.
A case of very smart writing, indeed, Dial M for Murder is an excellent night at the theatre, especially in the hallmark King's Theatre. Intimate and communal yet sublimely ornate, it is advisable that you frequent this Edinburgh treasure as often as you can before it goes dark for two years as renovations begin from September 2021.
Tickets here
Tue 24 Feb to Sat 29 Feb 2020
Evenings 7.30pm, Matinees Wed & Sat 2.30pm
Running time (approx.): 2 hours 25 minutes (incl. 20 min interval)
KING'S THEATRE
BOX OFFICE: 0131 529 6000